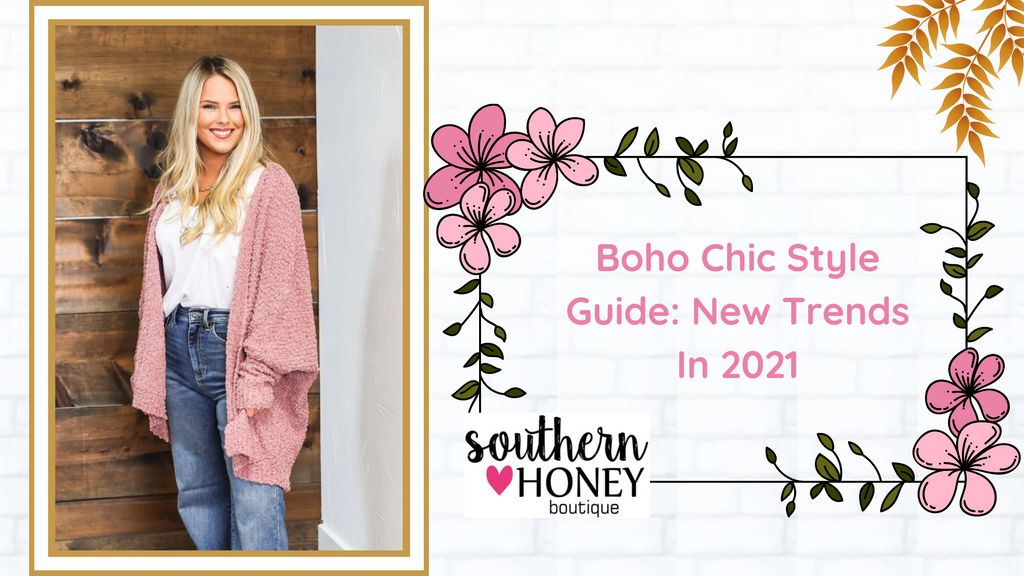 Boho Chic Style Guide: New Trends In 2021
Fashion blogs often use the term boho-chic. Do you know timeless beauty what boho-chic means? Let me clarify. Boho is derived from bohemian, meaning a person who is socially unconventional. In short, a person defying the norms set by society giving preference to art and creativity. Chic means smart or stylish. Boho-chic emerges as a blend of both these styles; despite being creative, someone who looks extremely well put-together.
It can be quite tricky to pull off a boho-chic outfit. Online boutiques have curated a simple cheat sheet for you to nail the boho-chic style. You can shop till you drop from our trendy boutiques for some essential pieces to make your wardrobe versatile. 
Read our boho-chic style guide in a flash!  
Ankle boots in neutral hues:
Cute Ankle booties are a huge element of the boho-chic outfit. You can rely on the million styles of booties as fashion staples for your bohemian wardrobe. Go for high heels or small, skinny heels or broad. Watch out for comfort to walk a thousand miles hand in hand with your love. That's what bohemian style stresses.
I love wearing ankle booties, flare jeans, and a loose knit sweater. Don't you? A classic combination of these three makes a trendy ravishing outfit, making heads turn at you in awe. You don't know where to buy them? You're in the right place! Dress-up or down in a bohemian style personality with our fun-boho-chic collection. A perfect look for a casual class or shopping spree! Since this style takes inspiration from the '60s and 70's hippie era, a chic headband or head wrap would give the perfect boho-chic touch.
Maxi dress with dashing prints:
Floaty fabrics, layering with style and funky patterns are bohemian outfit characteristics. You need to mishmash clothes in an inventive and fearless way to bring out this style element. It requires creativity and, that's the reason this style is most adorned by painters, musicians, etc., who have creative genes.

Comfort and class are what boho-chic style is all about. Look at this tie-dye, v-neck maxi dress! Isn't it stunning? Add some chunky jewelry and a wide brim hat/fedora to complete the look. To add a casual touch, change the game by adding our good old friend denim jacket. Without a doubt, denim jackets are here to stay!
Crop tops OR breezy tank-tops:
Is a women's wardrobe complete without trendy tops? No, Never! Although crop-tops and tank tops are staples for any women's wardrobe, a bohemian flair is lifeless without them. Experimenting with bold patterns and bright shades is a super way to walk proudly in bohemian aesthetics.

Is it too hard to pair these trendy women's tops? Not one bit. Do you like to wear them with flare jeans? Go ahead. If you are bored of flare jeans, they are begging to be paired with maxi skirts or faux leggings. Just check these fashion guides to get the right tit-bits on how to wear trendy women's tops?
But just add some loud jewelry, oversized sunglasses, and a scarf to look adorable gal! Is there any harm in trying something new? There is always a first time.
Another classy tip would be to wear awesome denim, crocheted or fringed vests to any piece in your wardrobe, and keep looking over the top. They are like the pizza toppings; simply attractive! A veteran combination of oversized sunglasses, messy bun, and bright lipstick can be a masterstroke for a boho aesthetic appeal.
Striking colorful prints:
Bold and striking prints are apt to step-up your fashion game. They draw your attention towards the hippie culture back in the '60s and '70s. They are pacifying and pleasing to the hilt. For a free-spirited rich look, take a plunge into the world of prints. Wear printed trendy dresses, classy skirts, or loose cardigans and look fantastic in eye-catching prints. Trust us, there are a thousand ways to style your outfits with cute cardigans. 

Boho babes rock in stylish layered jewelry that add life to bland outfits. If the gold tone is not your thing, nail your look with silver, coral, turquoise, or stone boho style fashion jewelry. The Tiffany Dress is a classic example of bohemian cult fashion. Add on the accessories and, you can rock anywhere, anytime.
The key to tying a bohemian outfit together rests with a fantastic bohemian purse. Cloth or leather, the choice is ours! If you are a fringe lover, select a crossbody, hobo, or backpack that has fringe patterns to elevate your boho-chic look.
Conclusion:
The best part of boho-chic outfits is that they suit almost any body shape. Nail this latest trend and purchase some stunning outfits and accessories for your birthday from Southern Honey Boutique. Texas boutiques are a one-stop shopping destination for all your shopping needs. Press the search button and click our name to witness the magic of our online store. It will transform your look from drab to fab in seconds.