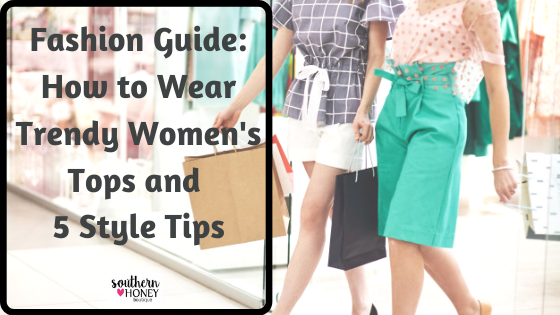 Fashion Guide: How to Wear Trendy Women's Tops and 5 Style Tips
Owning some stylish and versatile tops means you don't have to worry about stepping out looking stunning every single day! There's nothing compared to paring trendy women's tops with the right accessories and make it look absolutely ravishing on you. Be it for low-key affairs or grand occasions, women's tops are appropriate for all events. 
From picking out stylish tops to completing the outfit with the most flattering choices of accessories, here's a complete fashion guide for you.
The Best Trendy Women's Tops You Must Absolutely Own (Along with the Best Accessories)
Do you think picking out a stylish top is enough? Not all all. Choosing a stunning top is only half-work done. There's a lot more work to do to make that top work the best for you. In this blog, let's explore the must-have tops and the best ways to style them.
A playful off-shoulder top paired with a long chain
There is no limit for stocking up off-shoulder tops. Since they look stylish by itself, you don't need to put in a lot of effort to accessorize them. All you need to do is to pair an off-shoulder top with the right colour of shorts or jeans with a thin, long chain and you have yourself a cool and stylish outfit.
Every woman must have this white, Brittany off-shoulder top that looks pretty with blue jeans or shorts. If you already own such an off-shoulder top, then you're already going in the right direction! This outfit will look particularly appealing when you wear it out on a beach or for a ride on a motorcycle!
You can add this mauve off-shoulder blouse with the bohemian vibe sleeves to your wardrobe too. You can pair it up with black or brown pumps and blue shorts and a silver galaxy necklace to look charming. Sweep your hair back into a ponytail or a messy bun and flaunt your beautiful neckline.
If you are ready to experiment, you can check out this printed, off-shoulder top paired with a tight-fitted skirt or shorts for a chic look. 
A bright bodysuit that screams 'sexy' paired with boots
When it comes to picking out trendy women's tops, many don't think of bodysuits. If you want to look drop-dead gorgeous in a subtle way, then a bodysuit is what you need.
"Can I really pull off a bodysuit?" is one question that's on many of our minds.
Just take a look at this bright Fuschia bodysuit with a low, lace neckline and shoulder straps. The best part is that this bodysuit comes in different sizes to complement your body. You can wear this bodysuit for casual night parties, a day out with friends or even when you're travelling.
This bodysuit would look sharp and snappy when you pair it up with the good-old blue jeans or shorts and ankle-length or knee-length boots. Tie your hair in a loose waterfall side braid or a fishtail braid to look extra prettier!
Since the top is flirtatious and colourful, don't make the mistake of adding more colours to the outfit. Keep the accessories to a minimum and complete the look with a long necklace that runs down to your chest and silver studs and you have got yourself a showstopper!
A halterneck top with bold bracelets and long earrings
Talking about looking minimal and stylish, halterneck tops are a must to own. You can use this versatilely depending on the type of stylish top you pick.
For example, when you pick out this pretty, dusty rose halterneck top, you can use it as everyday workwear or a casual day. With halter tops, you don't need to look for some heavy neck chains. Any simple mid-length chain like this adorable charm necklace will do. 
What you need to concentrate on are the earrings and the bracelets. You can go for a long earring like these tassel ones that run down to your bare shoulders when you pick out this simple dusty rose halter top paired with shorts.
Else, if you choose a halter top like this metallic mock top, you can go a little easy on the earrings and concentrate on wearing thick bracelets. You can pair this metallic one with a black coat and use it as a partywear. For halterneck tops, you can wear your hair loose with the long earrings or slick the whole hair to one side.
A couple of tank tops paired with denim jackets
Usually, we stock up lots of tank tops for summers. But, you can double up on the tank tops and use it during the moderately cold days too. 
Wondering how you can use tank tops during the winters? The answer lies in the way you style them. A tank top is a simple outfit but you can make it look extra special with the right ensemble, starting with a denim jacket.
It's best to pick out a couple of stylish tank tops that look great with a denim jacket like this simple, white twisted tank top. You can even use a short, black coat with it and use it as office wear and for professional meetings. And as the day ends, you can ditch the black coat for a denim jacket and go out for partying!
If you are looking for something simple and casual, you cannot beat this blue hi-lo tank top paired with a white or blue distressed denim jacket. Complete the look with ankle-length boots or strappy heels for a sexier look. 
 A cute ruffled top with a long handbag
We cannot get enough of ruffles—there's no denying that. You'll be amazed at the various designs of ruffle tops you can find. It's often best to go with plain coloured ruffled tops off-shoulder or have shoulder straps to look a bit flirty and stylish.
This burgundy ruffle top with shoulder straps is something that looks great on everyone! You can never go wrong with choosing burgundy. Along with the pretty layered ruffles, this top can be worn by women of any body shape and size.
You can pair it up with jeans, shorts or skirts, and pumps. You can further complement the attire with a choker or a single, simple long chain. You can tie your hair up into a bun or cute, hair twists. This way, the hair won't get in the way of the movement of the ruffles. This outfit will look playful and charming especially when you are out on the dance floor grooving to the music!
The one accessory that elevates a ruffle top is a long handbag. Wear one in beige, brown or black with its length up to your waist. This simple addition will complement your outfit and make you look dashing and sophisticated.