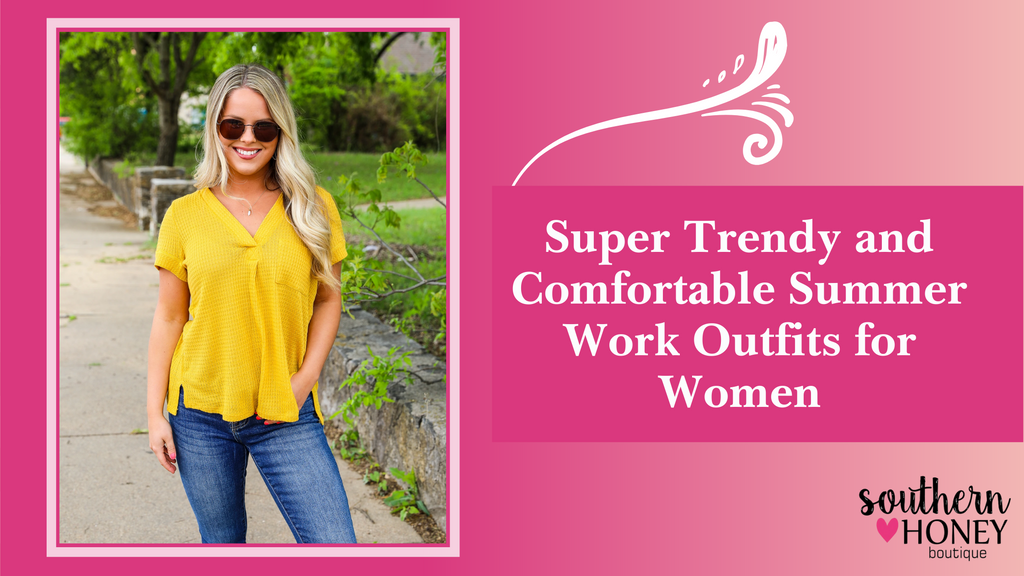 Super Trendy and Comfortable Summer Work Outfits for Women
Summer is the perfect season to enjoy the outdoors. However, now that businesses are reopening, it's time to get back into the groove of things. And what better way to rock your boss babe cape than wearing a work outfit that exude confidence.
It's hard to put together a chic work-appropriate wardrobe when it's hot outside. You might be able to fry an egg on the pavement outside, but you're probably bundled up and shivering at your desk inside. How do you even get dressed for that? Here are some work outfits that you can shop from stylish Texas boutiques to get you into the sodding hot weather and chilly A/C temperature at the same time.
Inspirational and Classic Summer Work-Outfit Ideas:
Get inspired by the following chic, office-appropriate wardrobe ideas.
Pants and Blazer:
The same old pants and blazer for office wear sounds boring, right? Well, sometimes the traditional blazer and straight bottoms can be turned into a fun look if you know how to carry it properly. Keep it professional with a perfect linen women's blazer in white or pastel shades. 
Pair it up with a light-colored shirt or a trendy women's tank top, oversized shades, a tote bag, strappy heels, or pumps, and some layered jewelry to complete this chic look. And if you are feeling hot outside the office, simply take off your blazer. Breathe some new life into your summer work wardrobe with a pastel blue or pink blazer. Dress down with a pink-on-white ensemble paired with a pair of trainers. All eyes will be on you at the office. 
Shorts & Skirts at Work:
Shorts and mini skirts can be work appropriate if styled properly. Midi skirts or cute denim shorts are cute summer work-ready outfits. You can find  women's shorts and skirts at the trendy online clothing boutiques. A slit skirt with a crisp white shirt means business, and at the same time, it can still give you a preppy look even when you are budget-restrained. 
Long-Sleeved Shirt:
Take the guesswork out with a contemporary long Sleeved top. Pair it up with bootcut pants or even some designer skinny jeans to go to the office in style. This lightweight shirt is made up of a fine fabric that comes in taupe and white color. Go for some classic pumps, wedges, or any other women's designer shoes to rock the overall look.
Don't forget to check out the stylish and chic collection at the Texas Boutiques if you want to upgrade your summer workwear wardrobe.
Tank Tops with Straight Pant:
Grab yourself a trendy women's tank top and pair it with denim or straight pants to look professional and chic at the same time! A leopard tank top will go perfectly with white linen pants. An ensemble that will give you that super professional yet chic look. Go for some ankle boots to add an element of boho-chic to your overall outfit. Tie your hair in an up-do bun and curl the tendrils around your face if you have an important meeting for the day! 
Short-Sleeved Tops:
Summer is the season of "less is more." It's time to shed those heavy jackets, sweaters, and tights that you have been wearing  all winter. Choose a short-sleeved top instead. Let your skin breathe. We've put together a guide to help you navigate the fine line between weather-appropriate workwear and casual attire. Well, one of the best choices to beat the heat is a short-sleeved top, button-down, or a plain shirt. You can pair it with a skirt or designer skinny jeans to make it a work-appropriate outfit. Shop amazing women's outfits, accessories, handbags, from Texas Boutiques and get ready to add a tinge of glam to your work outfit.
Black Midi Dress:
The right type of Black Midi Dress will be your favorite ensemble. Add some quirky sandals or peep-toes with some classic layered chains to add character to your look. If your style falls more towards a preppy look, you'll find yourself attracted to black-structured dresses. You can never go wrong with an LBD  especially if you'll be dressed up for work and while beating the summer Search through tons of trendy dresses at the Texas Boutiques and get yourself some trendy summer work-appropriate outfits.
Conclusion:
Choosing the right work outfit will either make or break your career. Online Texas Boutique offers super classy work-wear like the  Southern Honey Boutiques. Ladies can find a wide range of dresses, tops, plaid bottoms, jeans, accessories, handbags, and a lot more at this amazing online clothing boutique. So, what are you waiting for? Go upgrade your summer wardrobe with the finest workwear you can ask for!