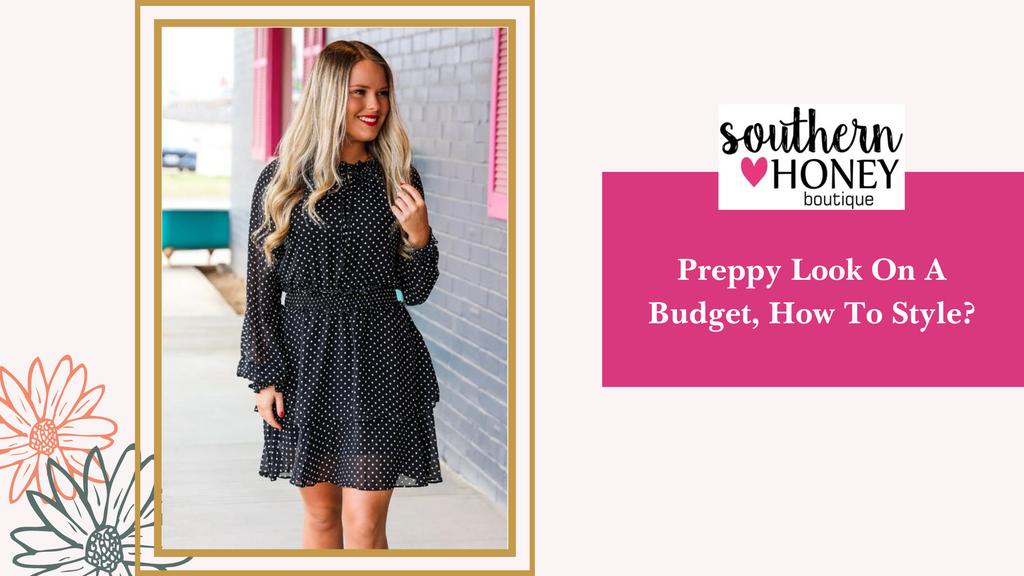 Preppy Look On A Budget, How To Style?
Your wardrobe defines what your style is, and it needs to be built with something robust in mind. Buying clothes that never even fit in the same look is just the perfect recipe for disaster. If your style falls more towards a preppy look, you'll find yourself attracted to plaid prints and structured dresses. 
As beautiful as preppy style looks, it is actually super easy to find the basic pieces from online clothing boutiques to fit your preppy wardrobe. And worry not! To make it even easier, we have prepared a comprehensive blog for you to build your little preppy capsule wardrobe, and get the best deals from online boutiques USA. Read on!
But what does a preppy style even mean?
Nothing complicated, it is just a dressing style that includes neat, simple yet classic clothes with minimal jazz. If business casuals and regular casual get mixed up with a little more color and print, preppy would show up as their pretty little mix. Interesting, isn't it?
Now let's see how exactly we get this preppy look!


What should you add to your wardrobe for a preppy look?
Here's a list of clothing items you should have to build a beautiful preppy wardrobe.
Long sleeve tops:
Long sleeve tops with subtle prints such as small polka dots, stripes or intricate and light floral designs would make the best fits for your capsule preppy wardrobe. Even plain tops or button-down shirts would be amazing additions. Especially t-shirts with long sleeves are super essential to a preppy wardrobe.
Neutral tops and t-shirts:
If you like camisoles or bralettes, neutral colours would be the best for a preppy style. Camisoles with pastel shades make a great and useful addition to the mix. You can pair them up with your favourite bottoms such as light washed jeans or joggers. Tank tops too, could be paired up with high waisted skirts or jeans to make charming outfits. Texas boutiques have a beautiful collection of tank tops and camisoles for your preferred attires.
Jackets, sweaters and vests:
Vests, as we always say, are underrated clothing pieces. Pair up a denim jacket with a white button down top or a plain solid t-shirt, and get yourself a skirt from the Southern Honey boutique to exude that cuteness charm. You could even add the pair of jeans to this outfit instead of the skirt or simply add stockings beneath the skirt to make it look sensual yet adorable.
Dresses:
Casual dresses are a whole different game when you want a preppy look. They look amazing if you accessorize lightly or simply innovate a little with the footwear. Especially long, balloon sleeved dresses, breezy fits with intricate yet subtle design that doesn't look too bright or intense, and light embroidery on the upper part of the dress are generic pieces you could add to your capsule wardrobe. All these styles and variations of casual dresses are available at the online boutique USA. 
Footwear:
Any look is incomplete without a select footwear. In order to perfect your preppy wardrobe, you need to alter the kind of footwear in it. Basically, anything comfortable and adorable such as sneakers, riding boots or flats would look fabulous with above mentioned clothing items and outfit ideas. 
Conclusion:
Preppy looks are most preferred by a lot of women nowadays. It is not only comfy, cozy and adorable, but it also gives your personality a cute vibe. Additionally, these looks can be carried to literally any occasion or any place. They just blend in and make you look like the cutest person in the room. Remember, you never have to dim down your shine. If you love being loud, be loud. If you love color, go for the most colorful outfits this year! Being confident in your own body, regardless of size and appearance is something we women should always aspire for. In fact, despite the shortage of plus sized clothing in some world-famous stores, you can easily find plus size clothing at the online boutique USA.
All the clothing elements mentioned above are easily available at the Southern Honey boutique, and if you would really like to build a capsule wardrobe for your preppy looks, it would be your best choice in the town. Check out the latest products available at the boutique and we assure you that you won't leave your cart empty once you visit our online store.