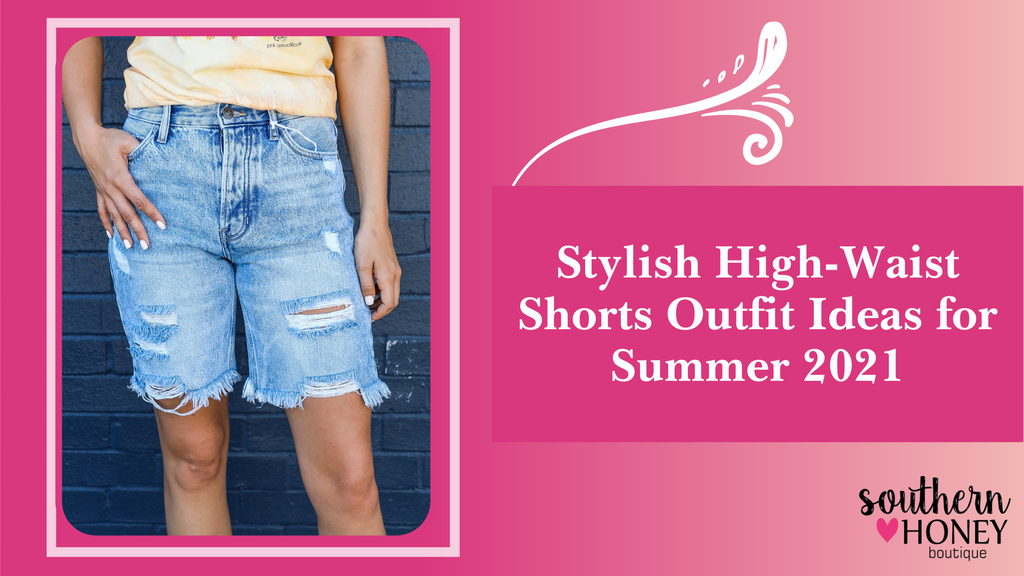 Stylish High-Waist Shorts Outfit Ideas for Summer 2021
There are two things to love about summer. One is the heat. Another is, beating it in style.
High-waisted shorts are the most versatile pieces that you could rock during summer. They are the perfect go-to outfits that will not only accentuate your figure but will also elevate your style.
For spring/summer 2021, there are a plethora of high-waisted shorts to choose from. You will never run out of ways to wear them because they come in so many different fabrics and colors. 
But just like in any fashion mantra, it's comfort first before style. 
If you don't want to feel squeezed, look for the trendiest and most stylish high-waisted shorts at the Online Boutiques USA.
Our stylists have curated  a look for you so you can pull-off your high-waisted shorts this summer.
Ideas On How To Pair High-Waisted Shorts
Every fashionista should know their body types. This will help them find a clothing piece that best fits their physique.
Rugged High-Rise Shorts
This pair of high-rise denim shorts, when paired with a loose oversized top, will give you a very edgy and fashionable look. Up your game and go with some classic boots to add character to your look. If you're looking for tips on how to pair boots with jeans this summer season, read here for some amazing funky ideas.
Vintage Washed Jogger Shorts
Believe us, these jogger shorts are the best summer weekend outfit! Wear it over the weekend and go all boho-chic style to the beach with your girl gang. Choose jogger style shorts and cover them up with a printed short-sleeve top. 

For your footwear; a basic pair of slides will look great or you can choose anything from dozens of women's designer shoes from the online boutiques USA.
Know some unique and trendy ways to dress in a total boho chic style here!
Button Shorts
Pair these faded button denim shorts with a trendy women's tank top and a lemon jacket to warm you during frigid nights. The outfit has a sophisticated and stylish aesthetic, thanks to the two-tone crisscross sandals and designer earrings. By removing the blazer and exposing more skin, you can quickly switch from work mode to happy hour. 
Mini Shorts
What a better way to enjoy a perfect sunny day than wearing mini shorts with a knit crop top! This outfit  exposes a little flesh on top, making it easier for you to get a dazzling bronzed glow. You can throw a light linen blazer on your shoulders or add a lightweight cardigan if you feel too exposed. 

Accessorize with some layered gold necklaces, a colourful pair of sunglasses, PVC sandals, and a tiny bag. Buy affordable summer outfits from online boutiques USA and enjoy their wide selection of cute tops and bottoms.
Paper Bag Shorts
While any of the other paper bag shorts would be appropriate for a vacation, a classic denim pair offers limitless possibilities for mixing and matching with tops and bikinis. Spice up your outfit with a tote, which can be used to hold all your in-flight requirements. 

Get yourself some fashionable summer outfits from online clothing boutiques. As you drink your second piña colada, don't forget to complete your ensemble with a straw hat.
Inverted Pockets Shorts
Nothing is more casual than inverted pocket shorts paired with trendy women's graphic tees. Since summer is in overdrive and shorts are making a comeback , it's time to get yourself some stylish shorts from online boutiques USA.
Embroidered shorts for a date night
These embroidered shorts and a short blouse makes a perfect outfit for a date night. Embroidered shorts are in trend again, and you should definitely try wearing this outfit when trying to make an impression. You can choose some trendy women's shorts & skirts and pair them with breezy tops for a sunny day out!
Conclusion
Enjoy rocking these trendy and alluring high-waisted or denim shorts outfits. Try recreating  some stylish and super dazzling summer looks after shopping at Southern Honey, the best online boutiques in the USA. Don't forget to browse from the chic boho style collection to update your summer wardrobe this season.