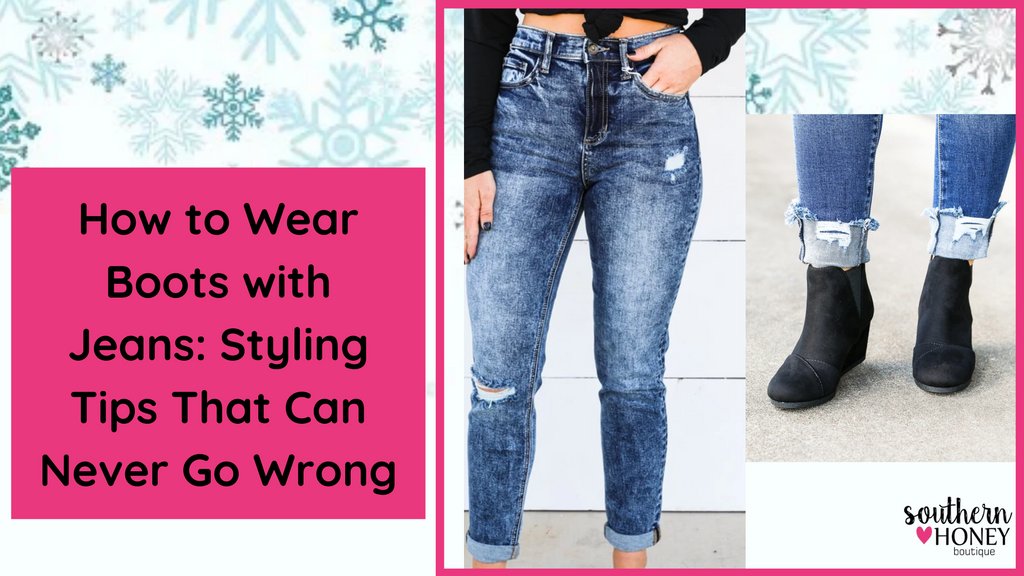 How to Wear Boots with Jeans: Styling Tips That Can Never Go Wrong
A pair of nice solid boots is everything you need for a vogue look in winters. But a combination of your favorite boots with your most-loved jeans is inseparable. There are an endless number of options to choose from. With online Texas boutique, it has become easier to shop so without much ado let us talk about some mind-blowing boot-jeans combinations that have our heart.
Cropped jeans & booties:
Booties for women are trending this season. Cropped jeans look super-hot when worn with a cardigan or a blazer. Summer or winter, monsoon or autumn, whatever the season may be, you can style up your cropped jeans in a hundred ways. But this season our favorite go-to look with cropped jeans is pairing them with suede ankle booties.
Skinny denim and nude boots:
Skinny denim never goes out of style. Pair your skinny denim with a nice cardigan and a fitted overcoat and complete the look by adding a pair of thigh-high boots and you will be the eye-candy out there. Tucked skinny jeans within boot look super chic. You can also go for cuffed skinny jeans and short ankle-length boots in nude shades for an edgy look. Depending on the width of the cuff you can change the way you look.
Pointed toe booties look stunning with flared jeans. They give a slightly elongated look to your flared jeans. For a fashionable look, you can also go for flared jeans with stylish embroidered boots or printed boots. Try boots with platform heels for a super fun party look.
While the world has started opening up, work-from-home is still applicable in most parts of the world, and flared jeans are just perfect for a work-from-home look too!
Add a hint of pop color:
Make any outfit look super edgy with a pop of color. Team up an all-white outfit with smashing red boots, or an all-black outfit with hot pink sneakers, experiment the way you like and you will be a statement changer. Best pop-colored booties are either in Suede or Leather but feel free to choose your winner.
Thigh-high boots & Sock booties:
Thigh high boots look the best over classy ripped skinny jeans and they are not just warm and comfortable but also really gorgeous. You can also opt for Sock booties in neutral shades over ripped denim for a whole new look.
Laced Boots:
You are on level 101 of fashion if you have already tried this one. Pair up your boyfriend jeans with laced boots for a funky look and complete the look with a sweatshirt. You can also go for peep-toe booties with boyfriend jeans for a more stylish look.
Choose the Shades wisely:
Choose a pastel shade or neutral universal colors, pair up with your classic cropped denim and you'll be the stunner next door. Do let the denim touch your booties. Don't let the base of your jeans or the top of your booties have far too much space between them. In comparison to a shorter pair, this can mean (depending on how cropped your jeans are that you need a longer ankle bootie. The best option is to go for contrast.
Wear boots with heels for a taller appearance. Under a dress or baggy jean, booties that land on the higher side should not be concealed. Tuck your jeans into the peaks of your booties and make those shoes show if you already own a bunch of loose-fitting booties. Tan shaded boots with iced blue denim look great together.
At the end of the day nothing matters more than your comfort, so select a pair of boots that is durable, comfortable yet super stylish. Check out Southern Honey boutique the very best Texas boutique for more such trendy outfits and clothing items.
Conclusion:
You might get confused with the endless combinations you see people wearing online on their timelines. But with the right styling tips, you can easily make your way through the unending confusion of "What do I wear today?