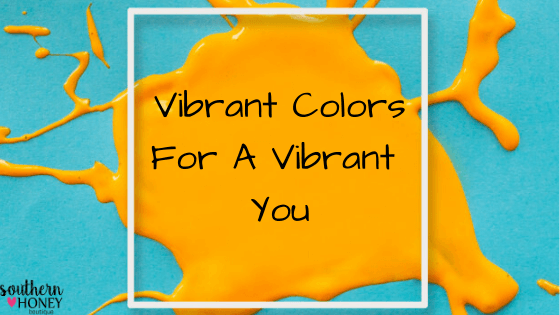 Vibrant Colors For A Vibrant You
Along with the design and looks of the outfits and accessories you choose for yourself, the color of every single of those matters a lot. You need to have the right combination of colors to blend in. Nothing should look like a mismatch and Southern Honey Boutique has very well taken care of it. 
As the new year strides in, we don't want you to miss out on the most exquisite and magnificent shades for your wardrobe! Being one of the top-notch Texas online boutiques, we are here to drench you with a variety of dresses to choose from.  With zillions of choices available in the shades of the colors, we have chosen the best for you. Something which will help you to make a fashion statement and uplift your beauty at the same time. So, let's have a look at some of these vibrant colors that we've got for you and add some of them to your wardrobe!
Classy Black
Black is one of the most evergreen colors you can ask for. Right from your top to the bottoms, black is the most complete and ready-to-go shade for your outfits. So, we have got you the most ravishing clothing option of this classy shade.
Dreamy and adorable dream catcher print on the classy black shade makes this dress very pretty. This super soft and comfy tee something you complement with your favorite pair of jeans. Dazzle it up with your casual shoes and get a trendy look!
Being a fan of the space and want to have that tomboy look too? This classy black tee should be your ultimate choice then. With the right shiny and glossy print over the black, the tee will never let you got out of fashion!
Leopard Champagne Tee:
The fauna prints have always been a trend in the fashion market and how can we let you miss out on it! This tee has got the most intricate and wild leopard prints and is a flawless match to go with the black shade. Add this one to your wardrobe now, if you are missing out on the trendy animal prints.
The shiny blacktop has got the brightest looks. The design over the sleeveless top stands out and is appealing as never before. Throw your favorite blazer over this adorable top and shine all day!
Wavy Cyan
The blues have been the most alluring and magical shade in the fashion industry. Combine it with any of your outfits and they'll dazzle you up anytime. And with that, we have got a plethora of clothing with the Cyan Shade for you!
The historical and traditional prints never go out of style and we have combined it one your favorites shades now! The Aztec Buffalo design on that cyan shade is a stunning combination anytime. Blend it with your pair of jeans and entice everyone around.
Grace And Grit Tee:
Everyone has got a little bit of grace and grit in themselves and we are not letting you hide it from the world. With the beautiful graphic print on the cyan tee, make a fashionista statement of your own.
Not just tees, but we have got this ruffle top too in the cyan shade to complete your wardrobe requirements. This one has got collared up buttons with three-quarter sleeves featuring ruffle detail. Pair it up with jeans and boots and get a drop-dead gorgeous look like never before.
Serene White
Whites have always been a hot talk topic in the fashion world. The tranquil shade is a soothing pleasure for your eyes and also never lets your fashion sense go down. Right from the most beautiful and adorable dresses to trendy and classy tees, the best you can get from any Texas online boutique is right in front of your eyes.
With the flowy and light white fabric, swirl around in this dress and feel effortlessly beautiful. The soft and comfortable cloth material fits true to your size and gives you an ethereal feel. Summers shall be coming soon and this is a dress you would love to flaunt in the sun.
Casual tee with a hot and sassy look. This t-shirt is just the perfect white graphics tee you had been looking for. The solid black graphics print make it compliment any of your denim or pants. Rock the stylish look with this thunderbird graphic tee.
Distressed Rolling Stones Tee:
Another piece of extraordinary comfort and yet a stylish combination of sass and smartness. Colorful 'rolling stones' graphics on this tee make you ready for any day out with your friends or a casual walk, out in the town. Club this with your favorite denim to possess that carefree and smart look.
Floral Wrap Dress:
Family gathering coming up? We have got the perfect dress for you. This floral print wrap maxi is an amazing piece to dress up in when going for casual family outings, church or Easter celebrations. Beautiful flowers in pink and tangerine compliment the dress and its overall appearance.
Pretty Pink
Hello Ladies! Our favorite pink shade is right here! Grab all the beautiful shades of pink - magenta, blush, flamingo and rosewood.
Stripesnever fail to spread their charm no matter where they land up into. This comfortable jumpsuit is the perfect apparel to suit up in when up for a happy gathering or get-together. The comfortable fabric holds your body in the right shape and the yellow and pink hues make you look refreshing altogether.
Getting the sexy vibes from a simple bodysuit was never so easy. This magenta shade excites every eye it steps into. With a 95% rayon lining and cotton shell, this bodysuit hugs your body with the utmost softness.
Cool watermelon vibes in the hot summer - what a combination! This buttoned top gives you all of it. Starting with a soft rayon origin, this top ends up in ruffles on the sleeves and waist, thus completing the airy look. Adorned by coffee-brown buttons, it is perfectly fit for your favorite denim.
Just as the name suggests, this simple, sober, and yet luxurious top is the perfect wear to semi-formal as well as informal meetups. The babydoll look makes your girly vibe sprout out freshly. With bubble sleeves and fitted wrists, this top is our most beloved shade of pink.
This Spring 2020, let no color be left behind. Take up the color palette and paint your wardrobe with the most vibrant strokes. The best collection all over any Texas online boutique is here with a southern tinge of flavor in the vibrant and colorful dresses. Experiment with them and embrace the sunshine with your beloved ones. Celebrate every gathering, event, and festivity in the best form of yourself with the Southern Honey New Collection. Try us now!