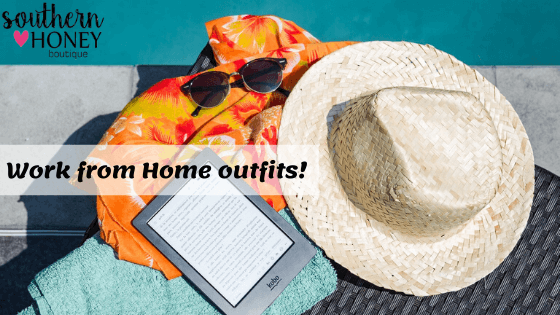 Comfortable Women's Work from Home Outfits
Hello Ladies! With most of us working from home due to the current scene, the question that tops on every woman's mind is what do I wear for my next zoom meet? Since it's all about being comfy and chic! Southern Honey Boutique has rounded up its spectacular collection of stylish work clothes to make you feel confident and yet at ease while working from home.
Small Town USA Tee 
If anything you want right now is a very cute looking small town USA graphic tee to give you all the feels. This standard sleeves tee comes with fabric so soft to get you more at ease. It is quite stretchy, true to its size & one of the best summer tees you can get right now. You can pair it with shorts or jeans & get on your couch for some comfortable working. 
The Macy Button Tank
Just feel the breeze this spring with the all-white button macy women's tank top with a low-neckline & straps. The adorable looking tank top comes in a lightweight fabric giving you a loose fit but making you feel chic at work. Have a look at the amazing home-wear clothes.
Jump Into Love Dress 
Put on this lovely & comfy knee-length dress that comes with straps that you can tie around your shoulders. The dress that gives you a flowy look comes with a beautiful lilac shade that makes you feel all fresh even while you work from home. Show some love to this dress here - jump into love summer dress.
Madeline Paper Bag Shorts
For a good pair of comfortable bottoms, nothing beats the paper bag shorts, getting you into the summer vibes. A pair of shorts that comes with a chic front tie with two side pockets is all you need to have in your comfortable work from home outfits. The paper bag shorts are available in two stunning colors of black and olive.
The Becky Peplum Top 
This small, gathered & flared up trendy top is yet another lovely shade of lilac that can give a unique look for your work from home outfit. Featuring an almost closed neck & short sleeves, you can pair this up with your favorite shorts & get on with confidence for your meetings. Look at the modish peplum top.
KanCan Cali Shorts  
Nothing beats wearing shorts for working at home to be the most at ease. These women's bottoms are front-buttoned & come with 9" rise, with an inseam of 2.25" in 100% cotton. It sits below the natural waistline, fitted along with frayed hem details. The fabric is also the softest. Go for it now - summer shorts.
The Christina Leopard Pants
The ultra-cool pair of leopard print pants can prove to be your go-to outfit while working from home. The grey-white loose fitted pants come with two side pockets & a tie in front giving you an uber cool style statement. Although it has no stretch, it still provides a relaxed fit and is the best work clothes for women.
Brunch On The Boardwalk Joggers
The most comfortable bottoms are the boardwalk joggers. This true to its size joggers increases the elegance factor. It offers an elastic waistband; two hand pockets on the side & two at the back with an admirable tapered leg. Instead of your regular casual office pants, these joggers are a great variable that makes one feel at work & gives an effortless look. 
So wait no longer! 
Be inspired to get dressed even amidst a pandemic in our wide range of sophisticated yet comfortable clothes to wear at home. Raise your style quotient higher even while sitting on a coach with women's work clothes & throw your fidgety mood away by slipping in some amazing collections from Texas online boutiques.