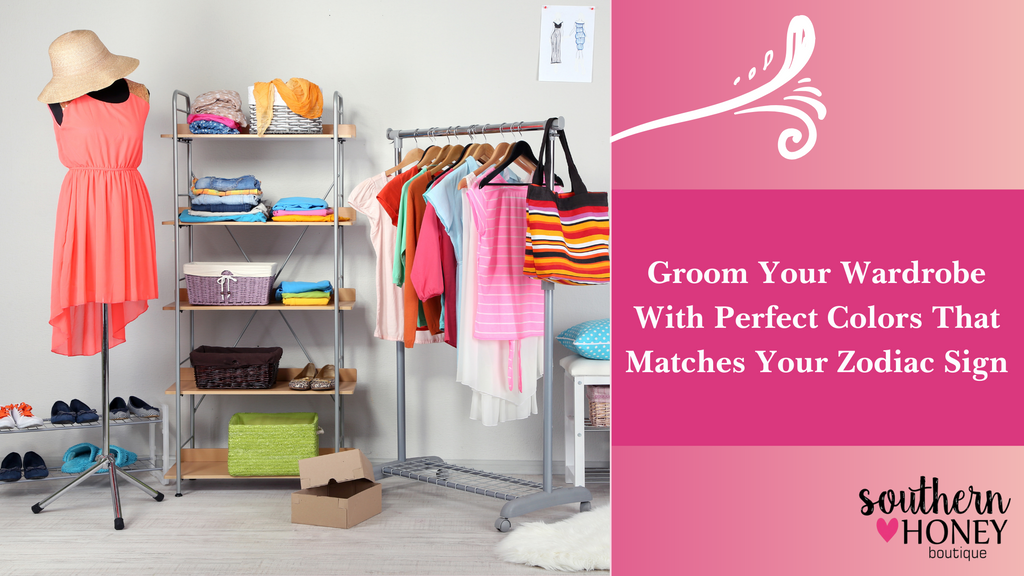 Groom Your Wardrobe With Perfect Colors That Matches Your Zodiac Sign
Erase lethargy and drive energy to your life? The color you wear brings a lot of changes to your aura. Wearing colors according to your zodiac will illuminate your personality. So, next time while shopping at an online clothing boutique, make sure you buy something according to your zodiac sign.
Read below to know what color you should choose to enhance your wardrobe to create a zodiac collection:
Aries, Fill Your Wardrobe With Brighter Shades:
Confidence and passion define Aries. They are high potential individuals who turn the world to them with hard work and perseverance. While choosing colors, Arisian should prefer buying rust shades, deep red, or golden colors that will enhance their personality traits and confidence level. According to their zodiac, wearing red every Tuesday will light up their lives with positivity and enthusiasm.
Sometimes the uncontrolled energy will make you Aries hyperactive. Wearing pink and white will help you soothe your soul. Aries, Hurry up! Shop from the extensive collection in the online boutique in texas to refurbish your wardrobe according to zodiac rules.
Taurus, Get something for the Thriving Bull in You:
Taurus, the earthly zodiac sign! Like the zodiac symbol bull, you are active, intelligent, and adamant. Nothing can influence you easily. You have a knack for getting things done. 
Taurus, you need a wardrobe that better defines your personality and brings out the inert desire in you. Manifest your wardrobe with colors like Raspberry Sorbet, Maroon, Khaki, beige, deep green, and shades of blue that will match your personality.
Dear Taurus, a word to you. Never go for red. It drives negative energy and lethargy towards you. Go grab trendy dresses from Southern Boutiques in any of these colors to match your wardrobe with Taurus inside you.
Gemini, Shop Some Shades of Nature:
Gemini, you are born with a green pasture inside you. You are a storehouse of rejuvenation and liveliness. Any shades of green will blend with your fresh nature. But don't worry if you don't like green that much black, pink, yellow, and white will magnify the inert glow.  Confidence and pride will embrace you once you organize your wardrobe from Texas boutiques. Your ultimate one stop shop to buy the right colors that will exude your inner glow.
Cancer, Let's Get Something for the Saint in You:
French blue is perfect for the calmness and serenity inside you. You can pick some green, white, and yellow shades to brighten your soul and calm your mind and body. But be cautious Cancer, Black is not for you. You are not born for gloom. 
Discover some perfect blend of colors that matches your zodiac from online boutiques and fill your heart with peace and prosperity.
Leo, Be a Magnet with a Pinch of Gold & Orange:
Elegance, power, and might are inbound traits in you. You attract everyone with your charismatic nature. According to your zodiac, orange and gold are the perfect colors to spice up the passion in you. Blend your wardrobe with some gold and orangey dresses to flaunt your personality.
Virgo, Get Some Pale & Pastels for your Super Brain:
You need to wear colors that won't overdrive your temperament. Light colors will help you stay relaxed and calm by staying away from stress and distractions. Moss green, bottle green, and some light shades of blue will help you look peaceful and vitalized. 
Libra, Mix Your Wardrobe with Tranquility and Harmony:
Burnt coral, shades of blue and white are considered lucky for you. You can also try bright colors to charm up the leader in you. You are known for your tranquil nature that collectively brings the people around you under an umbrella. This makes you the best leader.  
So, what's the plan now? Let's find some super cool dresses that match your aura from online boutiques in Texas.
Scorpio, let's Spice Up the Mystic Souls:
You are gothic and passionate. Oxblood Red will be the perfect color to bring out the intense personality inside you. You can lure anyone around you with your vibrant aura. Wear dark gothic shades like red, bottle green, black, purple, maroon to captivate the world. 
Let's wipe out the pale shades from your wardrobe and get some bright hues from the online clothing boutique. 
Sagittarius, Wrap in Orchid to Flaunt in Style:
You love adventure and always look for vibrancy. Pale shades never calm your mind. It brings lethargy. Orchid color, canary yellow, red, and orange are perfect shades for hot dogs in you. Wrap yourself in these colors to add vibrancy. 
Capricorn, Ground Yourself in Khaki and Grey:
All you need is stability and comfort in life. You don't want to make your life a roller coaster ride. So you should embrace bright colors and wrap yourself in the ultimate grey and khaki shades that soothe and comfort your soul. For finding elegance in shade that matches you, shop from Texas Boutiques now.  
Aquarius, Float in Vibrancy of Blue and Violet:
Your optimism and hope for life can be better expressed in hues of blue and violet. Your free spirit wants soothing shades to add vibrance to your life. Your floating nature needs aquatic colors to keep you grounded and calm.
Pisces, Get Tidewater Color for the dreamy Soul in You:
Romantic and imaginative souls need tidewater blue and green shades to groom their life. Your eyes are dreamy, charming, and romantic. Wearing some tidewater shade will magnify your serene and alluring aura. Flaunting in yellow will also make you elegant and glorious.
Color Your Wardrobe to Match Your Zodiac Sign:
Getting the perfect shade that matches your zodiac is no more difficult. Come to Southern Honey Boutique in Texas and illuminate your life with colors that match your personality and zodiac Sign. 
The vast collections at our online boutiques in Texas will enhance your life with beauty, happiness, and elegance. Explore our rich collections right now and expand your wardrobe.