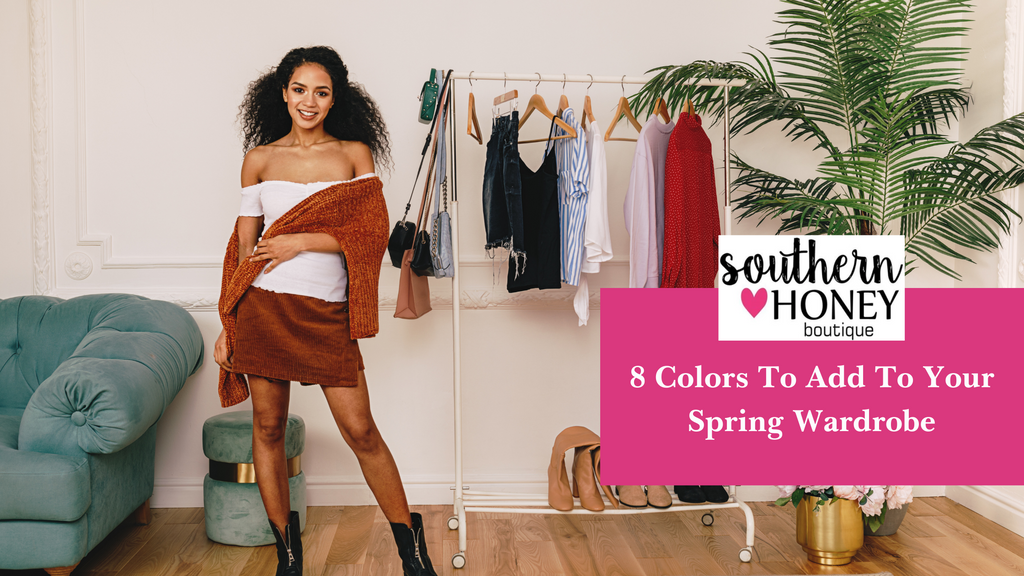 8 Colors To Add To Your Spring Wardrobe
Irrefutably, colors have a profound impact on our moods and emotions. Spring is in the air, and this beautiful season brings the bright and vibrant shades back to life. What better way to uplift your mood in this vivacious weather than wearing the season's most stand-out hues from online clothing boutiques? Ditching the black and blue for more rich colors has an added advantage to make you feel cooler in the warm weather.
Wrap yourself in rich saturated colors from Texas boutiques for an effortless and easy way to look trendy for the spring season.  

Let's check out the season's vibrant palette:
Coral:
For a touch of something bright and colorful in your wardrobe, look no further than this soft shade which is a mix of peach and pink. A subtle reminder of the bright flowers and warm weather! If you are among those who are tired of wearing the regular peach, pink, and purple, this color is just apt for your taste. Coral has the aura to make you fall in love with it, adding a feminine and bold touch to your wardrobe. Create bright fun outfits from online boutiques USA by pairing this soothing shade with any neutral base. For a daytime classic look that'll fit the warm spring weather, combine coral with denim blue.
Sage Green:
This shade of green is sleek and polished. It is unquestionably a springtime favorite hue, reminding us of the flowers and plants blooming around us. Some colors, like this one have a class that helps to elevate the outfit to the next level. For the girls on the go, a dress, top, or tee in sage green can amplify their persona. Check the collection at a southern boutique now! No better way to create a subtle and fresh look than pairing this shade with pastel shades like peach.
Lilac:
This hue is a fantastic combination of mysterious and mellow shades of purple and pink, which look deadly chic in a party dress. You can unarguably add a feminine touch to any look with this cool-toned shade. This color has been in style for quite some time; don't hesitate to add a bit of this shade to your wardrobe from Texas boutiques. Dress in style in a trendy lilac dress or top for any spring occasion to emanate exuberance. Magenta is another pretty spring shade that you can add to your wardrobe.
Royal blue:
A classic timeless color, that is the most sartorial versatile of all the colors on our list. Just pick a few staple pieces from southern boutique to add oodles of color and depth to any outfit. The best part about this color is that it suits all skin types, adding a pop of color to any outfit! Wear a short mini dress with a black leather jacket, black heels, and a sleek clutch to bring out the darker spring hues. Ok, so you are all set for a date night in the mystic weather!  
Baby blue:
Soft pastels top the charts this spring season. Wearing this color would be synonymous with imagining the clear blue skies on a bright cheerful day. This clear looks extremely classy if you even wear it as a statement cardigan or sweater. It gives an extremely soothing and serene feel to dress in style in this sober color.
Yellow:
A bright and cheerful primary color, rocking this spring season! It evokes happiness and pleasant cheer, making everything seem lighter and happier. And why not!  Is there anything that can remind you of the warm weather better than this peppy color? Whether you like the lemon yellow or the one that is like the color of Dahlia; they all look universally chic. It brightens up your face, just like the spring season brightens up your mood. 
Neutrals:
They are not going anywhere! Neutrals were, are, and will be the most effortless colors to wear for any season. The best part is you will at least find a few pieces lying in your wardrobe! Isn't that good news! How about a monochromatic white or grey look with a touch of bright accessories? Sound's great fun to wear these neutral shades with a dash of color to add pop to your outfit! Chic look with minimal effort! 
Bright Red:
This super-powerful hue is a symbol of confidence and determination. Wearing this sizzling hot color exudes a poised aura that can be head jerking for onlookers. There is no harm in trying these off-beat shades once in a while to capture all the attention. Smokey eyes and bold makeup will only add oomph to the outfits in this color, making you dazzle!

Conclusion:
It's time to rush to our stores and stock your apparel supplies from online clothing boutiques. Southern Honey boutiques are at the forefront when it comes to choosing the best online clothing boutique in TX. We believe in giving quality products at affordable prices. Spring or winter, you will never be disappointed with our stock.  Even if you are a die-hard fan of the boho-chic style, we have tons of apparels for you.