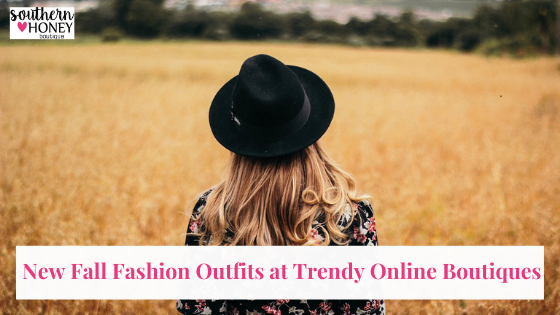 New Fall Fashion Outfits at Trendy Online Boutiques
It's time to say goodbye to the summertime sunshine and enjoy the beauty of fall by this time of the year. The weather is changing colors and the graphic-tee-and-denim-shorts days are over. The warm jackets, sweatshirts, and cute hand mittens are waiting for us to meet them again. With the changing beauty of nature, it is about time we change our wardrobe too.
So, let's lock away our summer outfits and adorn our wardrobes with the best outfits for fall from trendy online boutiques! Have a look at the best outfit combinations for fall 2020 and soak yourself in the awe of how aesthetic and pleasing your wardrobe can be with these adorable pieces of clothing. 
1. Tie-dye magic that will add to your cuteness
The tie dye drop shoulder top from the Southern Honey boutique looks cute and cozy for a fall outfit. And with the color combination as pretty as the hues of the sky during sunset, you will blend into your surroundings and still be the most unique person in the room.
Add a pair of ripped jeans and white sneakers for a cute look and rock your way to an evening bonfire or a family outing. We often find it daunting to pair up our favorite tops with appropriate accessories and bottoms, but we got you covered here too. Have a look at this blog to enhance your style!
2. Wrap dresses for the cozy vibes
 With a vibrant color combination to add to the cheerfulness, the Alex Wrap dress comes with a beautiful and intricate print, and long sleeves to perfectly fit the fall weather.
Adding a pair of whole boots or wearing a body-hugging pair of stockings with this dress will create a classy fall look. With wavy hair and dark red lipstick in addition to this dress, you definitely do not need much to turn heads wherever you go. You can even add a blazer on the top of this dress to adjust the temperature while also being classy at the same time.
Weekends and holidays are also arriving soon and most of us will love sleeping in on days off work. Some of us would love to take a jog in the early morning. But a comfy pair of joggers fit perfectly in both these scenarios.
The Monica joggers from the Southern honey boutique are comfortable, stylish, and can go perfectly well with solid tees and fuzzy sweatshirts!
Add some classic style with boots: With jeans or straight solid skirts, one thing that goes well with fall costumes are boots. They keep your feet warm when you're outside, and look trendy at the same time. The best part, they are easy to blend in with multiple outfits and are super comfortable. 
Add the gorgeous pair of A Walk in my boots Booties to your closet and ace at your fall fashion game.
4. Contrast with nature, spring colors in fall weather
Fall is a cold, silent season and nature needs a little bit of cheering up every now and then. Become the life of party by contrasting with the colors of nature and wearing an extremely happy and colorful outfit at your get-togethers and parties. The floral serape blouse is one of those kinds and can be combined with multiple types of bottom wear.
Conclusion:
The falling leaves and the chilly temperature of the fall season make us a bit lazy. And the holidays adds to the urge to sleep till late. But with these drop-dead gorgeous outfits, you will not only want to get up and dress up, but you will also want to get out and beat everyone at their fall fashion game. 
Make everyone's jaws drop with fall outfits from Southern honey, and do so before the spooky season comes nearer.