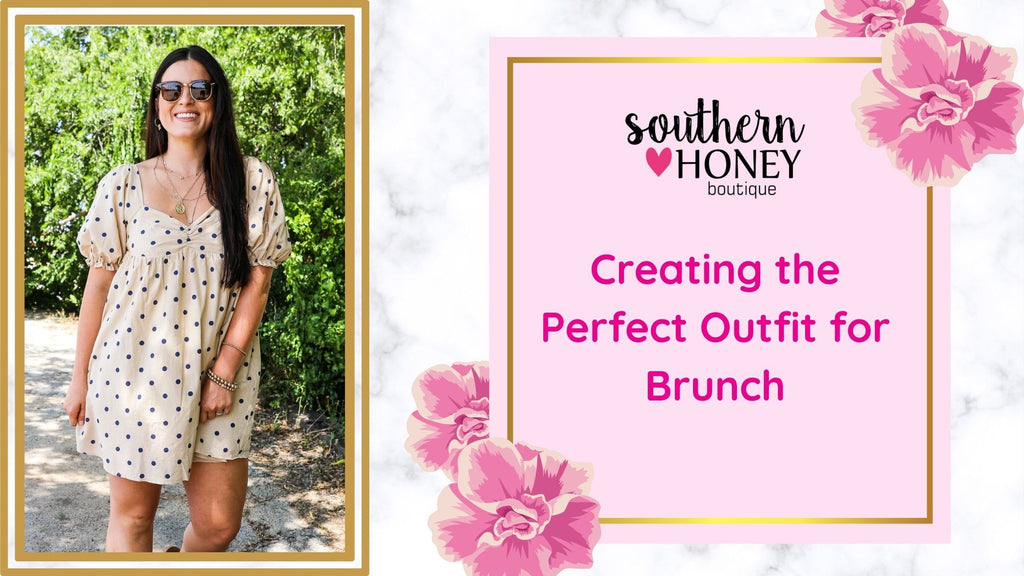 Creating the Perfect Outfit for Brunch
Are you struggling to decide what to wear to brunch? We have you covered! Getting Sunday brunch is a perfect excuse to dress up and catch up with friends and family. But creating the perfect look can be difficult. Luckily, we have plenty of tips and tricks to help you look absolutely stunning in all of your Instagram photos!
Your outfit will depend on the weather and what restaurant you're going to. Are you going to be out in the sun drinking mimosas on the patio or sipping coffee in a cozy cafe? Whatever the occasion, we are here to help you create the perfect look!
Choosing Your Look
As we mentioned before, your outfit choice should reflect the occasion. However, brunch looks should typically be a perfect blend of trendy and casual. The outfit should be chic yet comfortable. If you're looking for some inspiration, head to our online women's boutique! We offer a wide variety of unique and trendy outfits that are sure to take you to the next level.
To help you look absolutely stunning for your brunch date, we've put together a list of chic outfit ideas that work well for all different seasons and personal styles! Whatever the occasion, we have you covered!
Check the Weather
Your look will more than likely revolve around the season and the weather. For Fall and Spring, we recommend layers! The weather can be unpredictable, and by layering, you can easily adjust your outfit based on the temperature. Pairing an adorable blouse with a blazer and your favorite pair of jeans is a great way to create a cute and casual look to reflect the season. For summer, throw on a chic sundress and pair it with an adorable pair of platform heels. The options are endless! But by determining what the weather may bring, you can narrow down your options and create the perfect look!
Color Palettes
Choosing your color palette can be challenging. So why not make it easy and let your color choices reflect the current season?
For Spring/Summer-

White and pastel colors are perfect for spring or summer events. These seasons tend to be bright and warm, so choosing bright colors can help to highlight your look and embrace your Summer glow.
For Fall: Fall hues consist of beige, brown, ochre yellow, and orange colors. They represent the gorgeous fall foliage. To elevate your look, you can also opt for versatile shades of pink, blue, green, or purple to add a bit of vibrance and color!
Fall/Winter Brunches
Nothing says fall more than cute cardigans and leather jackets! The weather may be unpredictable, so you have to plan accordingly—layer up with confidence in our trendy outerwear. You can choose a complementary or monotone color to create a bold look. We recommend pairing one of our stylish blouses with a casual blazer and a pair of ripped jeans to create the perfect fall. Adding a few accessories can also help to enhance your look. Try adding a long necklace and a beige hat to embrace the season.
The Perfect Shoes
The perfect pair of shoes can help to complete your look. But, again, your choice of footwear has a lot to do with the weather. For Fall/Winter, we recommend a cute pair of booties or bold knee-high boots! For Summer, we suggest you choose a chic heel or sandals. If you need some inspiration, check out our current collection of women's designer shoes. We guarantee that there will be something that suits your style!
Don't Forget to Accessorize
Your outfit is never complete without a few accessories! Accessories are such a quick and easy way to elevate your look. For some inspiration, check out our latest collection of jewelry! We have a wide variety of styles that will perfectly complement your look. Our "Must Have Charm Necklace" is subtle but versatile! Not only is it adorable, but it goes well with practically any look.
If pendants and necklaces aren't your style, check out our adorable tassel earrings. Our "Let's Have Some Fun'' earrings are unique and sure to make a statement! Find the perfect pair of earrings at our trendy boutique! 

Finally, finish your look with one of our gorgeous designer handbags. They are sure to take your look to the next level and give you the boost of confidence you need to feel your absolute best.
Our Conclusion
You deserve to look and feel your absolute best when you're out to brunch with your friends and family! Choosing your outfit can be challenging, but by coordinating your look with the season, you will be able to narrow down your options! For more inspiration, check out our online boutique! Shop for trendy women's tops, dresses, accessories & more by visiting Southern Honey Boutique. For more style tips and ideas, make sure to subscribe to our blog! We are here to help you find the style that best fits you and your personality!