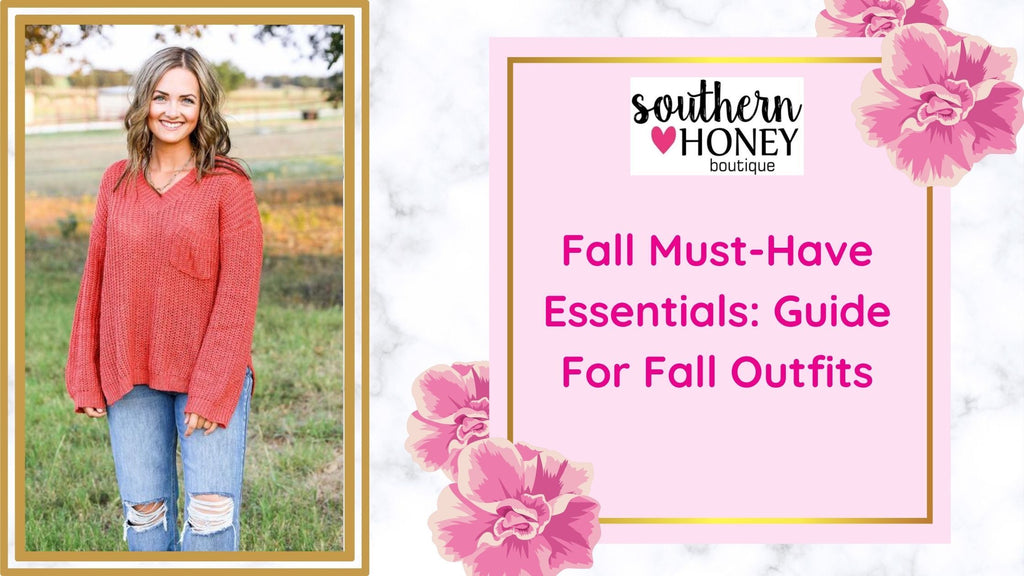 Fall Must-Have Essentials: Guide For Fall Outfits
Fall has arrived, which means it is time to prepare your wardrobe for one of the most fashionable seasons of the year. While we can usually expect to see leather jackets and boots around this time of year, there are a few new trends to look out for this season, aside from the jackets. Style experts at the online clothing boutiques come by to showcase a few distinct fall ensembles that suit your body type to help you walk out in a look that is trendy for the season.
Trendy women's clothing stores have the fall outfits you want in your wardrobe before the temps drop, whether you've been dying to get dressed up again or can't bear the notion of sacrificing comfort to put on jeans.
Fall Trendy Women's Clothing Ideas
Fall 2021 fashion trends are about these classic, spirited outfits that encourage dressing up, going out, and feeling joy. And there is nothing better than coming into our favorite stores and feeling the buzz of a new collection on the shelf for us shopaholics. Now that you have seen all of the hottest fall 2021 trends, it is time to consider how you will put them all together to create stunning fall ensembles. What should you include in your 2021 fall wardrobe? You will find plenty of ideas below that you can buy from the trendy women's boutique.
1. Cardigans and Sweater Vests
Shop for soft-colored cheap cardigans for women. You can tuck it into your jeans slightly. This is a wonderful strategy to do if you don't want your cardigan to cut across your body lower down your hips, as this can make your legs appear shorter, especially if your cardigan is buttoned up. 
Wear a similar cardigan, long white sleeve top, jeans, and sneakers to get her style. More knit cardigans that pick up key fall trends are now available in trendy boutiques. Off-the-shoulder and one-shouldered looks are trendy right now. You might already have one in your closet because they've been popular for a long time. Choose your colors wisely, ladies, because some colors do make you feel younger. Take a look at the fantastic color options that make you look younger.
2. Cowl Neck Sweaters
This outfit has a more sophisticated tone thanks to the high neck sweaters and blazer combination. This style comes in various shades, allowing you to create a variety of styles this fall. Saturated hues are in right now, and there are so many ways to wear them. You may go for a monochrome outfit or break it up with a vibrant sweater. Fashionable sweaters for women and now available on the trendy women's clothing boutiques online for you to shop your fall ensembles from one trusted site.
3. Fancy Bodycon Dresses for Fall
Bodycon dresses are ideal for transitional weather, especially when it's cool in the morning but warms up by noon. This style is not just stylish, but it's also on sale for a reasonable price. Midi dresses, whether simple or printed, and sweater dresses and bias-cut skirts in silk or satin are key fall dress styles. When the weather becomes cooler, pair your midi dresses with knee-high boots. Wear your dress with a sweater, boots or sneakers, or a lovely cardigan and evening sandals to dress it up or down. Shop fancy women's dresses online to stay in trend this fall season.
4. Leather Jacket and High Neck Top
A classic fall essential is a leather jacket, but this racer jacket elevates the appearance with its button collar. It is available in four distinct colors representing the season's earth tones, so you can mix and match it with anything in your closet to create the ultimate fall outfit. This outfit has a more sophisticated tone thanks to the high neck and jacket arrangement. This design comes in various patterns, allowing you to create a plethora of outfits for this fall season. 
Get your hands on the trendy women's tops and grab a few high neck tanks so that you can wear them under the leather jacket. Throw on some high booties from the women's branded shoes online to show off your southern vibes! The boots don't just look luxurious; they also feel great, thanks to the memory foam insole. According to Goodman, their sleek design is the ideal method to complete this look. The faux leather combat boots add a dominating look to any ensemble. They also have a lug sole, which is very fashionable this season.
5. Wide-leg Pants
This season's big trend is wide-leg pants, and these flare jeans are a nice change from slender versions. Also, they look perfect when paired with some trendy boots and belts. When the weather gets cooler, you may want to wear more slacks and jeans or layer leggings or tights under your skirts and dresses. Wide-leg pants are undoubtedly more in vogue this season than skinnies. So, dig out those bootcut jeans, invest in a new pair of wide-leg pants, and keep an eye out for on-trend colors like the green shown above. Pick your favorite women's designer jeans from the trendy women's clothing stores online.
Conclusion
With so many possibilities to choose from, you are now in a good position to figure out what would best suit your personality from the above-suggested fall outfits. Our online clothing boutique has everything in store for you to choose from. Pick your favorites for your fall wardrobe this season. Don't miss a chance to shop from Southern Honey Boutique because you might lose your ultimate favorite fall outfits to others!