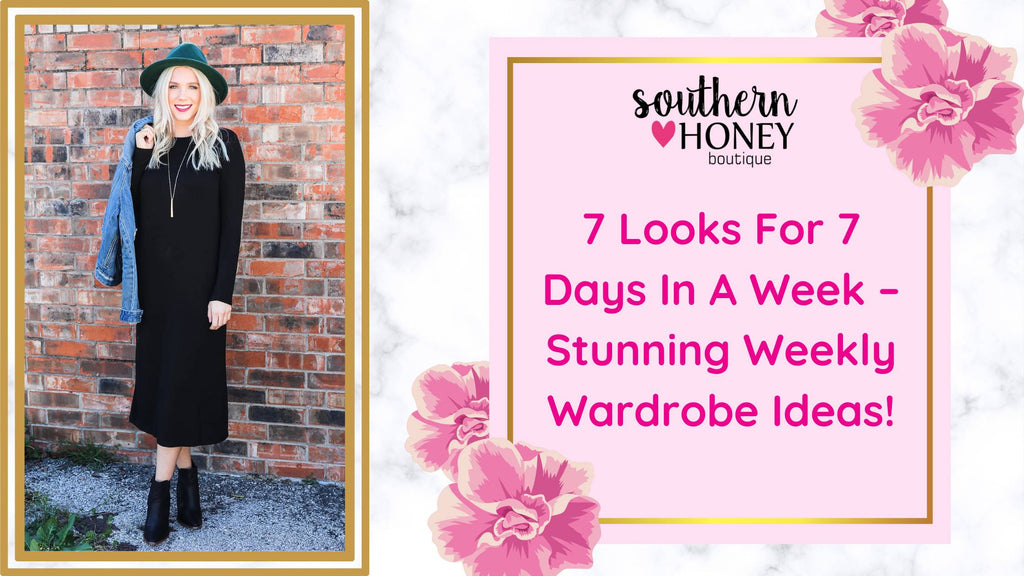 7 Looks For 7 Days In A Week – Stunning Weekly Wardrobe Ideas!
While we are all very comfortable with a pair of jeans and a top every day, we need a touch of spark every once in a while, don't we? Everyone out there has a hectic schedule. Every day is meticulously recorded. And there are still a million tasks that need to be completed. In all of this, less time spent planning what to dress would be beneficial, right? Every day, you face the same dilemma: standing in front of your closet, indecisive. Do you wish there was someone who could assist you, perhaps an outfit planner? Is it better to be virtual or real? So, here we are to virtually introduce you to seven ideas for the seven days a week. Shop trendy women's clothing at the online boutiques to fill your weekly wardrobe!
7 Stylish Weekly Outfit Ideas
Having a plan for what to wear might also help you deal with weather woes because you can plan ahead of time based on weather forecasts. Furthermore, once you've narrowed down your alternatives, you'll have time to prepare your wardrobe. Getting down to business, we are here to introduce some trendy outfits for seven days that you can easily shop from the online clothing boutiques.
So here are some ideas to help you plan your outfits for the week:
Sunday: Short Dress for the Holiday!
Consider the best dresses to wear for weekends spent with family and friends. It is more about variety on Sundays. Pick stylish outfits for brunch, outings across town, or just doing chores before the upcoming hectic week.
Dresses in cheerful, vivid solid colors or vibrant designs, but more cozy fabrics like cotton, poplin, or jersey, are a good choice. Wrap a scarf around your neck and choose oversized sunglasses from the trendy women's clothing boutiques to look like a true southern chic through and through.
Monday: Colorful tops and bottoms
Oh, here comes the Monday blues! Does it sound like another name for doomed ladies? The very thought of getting up after a killer weekend is the last thing we want to do on a Monday. So, choose your outfit wisely to get along with a hectic day ahead. You must add some color to your outfit to fight the Monday blues.
If you have a business meeting on the first day of the week, go for a stylish yet professional-looking top with wide-legged trousers. A ruffled peplum top will help you add the much-needed charm. Add some colorful and trendy women's tops in your weekly wardrobe to feel like a fresh daisy on a Monday morning.
Tuesday: How about a Skirt?
For Tuesday, how about putting on a skirt? Of course, the week has only just begun. It's also possible that some official engagement is in the works. A comfortable tank top and a denim skirt to see you through the day would work perfectly. Choose wedges or sandals from a wide variety of women's branded shoes to pair with the overall outfit.
Wednesday: It's time for a Jumpsuit!
Your job or college week is most likely to reach a climax on Wednesday. So, to get you through the day, dress up in the most elevated necessity you have in your closet. We love comfy dresses available at the women's boutiques, but jumpsuits hold a particular place in our hearts since they are so flexible. They can be dressed up or down, layered beneath a stylish jacket, and worn anyplace, which makes them a valuable item to add to your weekly wardrobe. A front tie jumpsuit is calling you, so don't wait and grab it before it sells out!
Thursday: Go with the Flow with a Flowy Dress
Isn't it starting to feel like the weekend is approaching? It's almost palpable. Trust your virtual stylist to make some fantastic recommendations. A flowy maxi dress or a long skirt coupled with a top, for example, would be ideal. These give your outfit a semi-formal feel. Keep the designs or dots/stripes toned down for work, as any competent outfit planner would advise. As long as they are not a riot of splashing colors, prints will be great on a Thursday as well.
Friday: Thank God it's Friday!
Friday. Finally! Treat yourself by wearing fashionable and comfy dresses with a simple silhouette, whether you're heading out or have many appointments to attend. Go all out with some of our one-of-a-kind outfits, such as lace embroidery gowns or bright patterns and accents. Slip into party mode right after work or a hectic day. Embrace your bodies and find stunning dresses that suit your body type at the trendy women's clothing boutiques.
Saturday: It's time to socialize!
You may finally unwind now that the hectic week is over. It's beautiful to get up late on the weekend. The majority of women use their weekends to catch up on chores. Also, there could be a get-together at home or a date on the horizon on the subject of socializing. Take your time selecting the appropriate clothing from your closet. Saturday is the day to go overboard with your clothing choices. So, pick up a Little Black dress from the trendy women's clothing boutique and get ready to rock n roll! And, if you are not in the mood to dress up and just want to spend a lazy weekend, then a pair of jeans and top would suffice as well. Shop for women's designer jeans because you can never have enough jeans, now, can you?
Conclusion:
Hope you got everything you are looking for! Put together a carefully selected weekly wardrobe by taking inspiration from the above ideas. Find finely tailored trendy women's clothing at the Southern Honey Boutique, starting from dresses to casuals!