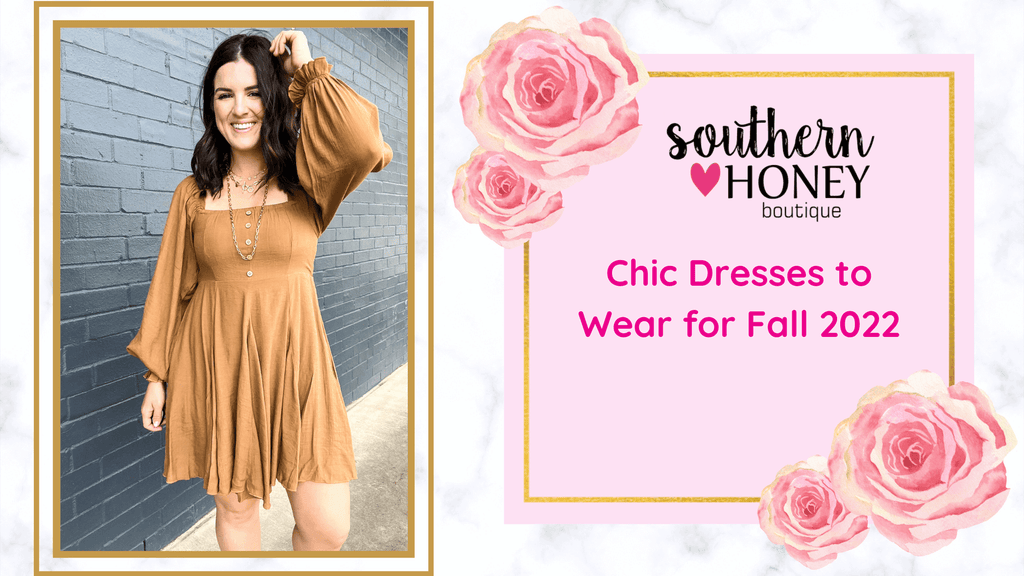 Chic Dresses to Wear for Fall 2022
The fall season is the season of transition and also the ideal time to switch up your style. The weather is changing; hence, updating your wardrobe with some new pieces is a top priority. It's no secret that we all love dressing up for parties or nights out. Still, sometimes shopping can be overwhelming with all the options available to us regarding fall attire.
Whether you are clubbing or attending a day-long affair, your look should be chic and flawless. It's important to find something that will best preserve your style - so check out these classy dresses from Southern Honey, your favorite Stephenville boutique, for your next fall outing!
8 Chic Dress That Your Fall Wardrobe Will Love 
Dressing for fall does not have to be difficult; instead, it should be something new and fresh. We have gathered a list of fashion-forward dresses from our boutiques in Stephenville that are perfect for the fall season!
1. Ravishing in Red: The 
Twyla

 Dress, Valentina Booties, and the Must Have Charm Necklace
The Twyla Dress will embrace your silhouette with unmatchable comfort and coziness. Whether it is brunch, dinner, or any special occasion, save this outfit for your next stunning public appearance. You can accentuate the look with brown-colored Valentina Booties for a contrasting effect. Ditch the heavy jewelry and opt for some ornate pieces such as Must Have Charm Necklace for low-key yet stylish aesthetics.
2. A Spell of Enchantment: Beth Dress, Kimye Heels, and Black Tassel Earrings
The allure of fall is in the air, and this sublime Beth Dress is a testament to it. Since black is an evergreen color representing sheer sophistication, this outfit is sure to turn heads. You can go for an all-black look with Kimye Heels as they offer great stature for that added confidence in your walk. Complement the look with fancy and shimmery Black Tassel Earrings, and you are set to go!
3. Elegance at Its Peak: Scallop Dress, Natania Heels, and Long Triangle Tassel Earrings
The Scallop Dress from our Boutique in Hobbs, NM, offers a flawless blend of femininity and luxury. It is a chic and modern take on the classic A-line silhouette. The dress has a beautiful lace pattern on the top and is airy-light and easy to wear. If you have refined taste in fashion, the Natania Heels are a must-have. With a tie-style closure at the ankle, these white-colored heels will get you all the limelight. For accessories, look no further than Long Triangle Tassel Earrings for impressive styling.
4. The Oceanic Beauty: Ruby Dress, Bohemian Boots, Ivory Turquoise Slab Stone Necklace
The fabric of the dress is stretchy and comfortable, making it easy to wear for long hours at work or on the weekend. It flaunts super-chic aesthetics, giving you endless options to style it with versatile jewelry pieces like the Ivory Turquoise Slab Necklace. It flatters an opulent design to match the gorgeous color of the dress. Fall is around the corner, so our Bohemian Boots would be an excellent choice for footwear.
5. The Sultry Goddess in Satin: Front Tie Satin Dress, Ramsey Bootie, and Alexis Axis Fringe Wristlet
The Front Tie Satin Dress is made with pure luxurious satin and is one of the most lovable sartorial pieces in our boutique in Stephenville, TX. It has an alluring front-tie design and long sleeves that are a mark of sophisticated dressing. You can wear it to revelries, dinner, and special occasions. The Ramsey Bootie can be paired with just about anything from women's designer jeans to dresses. It has an understated heel that gives it a chic look without being too flashy. The Alexis Axis Fringe Wristlet has fringy detailing on the front, making it an investment accessory.
6. A Luxurious Escape: Party Time Dress, Sonia Booties, and Cowhide Rosa Wallet
Draped in the beauty of soft satin, the Party Time Dress is a delight to wear. It flaunts a unique layered pattern with a beautiful neck closure, which is appropriate for high-end parties and festivities. The Sonia Booties can accompany varied ensembles and are made of soft suede leather to give you more height, thereby looking fashionable. You can carry a Cowhide Rosa Wallet, as its exclusive appearance will make you stand out.
7. The Flamboyant Soul: Sonora Nights Maxi Dress, Regina Heels, and Blue Triangle Tassel Earrings
The Sonora Nights Maxi Dress comes with a soft drawstring to highlight your physique without overstressing it. You can wear this easy-breezy dress to daytime outings, brunches, and celebrations. Complete the styling with ultra-elegant Regina Heels to make an impression on the masses. You can shop for more such outfits from our range of fancy women's dresses online. Let your presence be noticed with Triangle Tassel Earrings' bold and dainty flair.
8. An Adorable Flair: Marlo Dress, Brooklyn Booties, and Tan-Colored Let's Get Together Earrings
You can stay comfortable all day long in the lightweight and soft fabric of the Marlo Dress. It has a stunning pattern which would get all the eyes on you. The Brooklyn Booties from our women's designer shoes collection is for the days when you want to dress up your formal or casual outfit with a pair of swanky boots. Wear the Tan-Colored Let's Get Together Earrings to add a pop of illumination to any outfit without being too loud.
Conclusion
Want to give your fall wardrobe a makeover with the hottest trends of the season? Seek inspiration from the dresses mentioned above by Southern Honey to show off your fabulous style. Shop these outfits from our Stephenville boutique to stay glamorous no matter what time of the season it is!