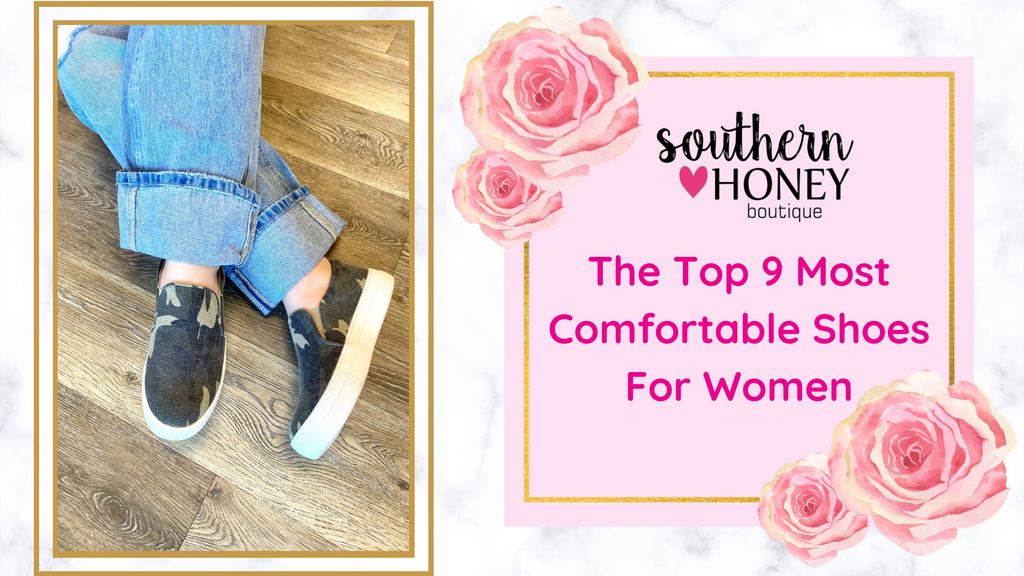 The Top 9 Most Comfortable Shoes For Women
Undeniably, every look seems incomplete without a chic pair of shoes, irrespective of how appealing the outfit is. Most women find it difficult to find the ideal type of shoes for them. Since there is a wide variety of footwear available on the market, it has become pretty daunting to find a shoe that can be worn for hours without any discomfort. Some shoes are designed for specific purposes, while others are just made to look good. We know that style and comfort are priorities when it comes to women's designer shoes; so we've put together a list of comfortable shoes that will compliment your outfits perfectly!
9 Most Comfortable Shoes For Women
It is believed that the most comfortable shoes for women are those that have a wide toe box, feet breathability, adequate cushioning, and support. However, such attributes can be fulfilled depending on the shoe design and how it fits your foot. We have put together a collection of the nine comfiest shoes from our boutiques in Stephenville so that you can find the perfect shoe to accompany a wide variety of outfits.
1. A Laid-Back Choice: The Retain Sneakers
Whether you have to go for a grocery run or hang out with friends, the Retain Sneakers are one of the most understated footwear options. Being super comfortable, it offers a suitable depth of support and style. Pair it with women's designer jeans or denim dresses. The white-colored aesthetics make these sneakers an effortless and go-to choice for an array of casual attires.
2. Dainty and Delicate: The Valentina Booties
The Valentina Booties from our boutiques in Hobbs, NM, are well-made and easy-going style. From midis to minis and shorts to flare jeans, these boots are suitable for broad-range wardrobe staples. With a closed design, they provide the necessary support with more toe space. Therefore, your feet would not feel confined even if you wear Valentina Booties for prolonged hours.
3. A Cool Sophistication: The Blaze Sandals
The beige-colored Blaze Sandals will ensure that your every step is always stylish and supported. Step up your summer wardrobe with these light and breezy sandals and pair them with short dresses, denim shorts, pants, and more. Whether you're out to brunch or at a shopping mall, the Blaze Sandals from our boutiques in Stephenville, TX, will keep you relaxed all day long. After all, from the playground to the beach, sandals make it easy!
4. Slip into Pure Luxury: The Marcella Linen Mules
These sophisticated mules for women are perfect in every way imaginable. Slip into these and feel the joy of effortless styling. You can shop the modern rompers or fancy women's dresses online to match these shoes. They are both minimal and comfortable, which allows you enough space to keep your toes at ease. They are an excellent pick for summery days and breezy nights.
5. Fabulous and Comfortable: The Regina Heels
Every fashionista's dream is to appear taller, and heels are an instant solution to achieve that. But what about the discomfort that comes with heels for long periods? Our Regina Heels are genuinely an exception here! They feature a braided design at the front and have a blasé build-up that reduces the pressure on your feet while walking. You will feel taller with these on your feet, minus any uneasiness.
6. Keep Your Toes Toasty: The Lacey Boots
Do not let colder days halt your infectious style from radiating throughout the city. Slay the winters in oh-so-chic Lacey Boots paired with one of the cardigans available at our Stephenville clothing stores. You will stay warm and classy in these cozy boots all winter long!
7. A Trendy Staple for Effortless Fashion: Hey Gal Blush Slides
The Hey Gal Blush Slides will bring the comfort of your couch to your feet. All you have to do is slip your feet into them, and you are good to go. They are a natural and graceful way to accentuate your casual outfits. These slides will allow you to say goodbye to blisters and foot pain. You can also cruise through more colors for slides alongside matching ensembles at our footwear and clothing stores in Hobbs, NM, to instill vibrancy in your everyday looks.
8. Chicness Never Felt So Good: The Gray Ivy Espadrilles
The Grey Ivy Espadrilles have a wooden sole, giving you a little height elevation without compromising comfort. They are usually worn with skirts, shorts, and crop jeans to elevate the casual look. Speaking of the design, Espadrilles are crafted with a rope-style canvas with a criss-cross pattern. The sole has a uniform surface, unlike the heels, which puts less strain on your feet and toes while walking.
9. Turning On the Oomph: The Krista Booties
Fashionable, feminine, and fun, this is what our Krista Booties are about. They echo "she has got the bling" vibes with sophisticated stone-studded embellishments over the belt-like closure. From delicate dresses to short skirts and casual jackets, these Booties never go out of style. With a minimal heel elevation, Krista Booties are comfy, swanky, and always feisty. Undeniably, it is the ultimate bootie that you can walk in, dance in, and brunch in.
Conclusion
Whether you are running a marathon, exploring the supermarket, or juggling your day at work, having comfortable shoes is necessary. You can discover a wide range of shoes at our boutiques in Stephenville. The footwear options mentioned above are designed to reduce pressure on your feet and joints while providing ample arch support. In addition, they come in various sizes and colors to suit your individual needs. After all, comfort is not just a word; it is a lifestyle.