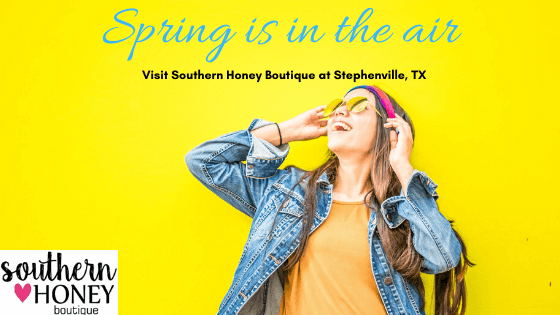 Spring is in the Air - Southern Outfits
The winters have finally left taking the frigid temperatures and snowfalls along. Days are a little warmer now, and nature is enjoying the time of Spring. The snow is melting, and the colors of nature are back around. Don't you feel like throwing away your oversized body warming outfits and update your wardrobe with the latest spring fashion? Yes, it's time to go on a shopping Spree, Ladies! So, decide your budget and get into the newest collection of Southern Honey at our Texas boutique. Enjoy the following range of Spring outfits and add your favorites from our online boutiques to your wardrobes!
With an excellent blend of linen and rayon, this top gives you a pretty look. The ruffle sleeves add to the beauty to this look. The bright yellow color and artistic neck pattern make the dress spring friendly.  
This knee-length strap-sleeved dress is a spring masterpiece. It is available in an exclusive range of colors viz. dusted papaya, sage olive, and natural colors.  
This top with a camisole design is exceptionally comfortable for warm temperatures. Get it in Terracotta, White, or Berry colors from our Texas online boutique. The polyester material of this top result into a glowing outfit during this season.  
This soft and fashionable tee gives an exclusive spring look with the designer's side slit pattern. The Mauve and Ivory colors for this tee, available at our Texas boutique will surely add beauty to your wardrobe and body.  
It is the spring wear worth giving a place in your wardrobe this season if you love tank tops. The well-designed horizontal strap color pattern and a knot at the bottom, this piece makes you ready for any small spring occasion or picnics.  
Black adds to the elegance of any outfit. Thus, our Texas online boutique has come up with this black tank top printed exclusively for Spring. The elastic that holds your waist adds to the fashion of this top.  
Floral prints are the signature spring designs. Hence, the designers at our Texas Boutique have added this print to a loose fit top. So, if you are a fan of floral prints, grab it today from our online stores.  
This full-body wear gives a gorgeous look to your body with well-designed off-shoulder pattern and bright black/ mauve color. Select your size and get this outfit to leave an elegant impression on all the occasions this Spring.
Shorts are the most comfortable spring wear. Let your legs breathe with these pure cotton shorts and exclusive designs. You will get 9" of length and gorgeous sky shade of blue. Try it if you are fond of shorts!
These 10.5" shorts are available at our Texas boutique with exclusive navy blue shade. Wear it with a bright colored top or t-shirt and get ready for spring get-togethers and picnics.
Try out this outfit with well-designed tank top pattern over your upper body and loose-fitting pajama pattern over your lower body. Don't worry about the size; we offer all the sizes in black as well as ginger colors for this jumpsuit.
Our designers at Texas boutique have come up with this gorgeous stretch-in-shoulders top. The blue thread embroidery on the neck and shoulder borders adds to the elegance of white fabric of the top.
13. The Bell Dress
This mustard colored full-length dress with thick elastic just above the waist gives extreme comfort during Spring. May it is a spring party or picnic, this dress is worth wearing during all the spring occasions.
Our Texas boutique designers exclusively design this denim jumpsuit for denim lovers. It is a no-stretch suit, but we have a wide range of sizes for it. So, don't worry, you will find your size if you want to enjoy this outfit.
15. This Is my Year Romper
Find this dress at our Texas online boutique with a gorgeous navy blue shade. The length of this dress and no stretch fabric makes it perfect for this Spring.
Are you impressed by our new collection? Don't wait! Visit the Southern Honey Texas online boutique and grab your favorites before we get out of the stock.