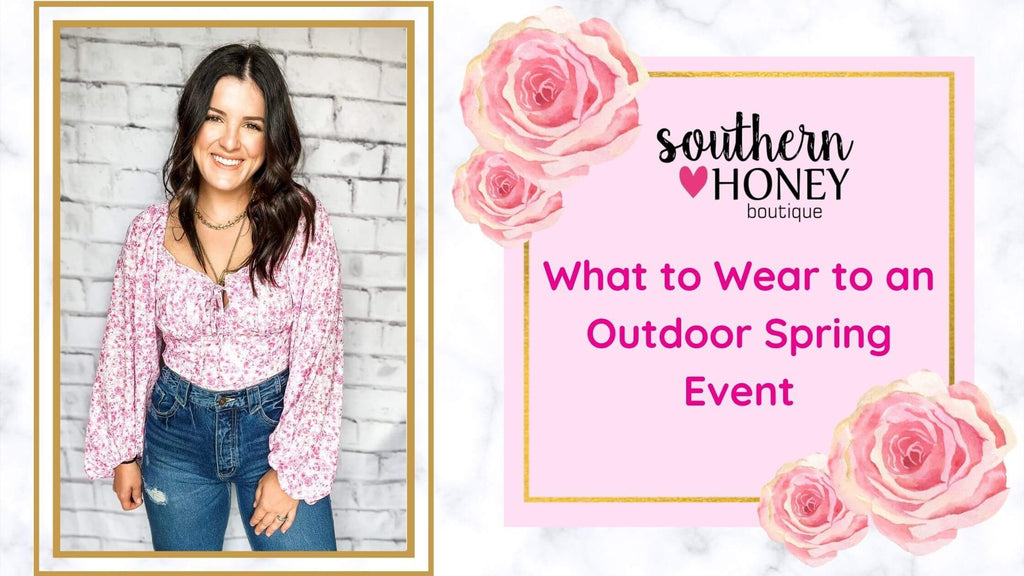 What to Wear to an Outdoor Spring Event
Spring has arrived in full force. There is a sweet scent in the air, the birds are chirping, and new buds are ready to bloom. The weather is beyond beautiful! It's also the best time for outdoor events! These parties are the perfect time to gather all of your friends, make some great food and enjoy the beautiful things that this season has to offer.
These parties are the perfect time to transition out of your winter closet and show off some of your favorite sundresses, jumpers, rompers, and skirts! However, we all know that finding the best outfit can be a bit of a struggle. To give you some inspiration, our style experts at Stephenville clothing stores have curated some outfit ideas to ensure that you're looking your absolute best this season! If you don't see exactly what you're looking for in this blog, head to Southern Honey Boutique for a wide range of gorgeous outfits!
Outfit Ideas For an Outdoor Spring Event
Our talented style experts have curated a wide variety of Spring outfits to make sure you're looking absolutely fabulous at your next outdoor event! 
Bright-Colored Sundresses
What could be better than a sundress paired with a white denim jacket, a Panama hat, and stunning nude-colored sandals? Nothing! This style is light and fresh and just what you need for spring. The best thing about wearing a traditional sundress is that you won't need to wear many accessories because it is a beautiful ensemble in and of itself. Pair our Best Days Maxi Dress with a fabulous pair of sandals, a sunhat, and a chic necklace to create the perfect look.
Layers
If you're looking for something simple, super comfortable, and casual, then adding layers to your outfit is the answer! You can pair any of our gorgeous dresses with anything from edgy denim jackets to adorable shackets to create an unforgettable look! If you're local to the area, head to our Stephenville Boutique and check out our latest spring jacket collection! Our famous shacket is the perfect addition to any dress, jumpsuit, or romper.
Button Down Tops & Denim Skirts
A button-up shirt paired with a denim skirt is one of the most trendy outfits these days. If you want to capture that springtime look but don't feel like wearing a dress, this is the perfect option for you. Not only is it easy to put together, but it also looks effortlessly chic! You can go for a plain white button-up top (which almost everyone already has in the closet) paired with our Cassie Skirt and some stylish sandals to create an adorable look. To take this outfit to the next level, you can even try adding a flowy printed shirt. Visit our online boutique to purchase this look now!
Read More - Find Out Which Style Suits you the Best!
Blush Layered Dress
There's no better look for an outdoor spring event than our gorgeous Blush Layered Dress! Opt for a lovely soft-colored dress and accessorize it with some minimal jewelry to elevate the look. You can even add a pair of nude heels to complete the outfit. The soft layering and flattering silhouette of this dress really put it in a class of its own. Your outfit will have you looking effortlessly chic in no time! Buy this dress from our boutiques in Stephenville or head to our online retail boutique!
Flared Jeans and Tank Tops
Not a fan of dresses? Don't worry! You can still look fabulous for an outdoor event without wearing a sundress. Instead of a dress, go with a pair of loose flared jeans in a light neutral shade. Pair them with cute spaghetti strap tops, a hat, and a stunning pair of sunglasses to create a fabulous look. You can also go for flared jeans styled with a black semi-sheer top and a fringed black shoulder bag. Southern Honey is the best clothing store in Stephenville for you to shop trendy handbags and purses to match your outfit. Check out our Hanna Super Flare Jeans today!
Chic Jumpsuits
Loose and comfortable fits are the best way to stay cool during this season. Keep one thing in mind: the brighter the color, the better! We recommend you go for pastels, whites, neutrals, or primary colors. Monochromatic colors are the definition of chic and a great option to take your outfit up a notch. You can go for a classic white or black jumpsuit and pair it with some neutral-toned accessories like a clutch and nude belt. Don't forget to wear some gorgeous earrings and necklace as they look great with a deep neckline. Shop at Southern Honey today to check out our wide variety of summer outfits for yourself!
Key Takeaways
We hope that these fabulous outfit ideas have inspired you to create the perfect look for your first spring event of the year! If you didn't find exactly what you were looking for in this blog, you can always visit the best
boutique in Stephenville, TX
, Southern Honey, and browse our wide variety of chic women's clothing! Our latest spring collection is nothing short of fabulous. Check out more
women's dresses by visiting our website today!