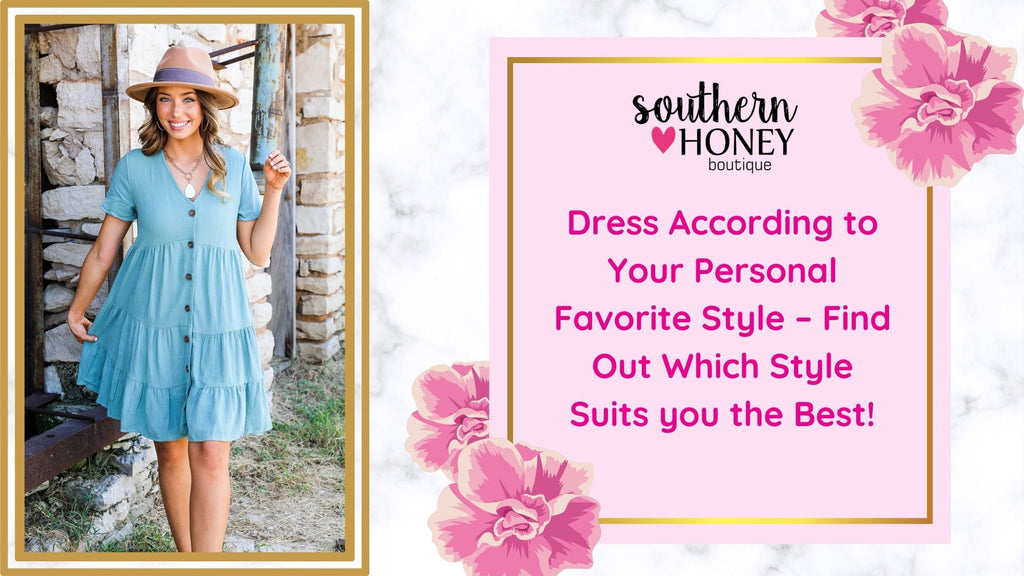 Dress According to Your Personal Favorite Style – Find Out Which Style Suits you the Best!
Everyone has their style, that one ensemble in which you feel the most confident. Following all of the latest fashion trends isn't the key to looking fantastic. It's about sticking to your own distinctive and personal style. But what if you have no idea what your style is? You may develop your distinct style by looking for inspiration, developing a mood board, and experimenting with fashion.
Pick your favorite apparel that compliments your personality at the trendy women's clothing boutiques. Your style will normally evolve throughout time as a result of many aspects linked to your lifestyle. However, no matter what stage of life you are in, being clear on who you want to convey to the world is unlikely to change dramatically.
How to understand your personal favorite style?
Consider how you would describe your style and what matters to you when it comes to getting dressed. Remember that every woman is unique, and you need to feel confident in your skin and embrace your skin color and body shape just as it is. Think up a few key descriptive words and summarize how you want to present yourself to the world, based on your personality characteristics and goals for inspiration.
We have come up with some personal styles most women feel comfortable in for various occasions. See what type suits you the best and find these outfits at the online clothing boutiques!
1. Natural and Relaxed
You prioritize feeling good in your clothes, and your laid-back personality lends itself to more casual attire. You should choose simple lines and designs over anything too intricate or fussy. You tend to buy only easy-to-care-for clothing to match your relaxed attitude. Denim, cotton jersey, and lightweight knits are your favorites. Choose from a wide variety of women's designer jeans to rock your comfortable outfit. Even your jewelry choices show your interest in the minimal look. If you are a fan of a comfortable and relaxed style of clothing, then you would most likely go for durable and minimalistic jewelry (exceptions are always there)! Find a look at the women's boutiques to find minimalistic outfits.
2. Artistic and Individualist
You have a creative and individualistic style. Current trends or old rules do not easily influence you. You dress in a way that reflects your personality, and you pull together distinctive and exciting clothes from various sources. Your wardrobe is filled with various colors, textures, and designs. Your jewelry collection is bold, as is your footwear. Make a statement by choosing a trendy attire by picking the best fancy women's dresses online. A short dress with some colorful vibes and flare will help you bring out that artistic streak within you.
3. Elegant and Feminine
You have a soft and gentle demeanor and love muted colors and flowing silhouettes. You like feminine features like bows, ruffles, pleats, and lace, and your clothing selections reflect that. Even with simpler patterns, you'll choose them in lovely colors with decorative elements. A flowery print is a must-have. 
Keep your footwear and accessories choice delicate with choosing strap sandals, kitten heels, pumps, and fine necklaces, respectively. Choose from a variety of women's branded shoes to fill your closet with elegant heels and sandals.
4. Dramatic and Loud
Wearing the new fashion supersedes comfort. You are open to trying out most new trends. You have a diverse wardrobe with one-of-a-kind things ready to make a statement. Your outfit is bold and well-thought-out, with added elements such as a bright lip color or an eye-catching shoe providing the finishing touch.
Go along with loud and dramatic colors such as bold pink, black, or neon to feel like a rogue altogether. The black wrap-around tie romper is our newest addition this season. We recommend this gorgeous piece for the ladies who are in for some drama this weekend! Shop for dressy rompers and jumpsuits at the trend boutiques to get an edgy look.
5. Modern and Chic
You put time and care into your appearance. You adore accessories, spending more money on bags and shoes than on anything else in your closet. You have probably tried on most of the important styles, and while you undoubtedly follow trends, you shop with caution and won't purchase because of a trend. You prefer to stay away from bright colors and instead go for a tone-on-tone look.
The most gorgeous and trendy women's top paired with shorts or denim will help you achieve that modern chic look that you crave. Add booties and a hat for that extra southern flare!
If you are a total control freak and want to have an organized wardrobe, then look at the stunning seven outfits for seven days in a week here.
6. Neutral Colors – Capsule Wardrobe
A capsule wardrobe is a set of essentials that you may mix and match to create various outfits. A little black dress, a denim jacket, simple T-shirts, and a leather tote are all classic pieces in neutral colors that match with everything. Some of these items may already be in your closet: Keep the ones that make you happy and replace everything else with tried-and-true basics. These items must be simple for the edgy kind but trust us when we say nothing beats a neutral clothing tone when you need a foundation for adding exciting accessories.
Conclusion:
If you want to create your fashion mood board or organize your wardrobe with a comfortable choice, the ideas above are like a lifeline!
Style your wardrobe with your suitable personal style and dress according to your body. Pick fashionable and comfy outfits at the trendy women's clothing store – Southern Honey Boutique! Have fun with your style, and enjoy creating yourself!