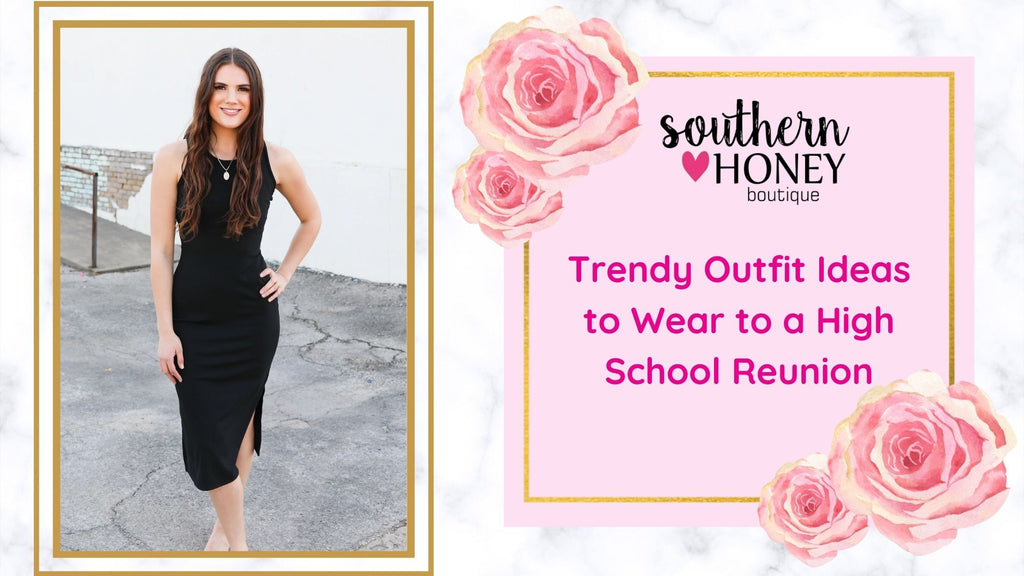 Trendy Outfit Ideas to Wear to a High School Reunion
High school reunions are a great way to reminisce on your younger years. It's a blast from the past and a reality check for how far you've come along in life. You might be meeting some of your oldest friends, classmates & professors. And let's be honest- some of the outfits from your old high school photos may be a bit cringe-worthy. So this reunion is your golden opportunity to show just how much you've grown when it comes to your style game.
If you still haven't picked your outfit for the reunion, here's a chance for you to get inspired and choose a look that is sure to impress. Our experts at Southern Honey Boutique have curated a list of fabulous outfit ideas to ensure you're looking your best for this event. If you can't find what you're looking for on this list, head to our website! If you prefer to shop in-store, stop at our boutique in Hobbs, NM! Graceful, elegant & chic - that's the aesthetic we strive for! Continue reading to find the perfect outfit for your high school reunion!
Five Trendy Outfit Ideas For Your Highschool Reunion
1. Little Black Dress
A little black dress is everyone's go-to! This is one look you can never get enough of. It's an elegant and timeless choice that everyone should have in their closet. However, since it's so simple and fabulous, you may find that many other people at this event have the same idea. You don't want to end up matching with someone else or get blended into the crowd. So, make sure that you spice it up by wearing some bright-colored, trendy accessories and heels.
If your wardrobe is missing the perfect black dress - we suggest heading to Southern Honey clothing stores in Hobbs, NM, and getting yours today! We have two beautiful dresses to try, our Prescott dress and our Preece dress! Style them with big statement hoops, and an effortless hairstyle, and you're good to go! To avoid getting cold, don't forget to bring a sweater or cardigan.
2. Business Casual
Nothing can be better than putting together a business casual outfit that screams modern, trendy, and chic. Try wearing a tailored trench coat with skinny cropped trousers, a silk blouse, and a pair of heeled loafers. If you don't have a trench coat, go for a blazer to get that sharp, elegant, and unique look because, believe us, everyone will be wearing dresses and skirts! Moreover, a blazer is one of the most versatile pieces of clothing in your wardrobe, and it is a great option for almost any occasion! Buy our 'Style Me In Grey Blazer' before it's completely sold out! You can create so many outfits on the go when you have a blazer in your closet.
3. Bright Hues And Flared Jeans
Everyone wants to look effortlessly sophisticated without appearing to be trying too hard or being too over-the-top. The easiest way to do this is to opt for flared jeans or wide-leg pants. This can be an ideal choice for you if you are not so fond of dresses and want to go for a casual but stylish look. However, remember not to wear it with a balloon or flowy top. Always go for bright-colored, fitted tops with flared jeans. Set a fashion statement by pairing our The Sweet May Wide Leg Jeans with our Cynthia Top.
4. Satin Dress
One of the top trending fabrics for the past two years, satin looks enticing and eye-catching. The soft fabric hugs your figure & flatters your shape. So when you have an important night and want to dress to impress, why not go for a satin dress? Here are two fabulous options to choose from-
The Front Tie Satin Dress: A beautiful dress that you can style with a long necklace, strappy heels, and a simple clutch. This outfit is a statement on its own and doesn't need much tweaking. 

Brooklyn Satin Dress: The great thing about a satin dress is that the silhouette can be simple, but it still looks elevated and party-ready.
Make a statement at your high school reunion! Search boutique stores near me to find the best options for this event.
5.  Dressy Short Skirts
When in doubt, go for dressy skirts. They are easy to style, we all have one in the wardrobe, & are great for so many occasions. You can look fresh and modern while adding a bit of glamour with a short sequin skirt. If you want to stand out, opt for this look! Sequins are always a party must-have. The Southern Honey 'Vivian Skirt' is the perfect option to keep handy for any reunion. It adds a bit of shine to your look and turns any dull outfit into something exciting. Style the skirt with our black Vanessa Top, high-heeled boots, and some minimal gold jewelry. This outfit is definitely an Instagram-worthy look.
Takeaway
There are plenty of trendy outfit ideas that you can go with for your high school reunion. We hope these ideas have inspired you to look gorgeous on this big day thereby lessening some of the pressure! If you didn't find the outfit you were looking for within this blog, you can always go to the best clothing stores in Hobbs, NM – Southern Honey! Our experienced style experts can help you completely transform your wardrobe!