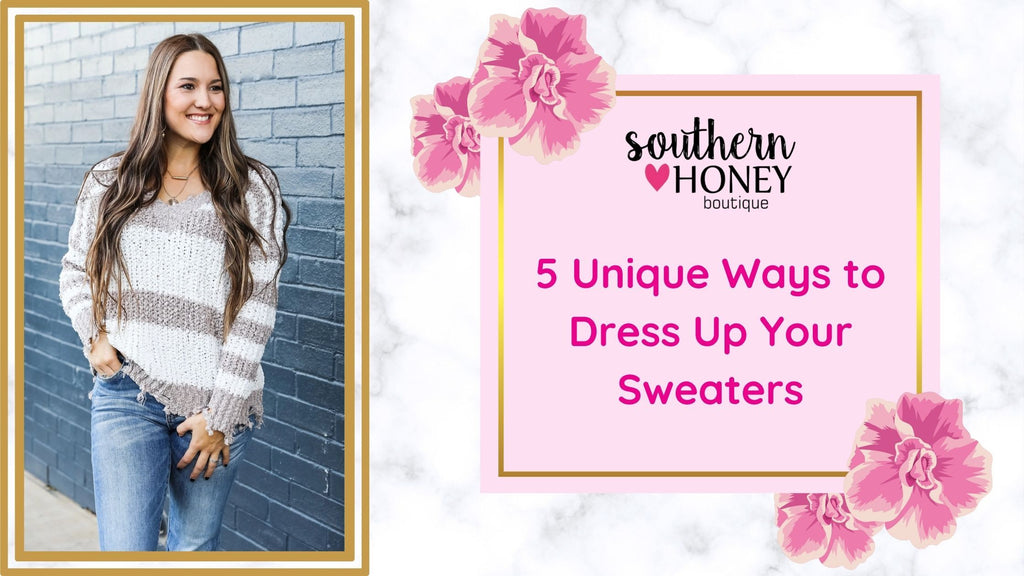 5 Unique Ways to Dress Up Your Sweaters
Winter clothing can be a fickle thing to handle. Stowed at the back of your closet, it's time to dig them out as the temperature drops. And our favorite winter wear is the good ol' sweater. It's soft, comfortable, and cozy, plus easier to style as they go with just about everything. No wonder they are a crowd's favorite.
But finding new ways to style them can feel uninspired at times. Rummaging through the wardrobe and brain for a rocking outfit but can't seem to figure it out? It's time to upgrade your style statement with the ever-trendy Stephenville boutiques - Southern Honey Boutique. You can find the best pieces to pair with your existing sweaters, or if you want to refresh your wardrobe, we have fashionable sweaters for women. For now, to inspire your hot and chic looks for Southern winter, scroll along for outfit combinations from our trendy boutique.
Staple Sweaters You Should Keep in Handy
Take out some pieces from your wardrobe, and you'll notice you don't wear a lot of stuff that was deemed trendy a few years ago. So instead of wasting your bucks on such items, invest in basic sweaters and other winter wear that will last you for long and are versatile to dress up. We, at Stephenville clothing stores, are always glad to assist you to find styles that are not just fashionable, but go beyond time, be it quality or trends.
#1 Turtle Neck Sweaters: You can easily layer them over or under dresses, shirts, and jackets. We suggest having multiple neutral colors to create different outfits with base sweaters.
#2 Oversized Sweaters: Imagine sitting at home with a big cup of hot chocolate, curled up with a book in front of your fireplace, and wearing an oversized sweater. That's the cozy dream! Oversized sweaters look flattering on everyone and are super comfortable to wear all day.
#3 Cardigans: Whether it is winter or fall, cardigans come in various styles. They are a classic, chic, and essential piece to have in your wardrobe.
Sweater Outfits You Need To Try This Winter
Your friendly neighborhood boutiques in Hobbs, NM, have curated top new sweater pairing for you to rock this season.
1. Flared Jeans with Oversized cropped Sweater
This simple and basic outfit looks ridiculously stunning. For an effortlessly chic look, take your best-fitted super flared jeans and pair them with an oversize cropped sweater. To style the outfit, half-tuck the sweater in the front and wear boots underneath the jeans. Take it up a notch by wearing a matching hat and belt to complete the look. Try out different styles of women's designer jeans from our store. No more you have to search for boutique stores near me, just head over to our location page and visit us.
2. TurtleNeck with Gingham Skirt
A smart knee-length bodycon skirt in Gingham print makes a great polished attire for the office. Pair it with a black cowl neck sweater to keep you warm in this cold weather. For another variation of this ensemble, switch the skirt length to a short wrap-around skirt and wear black stockings with fleece lining to keep your legs toasty.
3. Maxi Dress with TurtleNeck Sweater
We know what you are thinking, aren't maxi dresses for summer? We think not! The best thing about maxi dresses is they can be worn with a sweater for winter. How to style this outfit? Wear a chunky belt around the waist. Take your loose-fitted turtleneck sweater and tuck it under the belt to give it a cropped fit. Top it off with pump heels. A different variation to make this look work is by opting for a slip dress and wearing the turtleneck sweater underneath. This outfit works more for evening or formal attire. Just make sure the turtleneck sweater you select is thin, for you wouldn't want it to make you look chunky in a slip dress.
4. Black leggings with long sweater tunic

:
Comfortable. Timeless. Cute. This is a safe and best option for those looking for a winter look without putting any effort or breaking the bank. These items are easy to find in your closet and take minimal time to put together. To spruce up the look, try accessorizing with a belt, hat, or statement boots. Or check out this open-back twist sweater from our women's boutique. Dazzle in this unique cut sweater that you can ever adorn on a date night.
5. Sweater with Plaid Shirt and Boyfriend Jeans
Got your hands full for the day? Need an outfit that's cool and comfortable? Don't sleep on your plaid shirts just yet. Wear it over our cute Britt Sweater in white and Boyfriend jeans for a flattering fashionable ensemble. Don't forget to belt the jeans! Head to our boutique in Hobbs, NM, or Stephenville to browse our endless collection for the best plaid shirts and other trendy women's tops.
Takeaway
If you are ever around looking for the best women's boutique to indulge in some retail therapy, make sure to check out stores. We offer budget-friendly and fashionable clothing both, online and at Hobbs and Stephenville clothing stores. Find great fits, quality fabric, and friendly staff to assist you to give you the best styling tips.