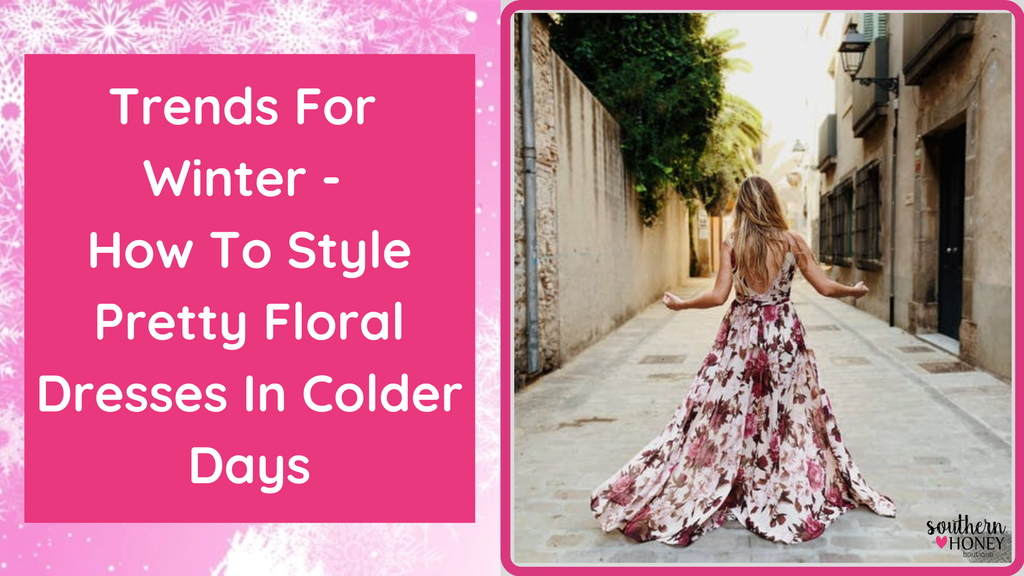 Trends For Winter - How To Style Pretty Floral Dresses In Colder Days
Introduction:
You may automatically be inclined towards a more subtle design aesthetic when the weather dip and the leaves have all dropped, but that doesn't mean you should limit your wardrobe to just subtle shades of grey. In fact, even on the coldest and most dull days, slushy floral prints have a way of looking refreshing and elegant.Although it's a little difficult to find the inspiration to put on some dress in more than two colors when it's bitterly cold out, florals have their own charm.
Here's our favourite ways to wear floral clothes and online clothing boutiques to find these awesome dresses!
Tips To Style Your Pretty Winter Floral Dresses!
Layer the florals
For making it winter appropriate, layer your winter floral dress with the Sandra jacket or a cute cardigan. The layering makes it suitable to the weather and gives you the creative freedom to experiment with your outfit. You can even try out kimonos to layer your floral dresses. 
One tip to co-ordinate your floral dress with the outerwear: never add heavy prints on the floral dresses. It undermines the design of your dress and blends in the outerwear with it. layering your outfit gives you multiple benefits. You can easily convert a casual outfit into formal and formal into a casual one. 
Additionally, you alter the outfit just by simply adding or removing one or more layers. Also, let go of the misconception that you can always layer outwards. If you are wearing a cute floral dress with strappy sleeves, you can wear a sweater or a t-shirt beneath it to protect yourself from cold.
Add boots or shoes that cover your legs
Colder season usually doesn't permit you to wear short dresses because of the temperature. However, if you style your floral dresses with the right kind of boots, you can achieve two purposes. One, it will look amazing with the dress. Two, they will protect you from the cold. Boots also bring out the absolute best in you because even if they come in a single color, they balance out the print of your dress with the classy texture. If you are going for thigh-high boots, always make sure that there is a gap between where the dress ends and where the shoes start.
Faux leather booties are yet another element that will help you make a fashion statement. A little pointed at outer side, the Coolen whiskey booties from our online clothing boutiques are the ones you need if you are looking for something to pair your little floral dress with.
Boots and hats are always the way to go when the rest of your outfit is floral printed. Go for nude or neutral colors like beige, brown or gray while choosing the boots to go with your dress.
Accessorize your dress
You must be wondering, with all that print already on the dress, how do you accessorize a floral dress? Let us tell you, accessories are meant to be for each outfit out there. For florals, you can add at least one statement piece and lead with it. If you are in the mood to experiment a bit, you can also try out a chunk necklace. 
Tassel earrings are so in these days and they give that carefree, cute vibe just like your floral dress. These earrings look good with almost every floral outfit. Good if you can color co-ordinate them, but if not, you can always look for a color that brings out the beauty of the outfit.
Adding printed bracelets are yet another trend we need to catch up on. Animal printed bracelets go so well with floral dresses if you style them well. The combination is perfect for a daytime date or a beach outing. 
Conclusion:
Floral dresses add a little life to the boring days of cold weather. If you are someone who hasn't experimented much with the colors and prints, check out our wide range of winter floral dresses from Southern honey boutique and tell us if they don't change your mind. Instead of complimenting the outfit to the weather, make it look a bit different and be the life of the party wherever you go! 
Accessorize these dresses with the absolute best jewellery items available at our trendy Texas boutique and enjoy being a bubbly girl even in the grey days of winter! And hey girlies before we wrap up do not forget to check out our Look of Love to sizzle for that someone special.