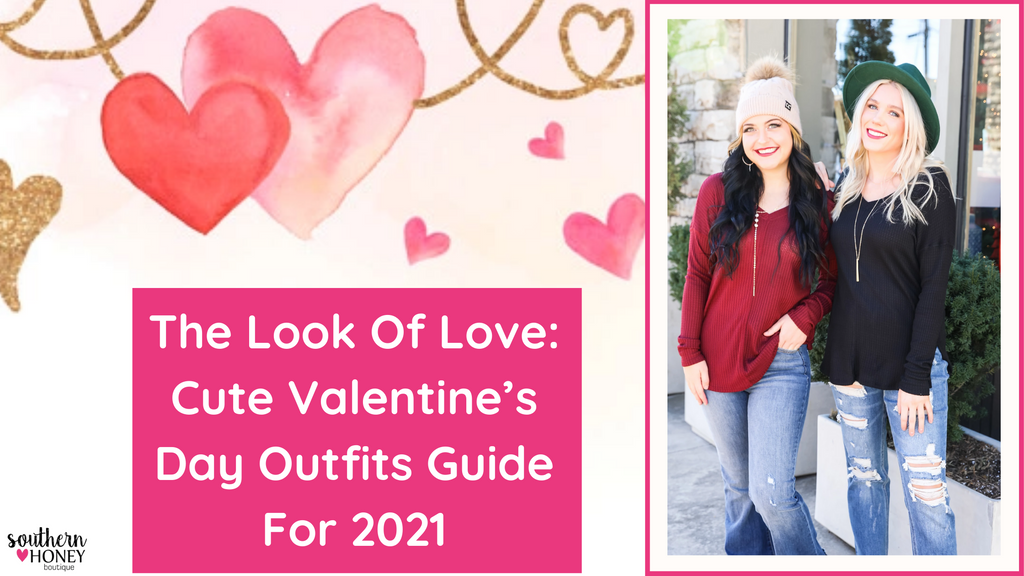 The Look Of Love: Cute Valentine's Day Outfits Guide For 2021
Love and affection are some of the best feelings in our lives. Humans love to reserve days to celebrate our emotions, and Valentine's is one such day when we express our love. 
It is a festival of love where we make maximum effort to make our significant others feel loved. With that being said, date nights and outings are some of the best ideas to shower one's affection and gift our beloved people some joy.
Have you planned any dates with your loved one? If yes, we are here to show our affection by curating a list of:
Early mornings and a bed of roses?
Bed n breakfast is the most romantic idea if you're planning to spend a significant amount of time with your partner. To suit the vibe of this date, you could wear something comfy and cute at the same time. 
The combination of a short dress, white sneakers, and a women's designer handbag would do. You can coordinate the colors by creating a contrasting scheme or going all out with loud and vibrant colors. 
The point of this outfit is to stay comfortable while also looking your best. Light jewelry like a bracelet or a neck-piece will enhance the Look by 100x. For makeup, you could choose a bright shade of lipstick and a very light shade of eye shadow, along with a slight reddish tint on your cheeks. However, nothing can ever beat the glow of happiness on your face!
A snuggle date with movie night? We got you!
Not all of us like to go all out with red roses, violins, and dinner dates. Flaunting your beauty and embracing comfort can go hand in hand, and we'll tell you how. To look like a perfect diva even on a movie night, here's what you can wear:
A coordinated color look for your grand dinner:
Who doesn't like a whole outfit put together in an attractive manner? But it seems very difficult, right? Well, not anymore! Follow the steps given below to create an outfit out of dress and accessories, and see how this formula works magic for you.
Choose a well-fitted dress of your choice

If it is a

solid colored midi dress

, go for a printed

cardigan

or denim jacket over it

If it is a printed short dress with

wrap pattern or ruffles

, you need to show them off without covering it with opaque jackets. You can add sheer outerwear here.

Now, with low neck dresses, neck-piece could create a charm. 

With high-neck dresses, or in case you don't want to draw attention to your neckline, add a pair of statement earrings coordinating properly with your outfit.

Footwear is completely up to you, but this season,

booties and sneakers

are in demand!

Carry an elegant handbag. Voila! You're ready for your dinner date.
Traveling to somewhere for valentine's? Not a problem!
A chic sporty look is the best choice for a romantic hike, and we'll tell you how to create one. 
Start with selecting a

puffer jacket

or a

hooded jacket

or your choice. The reason for choosing the jacket first is that it's the center of your outfit.

Pair it up with a graphic tee or top of your choice, and leave the jacket open

Add a pair of denim, a pair of slider sneakers, and your outfit is ready!

It would be better to prefer a no-makeup or light makeup look with such sporty outfits

You can add a spark to these outfits by painting your nails or adding a lip tint to your makeup.

Keep it minimal and natural to look your best!
Red and black never go out of fashion:
While experimenting is mostly fun, we can never deny the fact that red and black are the standard combination for romantic dates. A red dress, a pair of black booties from the Southern Honey Boutique, the statement Chandelier earrings, and a tote bag from the Trendy online boutique would make the best outfit.
You can also reverse the pattern and wear a black dress with red footwear of your choice. That gives you a funky look just in case you're planning to go club hopping or night outs. 
Conclusion:
With the love and joy filling your heart with this beautiful day, create some more memories by customizing the best outfits for the day. These memories are forever to cherish, and you can make them the best by putting your heart and soul into making them special. 
Embrace the joy of this day by creating the best out of your wardrobe, and remember your Valentine's Day forever!