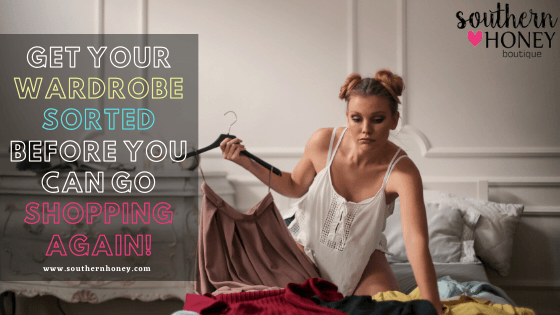 Spring cleaning tips to get your wardrobe sorted before you go shopping again
The world is in the middle of a global pandemic and life has never been so still. We hope that you are keeping well and coping up with the situation in the best ways possible. While staying home and following social distancing, you might also be thinking what to do to cut out the boredom in this unusual time? 
Well, spring is going on and you have some free time, so why not do some spring cleaning? 
Here, we at Texas boutiques listed some tips for wardrobe cleaning and shopping for wardrobe essentials before we're back to a normal world.
Sorting a wardrobe doesn't take any complex steps. There are three basic steps: Clean it, organize it, get your new wardrobe essentials.
How to do it? Here's how!
1. Cleaning
Empty it first
If you want to clean your closet, empty it first. Yes, as much time-wasting and daunting of a task it might sound to you, emptying up your closet will help you organise it better. 
Deep clean it
After taking everything out, it's time you deep clean your closet! You will see a big difference in space and appearance of your wardrobe after you deep clean it. your clothes will be kept in a clean area and their quality will be maintained. Sweep the floor of dust, wipe all the compartments and clean the glasses if any. 
Donate what you don't use
Try on the old clothes. If they're not fitting you properly, you better donate them. Check for the clothes you don't wear anymore and add them to the giveaway basket. This will make some space in your wardrobe and someone needy will get a gift too. And when you donate, check for any duplicates in your closet. Donate them too.
Throw or reuse the worn and torn clothes
You might be able to do some DIY art from your old clothes but if their fabric has worn out, it would be better to get rid of them. This will help you create space for all the spring wear you were holding yourself back from purchasing.
2. Organize
Get organisational supplies
Think about what things you find difficulty in organising. Is it shoes? Get a shoe rack. Is it clothes? Get some more hangers. You'll find organisational supplies related to each and every category of items in your closet. Add these supplies to your closet before arranging your stuff. Make sure you place them in an accessible manner.
Sort by categories
Sort your clothes by categories. skirts, shirts pants, blouses, denims, sweaters, organise all of them by categories to make them easy to find. This is one of the oldest tricks of cleaning a closet, and grouping the items will really make it easy for you to browse through the closet. You can also opt to sort it by color. 
One benefit of sorting by color is that you'll know how many duplicates have you gathered over time. It's good to find out that you have seven LBDs when you color-code your closet, before going to purchase yet another one.
Separate strategically
Do not store your evening gowns just above the compartment where you keep your running shoes. Otherwise, your dresses might start smelling bad too. Also, place the frequently used categories of clothes, shoes and accessories closer than the less frequently used ones.
Stake foldables
You can use the shelves of the closet to keep the clothing pieces that can be folded. You can keep your socks, jeans, sweaters, undergarments, tights and scarves on these shelves. Make use of the space available there and stake all the foldables in this space. 
3. Get your new wardrobe essentials
Now what do you plan to do with all that space in your wardrobe? 
Why not add something new to it and revamp your wardrobe and your style? Imagine walking in a café with the cutest spring outfit on a date after the lockdown gets over, or getting back to college and starting the new term with the best collection of graphic tees and shorts!
You would love turning all the heads towards you, isn't it? 
Get summer tees, tank tops, cute graphic tees, shorts, shirts and all other wardrobe essentials for yourself and rock those looks after the pandemic takes a back seat. 
Extra tips and tricks to keep your closet clean and organised:
Add "cleaning the closet" to your monthly to do list.

Have a balanced system of buying and giving away your clothes. 

Add "organising your closet" to your annual cleaning checklist

Get rid of anything you haven't worn in a long time. Don't hold on to stuff just for the sake of it.
If you follow these basic tips for organising your closet, you'll have a lot of space to store your new spring collection.