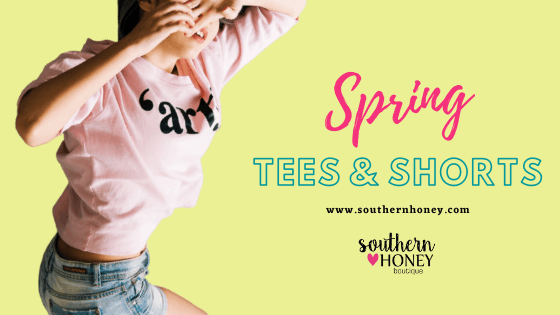 Trending Southern Style: Spring Tops & Shorts
Spring is the season of colors, flowers, and light outfits and tops and shorts are one of the best combinations one can wear in spring. You can choose from solids and florals, cotton and linen, tank tops and casual tees, denim shorts or short skirts, and make your spring outfits trendy and stylish! 
Here is a list of trendy tops and shorts we found on online boutiques in the USA to be the best for springtime. Have a look and find your favorite!
This top adds a glamorous flair to your casual outfit if worn with a good pair of denim shorts. The strappy sleeves, delicate print and broad neckline, peplum hem, and the elastic design near the waist makes it a proper fit for a funky spring outfit. The dark color of this top and the contrasting design makes it look funky. You can even add a fishnet shrug with this top to make it look more glam.
What better time to wear bright colors than spring? Get your hands on the sunshine ruffle sleeve top with deep neck and trendy sleeves. The bright yellow color makes it a proper fit to wear for a summer outing or a brunch date. A light blue or black pair of shorts with this top would be fine. You can get such tops from many trendy online boutiques.
Pair it up with a jacket or shrug, or wear it over a t-shirt, wear it as a daytime outfit or choose this ruffly, silky camisole for a night-time event! Camisoles are very versatile that way and the terracotta color of this cami gives it a unique look. You can wear denim pants or shorts with this top, with a delicate neckpiece and you're good to go!
While floral tops is not a groundbreaking idea for spring outfits, almost everyone loves having them in their spring wardrobe. With a loose fit and V neck, this pink-hued floral babydoll top would look good for a family lunch or a daytime adventure. You can pair it up with a good pair of denim and enjoy the comfort!
Linen is a thin and breathable fabric and hence, perfectly appropriate for the springtime, as well as for tropical, warm-weather. White color gives you a soothing look and the knot makes it look trendy. It is a button-up shirt with broad sleeves which makes it a perfect casual outfit! A dark blue pair of shorts will help you get a casual look and a straight black skirt will automatically give you a semi-formal look. Get yours from any online boutiques in the US.
These 100% cotton shorts give you an absolute chic look when paired up with a bright colored camisole or a layered floral top. With its ripped design and four buttons on the front side, you can make up a cute casual outfit with these shorts and an oversized t-shirt.
Sadie shorts are both stylish and comfortable. This pair of black high-rise shorts made from 100% cotton denim has frayed, uneven hems that make it unique. The shredding looks perfect with the solid black color of the shorts.
the perfect distressed shorts paired with a layered top, a pair of cute sunglasses, and a hat will give you a pretty spring look easily!
Styling a pair of paper bag shorts is very simple: pair them with a top, like a white T-shirt or a striped ribbed tank top. Tuck it in and you're good to go. You can wear a comfy pair of flats for the day or a squared kitten heel slide sandal for nighttime. Take a mini bag with this outfit and a pretty neckpiece of pearls and you're ready for the gram!
Crafted from dreamily drapey fabric, these lightweight city shorts sit right on the waist for a super-sharp look. Front pleats down the center add a tailored touch, while the fabric belt cinches you in for an ever-so-flattering shape.
Now is the time to decide your signature spring looks and look all bubbly-cute in those colorful pairs of shorts and tops. May it be tank tops or camisoles, denim shorts or cotton paper bags, pick your look and rock it!