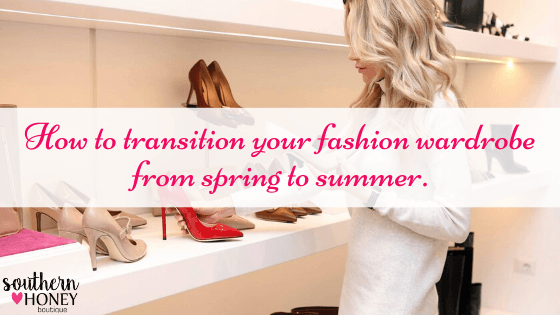 Summer Outfits 2020: How to transition your fashion wardrobe from spring to summer.
Summer is the season where you take all the creative freedom to play with colors and designs in your wardrobe, and now is the time to do so. Spring cleaning will allow you to get rid of a lot of things you might not need this summer.
Well we aren't really aimed at cleaning your wardrobe of all the clothes you have but we surely have discovered a lot of tips to make a summer transition of your wardrobe by adding some summertime essentials to it. So, if you are already done with your spring cleaning, and have a little bit of space cleared up for your cute summer outfits and trendy accessories, this article might be of great help to you.
Ready for your spring to summer outfits transition?
Read on!
Change the layers! 
Summers are not a very good time to wear leather or denim jackets, so toss them out of your closet and add colorful blazers and shrugs instead. You can style the blazer with anything you like. A bra top and your favorite pants would make a perfect combination with one such blazer. Also, a stylish pair of sunglasses.
Change the prints
Big floral prints look extremely pretty in summers and hence, it is the best time to get beautiful bright florals instead of dark prints. Dark prints might weigh you down. A white dress with yellow floral print might look amazing on a hot summer day. Be careful of the colors, as it is always better to choose lighter colors in summer. The Femme dress, the Shana dress, and the Bonita dress from the southern honey boutique are some of the choices you'd like to check out if you want cute dresses for summer.
Footwear
You might have used your ankle boots all along with winter, but now is the time to store away all the footwear that covers your feet entirely. You can still wear them at times but what looks prettier in summers is strappy sandals. A pair of boho sandals would also go perfectly with a breezy summer outfit. If you are more concerned about comfort, platform sandals might be the correct choice for you. Platform sandals go well with casual outfits like jeans and a tee or a short summer dress.
Whatever footwear you choose, don't forget to add a little anklet to your OOTD to make it look a little cuter!
Go sleeveless
Replace those sweaters with tanks and short-sleeved tops and experiment with the colors and prints in doing so. Choose a variety of tank tops ranging from ribbed and cropped, to bow-adorned ones. These tops go perfectly with slip skirts, colored jackets or blazers, or your favorite pair of denim shorts. If you are planning to order online, some trendy online boutiques like the Southern Honey boutique have the best collections of women's tops for summer.
Add some new handbags to your collection 
Your summer work commute can also be made a bit more interesting and stylish if you choose the correct accessories to go with your cute summer outfits. Adding new handbags to your essentials will only add to the beauty of your outfits. Sling bags and big handbags are a must this summer!
Replace your woollen trousers with shorts and skirts
Just like you replaced your sweaters and sweatshirts with tank tops and camisoles, it is the time to replace your woollen trousers with trendy skirts and shorts. It can be a button-up skirt or a ripped pair of denim shorts. Pair them up with your favourite peach pink tank top or wear them with a sheer shrug over a cami; both ways, you'll look gorgeous!
These little summer transition tips will help you transform your wardrobe into a perfect collection of summer outfits. Apart from that, you can add accessories like colorful earrings, delicate necklaces, and rings to your collection.
Don't forget that sunglasses are one accessory where you can flaunt your style all the summer, and hence select the best ones that go with your outfit. You can even experiment a little with nail paints and lipsticks because summers are more accepting of colors than other seasons.
And most importantly, your lips and nails are going to seek some more attention as your eyes will be covered most of the time!
We hope that you loved enjoying this article and find it useful in preparing your summer wardrobe!
Cheers!