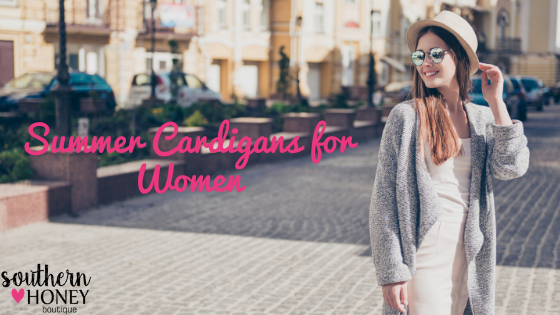 Summer cardigans for women by online boutiques USA
Fashion in today's time has undergone a massive makeover since its inception centuries ago. While earlier it was mainly restricted to a particular set of clothing in both men and women wear due to various cultural and technological restrictions of that era, the options kept on evolving with the advent of new technology. One such piece of clothing which reaped its benefits is women's cardigan. This blog discusses the various ways women's long cardigans are being utilised as a trendy piece of clothing adding on to their style quotient. 
We at Texas Boutiques have a wide range of collection of outerwear. Find your perfect fit cardigan to rock this spring season.  
If you are planning to select a cardigan that will make you stand out amongst a crowd by adding the required style quotient while taking care of your comfort, then this beautiful striped hearted cardigan is a perfect choice for you. A cardigan worth every word of praise it receives, this cardigan ensures that you look your stylish best while not being troubled by heat of the summer and thus be your best. The cardigan comes in four colour variants which give you quality choices to choose from and ensure that you are at your stylish best.  
2. Lindsey Laced Back Cardigan

If you are bored of the usual, plain design of the women's long cardigans and plan on giving your  a modern twist without compromising on your comfort factor, then this is the best choice for you. The most interesting fact about this cardigan is its laced-back look, which adds a different zing to its look, ensuring that you are the centre of attraction at parties and social gatherings. It comes in four colour variants, giving you plenty of visually appealing, high-quality choices to choose from.   
3. The Callie Cardigan
Planning to buy something that is both stylish to look at and comfortable to wear in the torturous heat of the summers? Then this cardigan can be your best bet! A cardigan that is lightweight, stylish and comfortable, this cardigan is your perfect companion for sporting that stylish summer look. The biggest USP of this cardigan is the use of cotton in its manufacturing which makes it one of the most comfortable and summer-friendly options to wear. It comes in three colour variants, black, berry and natural, thus giving you good quality options to choose from according to your preferences and requirements. 
4. Walk Around The Park Cardigan
Thinking of taking a quick evening walk and adding a style quotient to your lazy, casual look in an informal yet stylish manner? Well, your wish just got fulfilled! Introducing to you this beautiful cardigan which is a perfect blend of informal look yet some serious style goals! A beautiful product which is a perfect addition to your 'casual yet head-turning' look, this cardigan comes in light colour shades in stripe design which gives it an 'eye-pleasing' look. Use of various colours adds on to its versatility of being paired up with any jeans or leggings and still look fabulous on you.
Looking out for that perfect finishing touch to your 'perfect for the party' look? Well, this pretty cardigan might just be the exact 'cherry on the beautiful cake' you might be looking for! Introducing to you this beautiful cardigan designed specifically to make you stand out amongst scores of other people in a party or social gathering. Whether it is the colour, or the design, or the material used for its production, this cardigan ticks all the boxes in the most beautiful and stylish manner possible. Team it up with blue jeans and be the centre of attraction!
6. Front Tie Berry Cardigan
If you are looking for a cardigan which is different yet stylish, then this cardigan might just be the right fit for you! A beautiful cardigan with a very 'traditional yet trendy looking' print, this cardigan is designed in such a way that it easily fulfils your requirements for being both a casual as well as a formal wear cardigan which you can wear and flaunt with confidence. You can either button it up and be ready for a formal function or tie it up in the front and be ready to look at your casual best! 
7. The Brenda Striped Cardigan 
No matter what era or the fashion trend is followed by people, stripe design is something which always found and will continue to find a place in the 'trends of fashion' charts of the people serious about following the latest trends. This cardigan goes the 'minimalistic' route of design by introducing horizontal stripes on the cardigan. The contrast of colours between the cardigan and that of the stripes gives it a nice look. It is 55% acrylic. Ideal for completing the 'party' look, this striped cardigan is a thing worth your admiration and place in the wardrobe.
8. Love Me Always Hooded Cardigan
Cardigans are a multi-purpose piece of clothing designed to be useful in innumerable ways. Therefore, adding a hoodie to the cardigan to further enhance its usefulness seemed like a logical decision to make. This cardigan comes equipped with a hoodie to save your head from extreme weather and keep you safe. Furthermore, the classic colour combination of black and white enhances the overall look of the cardigan, giving it a very elegant look. It is made of acrylic, thus being a lightweight and 'easy to wash' cardigan, further adding on to its usefulness.  
Women's long cardigans are something which has passed the test of time and has continued being an essential part of a woman's wardrobe since it first came into existence in the 1880s. It has undergone several changes in its fabric, look, design and way of utilisation. What hasn't changed, is women's love and inseparable bond with this stylish piece of clothing and guessing by the sheer versatility of it, this bond isn't ending anytime soon.