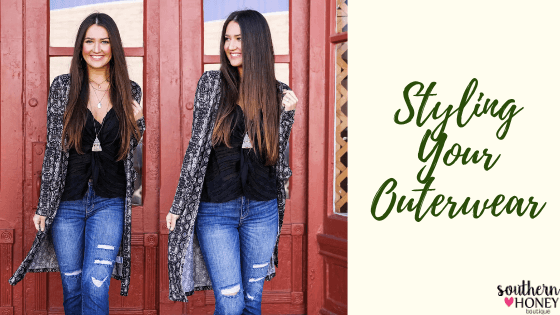 Styling your outerwear
Winter has finally arrived after the endless summer. And it is time to give your wardrobe some upgrade with these trendy and style statement winter wear collection. And honestly, these will look amazing on you! Get your hands on these apparel collection from Southern Honey Boutique and look stylish and stunning without having to worry about the chilling weather.
Blazers have never been out of style. You can style it to create varied looks. A pair of ribbed jeans and a simple blouse will make a trendy statement outfit. Complete your look by wearing chunky white sneakers and a messy bun. For work you can keep it simple by wearing a pair of skinny jeans and white t-shirt with heels. Also add some golden jewellery to spice it up.
Create an amazing statement outfit with this animal print cardigan. Get a cozy and warm feeling wearing this cardigan. Pair it with skinny jeans and a black tank top. Nude booties will give you that chic and put together look. Give your hair some soft curls or braid it and you are good to go!
Still wanna look cute in winter clothes? We have got you'll covered! Get this cute chunky cardigan and complete your winter wardrobe collection. These cardigans are easy to style and keeps you warm. Style this with simple white tshirt and skinny jeans. You can either wear a pair of white sneakers or ankle boots. Add some chunky golden jewellery and statement bag to complete your look.
4. The Shannon cardigan:
Cardigans are a great option to jazz up your boring winter outfit. This is an amazing crepe knit cardigan with pockets. You can put on a mini shift dress and a pair of ankle booties to complete your fall look. A black hat will give you a more chic and elegant look.
5. Its coffee and cocoa time cardi:
You could never go wrong with a cardigan. It is the perfect layering item for all your winter looks. Whether you throw it over a summer dress you want to transition into  a winter outfit or you layer it over jeans and a t-shirt, the cardigan is sure to upgrade your wardrobe this fall. Add some cool boots and a statement bag for good measure and you are set to go.
This is a unique jacket with fringe detail. This gives you a modern west look. To spice up the look wear it with a flare jeans and a tank top. A pair of boots will complete your unique fall look. You can also add a hat to match the outfit.
7. Secret love distressed jacket:
Denim jackets can create an amazing outfit by simply layering it on with simple and pastel coloured t-shirts. Wear a simple white turtle neck to keep you warm enough and then add on this cute black denim jacket on top. Complete your outfit by a pair of boots and a statement purse. You can also add a hat to jazz up your look.
8. Warm and cozy pull over:
Feeling lazy but still wanna look stylish? We have got you a cute and cozy pull over sweatshirt. It is great alternative on your lazy days. You can style this with joggers , chunky white sneakers and still look cute and amazing. You may also pair it with mom jeans and sneakers.
Bored of the usual jackets and sweatshirts? Want to try some new and trendy winter wear?! Try this kimono on. You will love it! Besides beating the cold in style, it will give you a hot chick look. Put some bold make up and accessories yourself with a clutch bag and a pair of boots, and you're perfectly ready for your date night. Grabbing a pair of sparkling earrings will be an add on to your alluring look.
You are all set for winter! Do not let this chilling winter limit your fashion ideas by wrapping yourself up in blankets. Revamp your wardrobe with these amazing winter wear outfits from Southern Honey Boutique and leave a mark wherever you go.