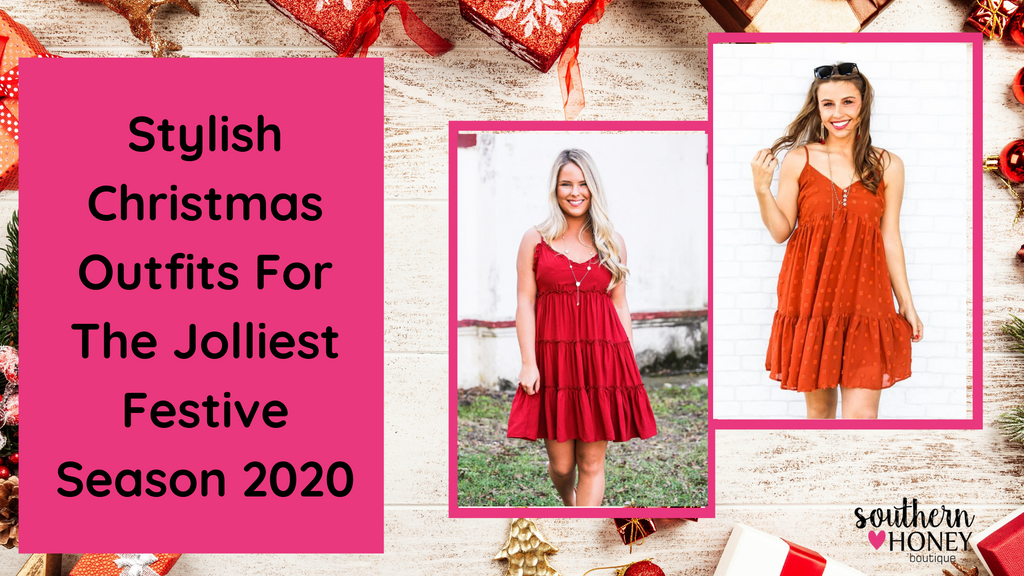 Stylish Christmas Outfits For The Jolliest Festive Season 2020
The season to celebrate and make merry is here. With all the festivities, it becomes twice as exciting to select your outfits for every Christmas party in town. This is the season to get dressed up, step out, and embrace the wintry fun that comes with Christmas. Whether your Christmas party is a formal event or a fun casual dine-in with friends, we have all the cute outfit ideas you need. Pick out your favorites from our online clothing boutique and get ready because it's time to sleigh. Oh, we mean, slay! Read on to find out about some of the most stylish looks you can pull off easily.
The Jody Top with 90's Wide leg jeans:
Our glamorous red Jody top is the perfect dress for a casual Christmas party.  A long-sleeved top with cuffed ends looks retro with a flary fall. Team it up with our 90s wide-leg jeans to finish the look. It gives a vintage vibe to your look. Pair your outfit up with our classic White slip-on for added comfort and a complete chic appearance. Accessorize it according to the theme. There you're ready to go!
Fall nights dress in a sequinned kimono:
Up for an experimental look? Well, if you answered yes in your head, then get your hand on our cute fall nights to dress. Team it up with our most stylish sequin bell sleeve kimono. Trust us; this is the perfect look for a 'too glam to give a damn'kinda party. The kimono gives an edgy appearance and makes you stand out. All you need to add on is a pair of knee-high boots to get Christmas ready, girl.
Baby doll Tank top with Blazer and booties:
Our baby doll tank top is the cutest piece of cloth you can ever get your hands on. Team it up with high rise skinny jeans and a pair of brown boots to complete the look. The distressed jeans make your outfit look vogue. Here's a small add-on; layer your outfit with our Karla jacket, and you're ready to make a statement. Our Karla jacket is a leopard print jacket that can make any look stand out for its design. Go glamorous with this super fun outfit.
The Savanna pullover with wide-legged jeans:
Our savanna pullover can make anyone look cute! This fleece cropped pullover paired with a nice pair of wide-legged jeans is an ideal outfit for a casual Christmas party. Don it up with our all about the bass bell-bottoms, and you'll be the style icon of the party! Wear your block heels for a quick chic factor, and add on big hoops. We are sure you won't regret this one!
Button-down skirt with a bralette and multicolored cardigan:
What can be more stylish than a button-down skirt? Pair it up with a contrasting solid woolen bralette. Layer your look with our multicolored cardigan and add on a pair of knee-high boots for a complete look. This is undoubtedly one of our best party dress ideas for women you can never go wrong with.
Fleece cardigan with distressed jeans:
Fleece cardigans are the most comfortable outfits. We cannot get enough of these super stylish pieces of love! Pair them up with distressed types of denim and wear any casual top or a t-shirt inside. To add glam to your look, pair the outfit up with ankle-length boots. This one is a look to die for. Get your hands on our classic fleeced Trina cardigan. Team it up with frequency distressed jeans, and you're ready to rock and roll.
Velvet Kimono with Boyfriend jeans:
Looking for something super fashionable to wear for a winter brunch? Get your hands on your favorite loose-fit tee, knot it up into a crop top, pair it up with your boyfriend jeans, layer it with a solid velvet kimono. Style it up with buckle heels, and damn girl, you are already slaying! The versatility of kimonos also allows you to come up with your cute outfit ideas and rock the Christmas parties with your unique style.
Maxi dress with a puffer jacket:
So, it's a typical morning, and you are thinking about what to wear for a day out? Don't worry, try out the edgiest fashion trend- yes, we are talking about puffer jackets. Puffer jackets are stylish and comfortable at the same time. Style our lightweight puffer jacket over our molly dress. Team it up with gumboots for a gorgeous look. You can also Style your puffer jackets up with skinny jeans or comfortable treggings, and you'll look like an absolute slayer.
Conclusion:
This was Southern Honey Boutique's version of stylish outfits you can try out these winters for a perfect Christmas party! You may also like to read our tips on how to style your cute cardigans to double the beauty of your outfit. Tell us about your looks and if you try ours don't forget to share it with us. Hope you have a merry Christmas! Cheers.