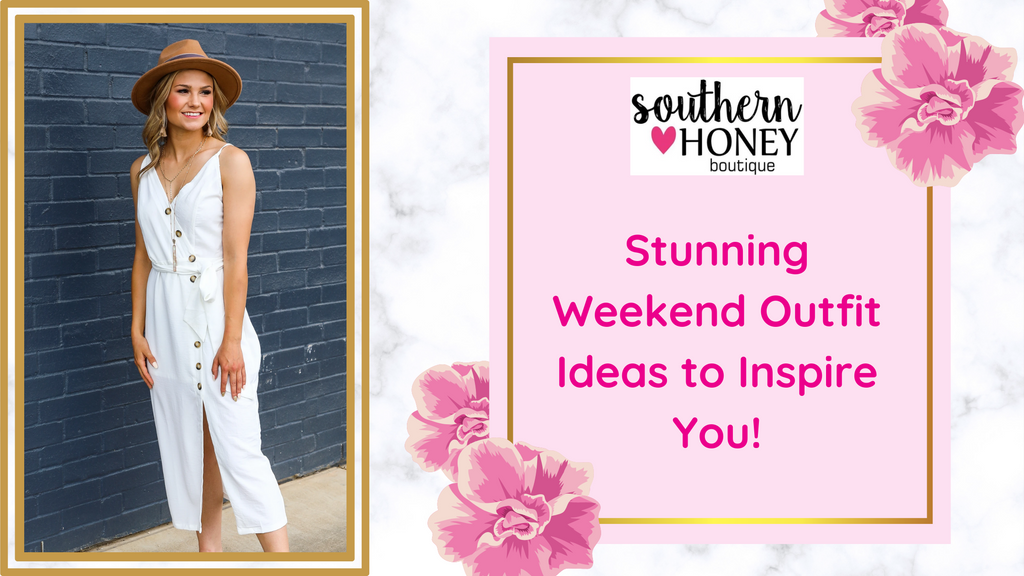 Stunning Weekend Outfit Ideas to Inspire You!
Are you going out to a party, or are you chilling at home this weekend? Either way, there is no excuse to sit and sulk about what to wear for the weekend! Let us choose some stunning weekend outfits from the best online clothing boutique to revive your shopaholic spirits. Ditch your usual jeans and go for something out of the box. However, nothing can be more versatile than a pair of jeans, but once in a blue moon, we can get the urge to throw our denim out of sight and wear a chic outfit.
Pick your favorite weekend outfit from our listed ideas.
There are a plethora of fun weekend wardrobe options that can easily be styled and changed to suit your weekend plans. The weekend is a chance to ditch your job attire, uniforms, or school clothes and let your hair down. There are a variety of ways to acquire an "off duty" look. Take a sneak peek at the outfits below for some weekend motivation.
Show off your Maxi Dress
When it comes to choosing a weekend outfit, capturing breezy and flowy silhouettes in a maxi dress sounds like the best idea ever! Choose one made of a light, voluminous fabric, and pair it with a fitting tank top and appropriate accessories. A sage-tiered maxi dress is all you need to feel the summery vibes this season. Get your weekend covered by buying trendy dresses from online clothing boutiques!
Cute yet Stylish Jumpsuits
We adore jumpsuits for a variety of reasons, and they are ideal for a weekend of errands. Jumpsuits are fashionable, but they do not take much thought or styling. They are similar to leggings or sweatpants in that they are quick to put on, but they are a lot cuter. Choose a pair of women's designer shoes, wedges, sneakers, or heels to go with your favorite jumpsuit.
Short-sleeve tops
When it comes to weekend clothing ideas, jeans and a plain t-shirt are a definite favorite. By substituting a loose cotton blouse for your t-shirt, you can still seem very relaxed and informal. This leopard print short-sleeved top is a little more sophisticated, but it still has a playful weekend vibe about it. Get your weekend outfits sorted by picking out your favorites from online boutiques.
Monochromatic Colors
If you want to dress up for the weekend, try putting together a monochrome ensemble. Monochromatic clothes consist of one hue in a variety of tints. As a result, we adore monochrome outfits in beige, grey, black, or white, but you can always add a pop of color with colors like pink, blue, or yellow. Wear quirky colors that make you look younger and find reasonable options at the best online clothing boutiques.
Make Heads Turn with a Mini Dress
Try a beautiful dress with a vibrant jacket if you have big plans this weekend and want to make a statement with your attire. No matter what the occasion, this cute little open-back dress will surely turn heads! If you are wearing a tiny dress, finish the look with a denim jacket, knee-high boots, or sneakers for the ultimate southern chic look.
Feel the Athletic vibes
Do you go to the gym on weekends? If that is the case, you will probably enjoy this clothing suggestion. Athleisure is a popular trend that takes your favorite gym outfit, whether all black or matching pastel yoga pants and a tank top transforms it with a few styling methods from yoga class to street style. Replace your gym sneakers with a stylish pair of fashionable sneakers and complete your ensemble with a stylish sweatshirt or moto jacket. With a fitted pair of joggers, a crop top, and your favorite sneakers, you can also exude athleisure vibes.
Lounge all day long!
We totally feel you if you do not want to get up from your couch on your weekend and show up somewhere. Cool and stylish loungewear is an excellent choice for you if you are feeling lousy! Even biker shorts and hoodies have transformed to become more fitting and stylish! We realize that people are spending more time at home, of course, so we have made sure to stock up on loungewear. Make your loungewear wardrobe seem luxurious and stylish by choosing flattering and confidence-boosting styles.
Conclusion
Whatever your plans for the weekend are, we are confident you'll look stunning in any of the outfits mentioned above! Whether you want to recreate these styles or draw inspiration from them to create your own, always wear what makes you feel good. Find a fantastic collection of outfits at the best Texas boutiques – Southern Honey and flaunt yourself this weekend!