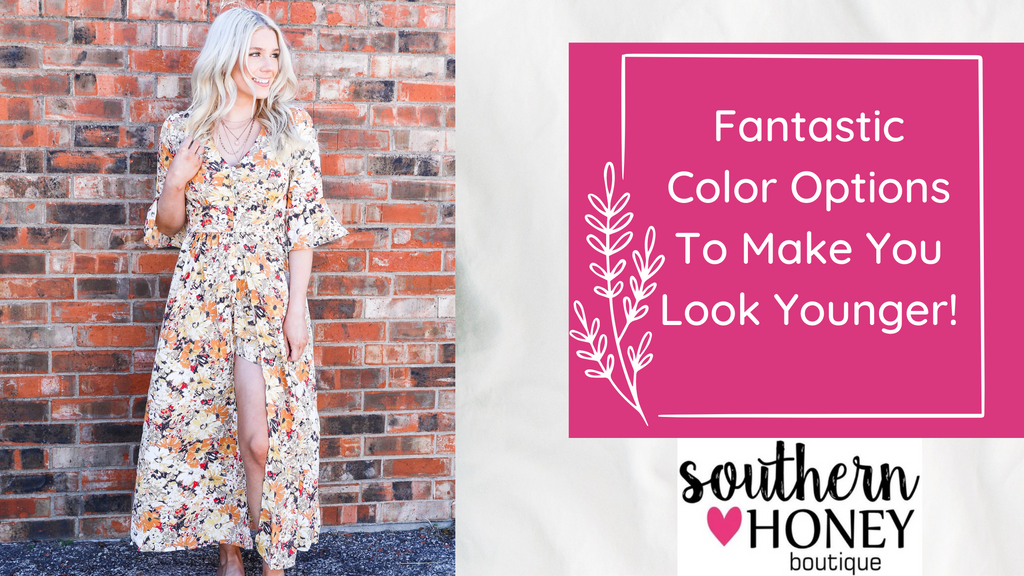 Fantastic Color Clothing Options To Make You Look Younger!
While being comfortable in your skin should be our number one priority, it is, however, safe to say that one thing women don't want is to wear clothes that make them look outdated. A youthful appearance is something every woman desires. The first step is to ditch the dull shades and shop colorful and fashionable options from online boutiques to look 10 years younger.
Choose colors to look and feel young!
The colors of your clothes should make you exude youthfulness and vitality. So keep scrolling to have a look at some fantastic color options to shop from trendy online boutiques.
Lighter & Bright Shades
Because the glow on our face fades as we age, brighter colors effectively turn back the clock. Wear shades that reflect light into your face to lessen the appearance of wrinkles and bring a warm glow to your complexion. Show off that tanned skin by wearing shades such as lemon yellow, mustard, or soft suede shades to add a more youthful edge to your overall persona. The pleasant spring season is here, and it's time for you to sort your wardrobe to accommodate the add-ons you buy this season.
Turquoise Shade
Turquoise, in all of its various shades, is another vibrant color. It reminds us of the white beaches with ocean waves clasping each other. Turquoise is a color that enhances the natural radiance of all skin tones. There are ample turquoise-colored tops available in the online boutiques, and you should have one of them in your wardrobe. Pair it with some high-waist jeans from Texas Online Boutiques to look like a true southern girl.
Magenta or Fuchsia
Women with pale skin tones, in particular, should swap pastel pink for medium magenta. Consider a deep pink with a hint of scarlet or colors ranging from fuchsia to raspberry. Are you hesitant to switch from a light pink to a darker shade? Show those killer legs even if you are in your mid-forties; pair a magenta-colored top with some jeans or skirt, available at Online Boutiques in Texas.
Periwinkle
Medium blue with a hint of purple or violet is another color that appeals to most women. The periwinkle looks excellent no matter where your skin tone falls on the warm-cool spectrum. This soft shade will look flattering on you! Pair a periwinkle-colored dress with some classic strappy heels, and trust us, this shade is going to bring out the color of your eyes and complement your overall personality. Shop the look from the Online Boutiques USA and get your hands on some chic and charming outfits.
Lilac
Another soft shade is on your way to make you look less than your age! Lilac purple goes with every skin tone and matches well with other colors in the same palette. So, the next time you want to wear anything other than the reds and blacks in your closet, why not try on some lilac purple frill tops from the super trendy online clothing boutiques and see the difference.
New Black
Isn't it fabulous how wearing black can add drama to your look while also empowering you to rule boardrooms? Black (not graphite, grey, or faded black) is one of the most basic but fab shades to have in your wardrobe since it will always make you look younger, more beautiful, and more powerful. A black maxi dress is a perfect fit to make an impression and look younger at the same time!
Conclusion
The colors of your clothing will reflect your personality. Choose a color palette that exudes youthfulness and brings out the best in you, making you look like you are always in your prime. Choose light, bright, and sometimes bold shades from an online clothing boutique, and go glow, girl!