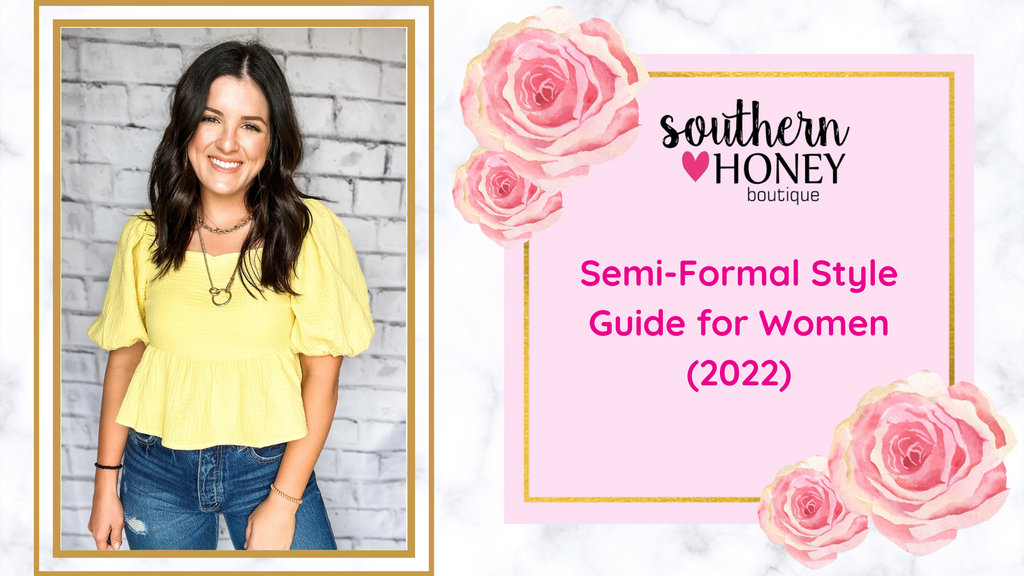 Semi-Formal Style Guide for Women (2022)
Did you just receive an invitation to an event that says the dress code is 'semi-formal'? And now you are unsure about how to pull it off? Well, you are not the only one! We understand that while semi-formal attire is an extremely popular choice, it can be difficult for some people to decide on the right outfit.
Semi-formal attire is typically worn to weddings, holiday parties, and fine dining restaurants. But know that there is no need for you to hire a personal stylist to achieve that look. All you need is to focus on how to strike a balance between casual and formal. When it comes to these types of events, a semi-formal look can be very flexible. It is all about looking elegant without being too extravagant.
If you are still confused about how to achieve the ultimate semi-formal look, continue reading this blog to learn everything you need to know. Browse through this list of semi-formal outfit ideas and pick the best one for your event. Head to Southern Honey, one of the best boutiques in Stephenville, and shop from an incredibly gorgeous range of semi-formal outfits.
Six Amazing Semi-Formal Outfit Ideas For Women
Check out these chic wardrobe staples that you need to complete your semi-formal attire for your next big event!
1. Semi-Formal Blouse Or Top with Formal Pants or a Pencil Skirt 
Do you have an interview or a conference to attend, and you are tired of wearing crisp white shirts every time? Try wearing our Jade Top with a pencil skirt or formal pants to arrive in style. Accessorize it with a ruby bracelet and a sling bag to elevate this basic silhouette and get ready for the office without exerting much effort! Head to our boutique in Stephenville, TX, to find more trendy women's tops.
2. Classic Jeans And Elegant White Top
We know all about the difficulties that come with putting together an outfit for an event. So when we are in a bind, we like to go for a staple option that we can always have ready in our closet. Skinny jeans with a sophisticated top are the perfect on-the-go outfit! Try pairing Southern Honey's Bridgette top with the Rebecca Skinnies for a sharp and dapper look. Top it off with a quilted bag to effortlessly rock your event! Visit Southern Honey to check out some of our Women's designer jeans today.
3. Stylish Midi Or Maxi Dress
You can never go wrong with a stylish midi dress in a solid color for a comfortable and chic option. The flattering figure-hugging silhouette will highlight your features & adds an exciting appeal to the dress. Add gold jewelry to elevate your outfit in a flash!! Our 'The Everyday Dress' is a refined semi-formal dress that's easy on the eyes. Head to the Stephenville clothing store to check out our latest collection. Try out one of our cardigans or blazers! Add a wristwatch and a tote bag to the equation, and you will look amazing without effort!
4. Basic Blazer With Accessories
Do you own a blazer that seems too dull for the semi-formal event? We have you covered! Consider pairing your blazer with a black low neck inner, wide-leg trousers, and some ethereal chains and rings to make this combination sophisticated without overdoing it. Don't stop here! Finish the look off with subtle makeup, and you are all ready to pull together your whole semi-formal getup. If you don't have the right blazer, you can always shop our 'Style Me In Gray' blazer to be the center of attention. Explore more women's dresses online by visiting our website! 
5. Elegant Jewelry
Adding accessories is a simple upgrade to your outfit but speaks a thousand words! Especially with semi-formal events. So, why not take advantage of this opportunity and bring a modern twist to your attire. Avoid wearing plastic or wood jewelry and instead invest in emerald, ruby, and deep purple tones. But, if you want to keep it minimal, try wearing our beautiful gold or silver charm necklaces. They go with every single outfit and are stunning for evening events. If you are looking for more jewelry, Southern Honey has a wide range of options that will suit your style.
6. The Right Footwear
Okay, you might have decided on the dress, but what's next? Top off your beautiful ensemble with the perfect pair of shoes. Choose heels, flats, or strappy sandals that match the color and style of your outfit. Generally, pumps or high heels are the most appropriate choice, but if you are going to a more relaxed semi-formal occasion, you can go with dressy flats. Make a fashion statement by pairing our Kimye Heels with your get-up. It is the guaranteed way to amp up your styling game. Don't forget to scroll through our website to choose from more women's designer shoes.
Key Takeaways
Whether it is an interview, a wedding, or an office party, a semi-formal outfit helps you keep it fun while not being too over the top. Elegant dresses, skirts, and even trousers can be your go-to choice for your event. You can pick an outfit from the fabulous options mentioned above that suit your style, preference, and occasion. Style your outfit with the right jewelry, makeup, and hairstyle, and you'll be ready to steal the show!
If you are still running out of options on what to wear, you can always rely on Southern Honey, a boutique in Stephenville, TX! Buy yourself an outfit you'll look sophisticated in! You can check out our latest selection by visiting our website or boutique store near you.
Don't forget to go read through our latest blog- stylish ways to wear a blazer in 2022. We can help you take your basic outfit to the next level!