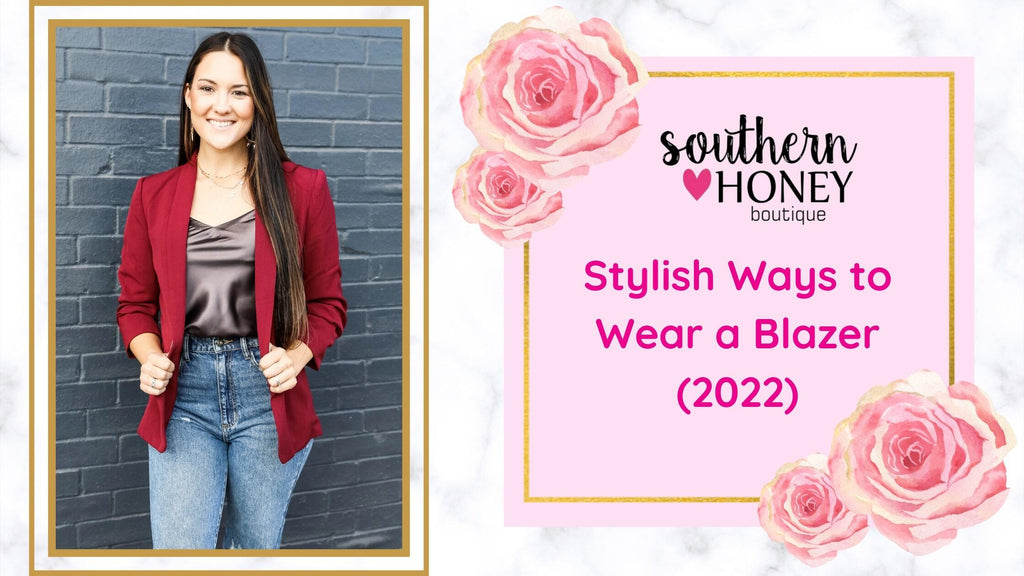 Stylish Ways to Wear a Blazer (2022)
Gone are the days when blazers were only associated with your workplace! Now, they have become a staple in practically every woman's closet. Blazers are a super chic addition that helps to take any basic outfit to the next level. Not only are they chic, but they are also very versatile and great for everyday use. You can pair it with a skirt, dress, jeans, and so much more! So whether you're at the office or heading out to brunch with your friends, this wardrobe staple is perfect for any occasion!
Our style experts at Southern Honey boutique have curated a list to help give you inspiration and ideas to style your blazers. If you don't see what you're looking for within this blog, feel free to browse through our latest collection at our online boutique!
Southern Honey is a local boutique in Hobbs, NM, and we carry a wide variety of women's apparel. From women's tops and jeans to trendy heels and accessories, we are sure to have what you're looking for! So head to our website today and get to shopping!
Ways You Can Style a Blazer All Year Long
Our style experts at Southern Honey have hand-picked a variety of stunning outfits to help you to revamp your wardrobe with the use of blazers. Whether you're headed out with friends, going on a date, or have an important meeting at work, we are sure to have a style idea that will look spectacular!
Summer
The summer tends to be quite hot, and wearing a blazer may not sound like the best idea for this season. However, they are a great option if you have an important meeting to attend, so if you still plan to opt for this style despite the heat, we recommend trying out one of our lightweight blazers!
The Tessa Blazer from our clothing stores in Hobbs, NM has everything you want in a summer blazer. It is lightweight, airy, & stylish. You can easily pair this blazer with a chic top and some casual denim jeans to create a casual but professional look. You can even add a trendy watch or necklace to take this look to the next level! Head to our website to purchase this blazer today!
Look 1
This blazer is perfect to create a date night look! Add your favorite pair of denim shorts, a cotton tank-top, chunky dad sneakers or boots with a baguette, and a fabulously layered gold necklace to complete the look. If you're looking for more options, check out our online boutique, Southern Honey!
Look 2
For a casual sporty look, you can easily swap the denim for biker shorts and pair them with a crop top. An adorable oversized blazer from our boutique will help to bring the whole look together. Biker shorts and oversize tops have been a favorite choice by the trendsetter herself, Princess Diana. So be summer ready and give this outfit a shot with a blazer from Southern Honey's trendy boutique!
Things to keep in mind while wearing a blazer in the summer
Pair it with a sleeveless top 

Choose a lightweight & breathable fabric 

Experiment with lighter colors to create more colorful looks

Go with a neutral tone for office wear
Fall
If we had to choose a season for blazers, it would be Fall. No question asked! Fall is a magical time when the colors are muted and rusty, and the temperatures are continuously changing. So, a blazer is our go-to outerwear for the season as it can easily be put on or taken off depending on the weather. Plus, it's ultra-chic. Who wouldn't opt for that?!
Look 1
If you're headed on a coffee date or headed out to dinner, the Checkered Blazer is the perfect option for you! Our Gina Top with an adorable pair of women's designer blue jeans and this particular blazer create an absolutely fabulous outfit. You can complete the look by adding some minimalist gold jewelry, a trendy pair of sunglasses, and casual shoes. 
Look 2
If you're headed to an outdoor picnic this fall, we have a perfect look for you! Our Dina floral dress with Jasmine Ecru Blazer helps complement the season's hues perfectly. The monotone of the jacket breaks the print pattern of the dress, and they work perfectly with each other. You can pair this look with casual sneakers to complete the outfit. Head to our boutique to find more fancy women's dresses online.  
Winter
The coldest time of the year- winter! This season is truly all about layering. We suggest layering your blazers with sweaters, full-sleeved tops, or scarves to create an adorable look. We've curated a few outfit ideas that you can utilize this winter to ensure you're looking fabulous in your blazer from Southern Honey Boutique!
Look 1
Coming up with professional looks week after week can be stressful. Lucky for you, we've come up with the perfect outfit idea to wear into the office this winter! If you want a casual yet professional look, try our Penny Striped Top paired with a fabulous pair of the Sweet May Wide Leg Jeans and a trendy blazer! This is a laid-back and cute outfit that you can opt for when you want to be comfortable yet chic when you're at work. Explore more outfit options and browse our latest collections by visiting our boutique, Southern Honey!
Look 2
Headed out for the evening and need something semi-formal? We have you covered! If you are attending a black-tie event or have a business dinner, you don't have to buy a whole new outfit for it. You can take any basic dress, like our Black Everyday Dress, and pair it with one of our trendy blazers. The blazer will instantly take your basic dress to the next level! Complete the look with some gold jewelry & black pumps. Visit our website to purchase this look today!
Our Conclusion
If you love blazers as much as we do but struggle to find ways to wear them year-round, you've come to the right place! We hope that these outfit ideas curated by our style experts will inspire you to rock the blazer look throughout every season.
If you're looking for more inspiration and outfit ideas to add to your closet, look no further than our trendy boutique, Southern Honey! If you're local to the Hobbs, NM area and prefer to shop in stores, search for the best boutique stores near me, make a stop into our boutique today, and find beautiful clothes with a Southern touch! Don't forget to follow our blog for more trendy women's clothing & style tips!