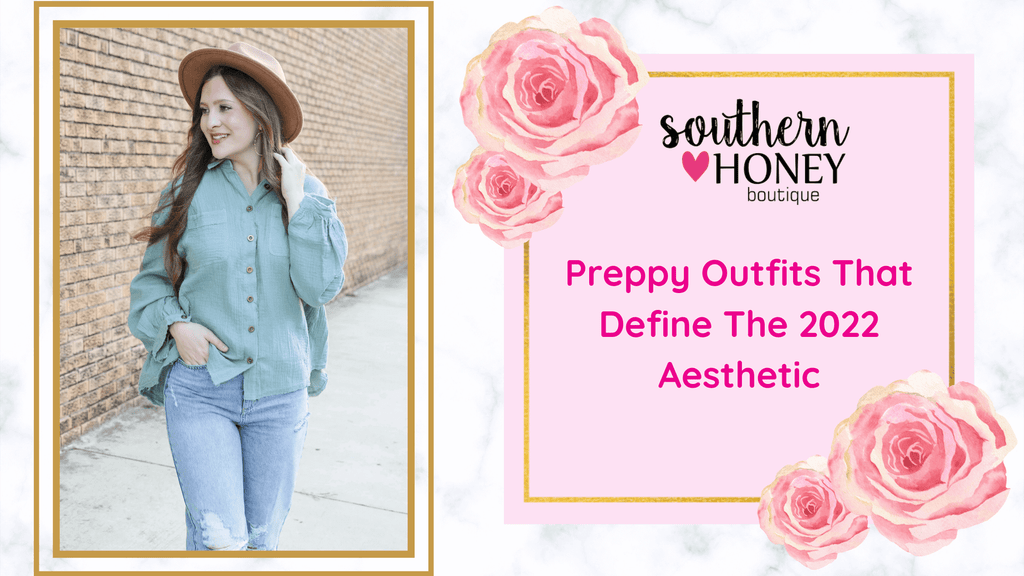 Preppy Outfits That Define The 2022 Aesthetic
Believe it or not, past fashion trends always have a way of making their way back to us somehow. In the last couple of years, you might have noticed the resurgence of the late 90s styles and groovy 70s aesthetic. One trend that is taking over the 2022 style trend chart is - preppy! Crewneck sweaters, button-downs, and khakis have become the must-have on the fashion enthusiast's bucket list. 
These polished essentials are much-needed to complete your preppy wardrobe. The style is known for classic elements and everyday basics to take your look up a notch. Whether you are looking for street style inspiration or something to wear at work, boutiques in Stephenville have got your back! 
Six Preppy Outfit Essentials For 2022
Check out these essentials you need to complete your preppy wardrobe. 
Blazers

Blazers are the easiest way to create a preppy outfit. Throw it over a white t-shirt and blue jeans, & you have transformed your basic look into a preppy one. While this outfit may be our go-to look, switch it up with accessories. Use a cute necktie or school crest detailed blazer to accentuate your style. While opting for a blazer, look for boxy, oversized fits. They look ineffably cool while keeping the preppy tradition at heart. Pair your blazers with your favorite pair of jeans and a t-shirt underneath for a casual yet polished look. Accessorize the look with minimal gold jewelry and a messy updo!
Read More: Stylish Ways to Wear a Blazer
Loose Pants Or Flared Jeans

Once you've slid into a pair of comfortable flared jeans or loose pants, there's no turning back. While opting for a preppy style transformation, this traditional yet casual piece is a good basic to have. Check out our sturdy pair of Groovy Super Flared for wardrobe-essentials. Finally, a well-fitting pair of pants or jeans are staples as they are the foundation for every ensemble. These flared jeans can go with virtually anything and are ideal for a casual and classic everyday look. Grab your favorite pair of women's designer dressy pants from us today!
Biker Denim Jackets
A biker denim jacket does sound preppy, doesn't it? Also, it is an ideal layering piece for fall. You can wear it with your best dress or go even casual by adding more denim. Southern Honey is a leading boutiques in Stephenville, Tx with all the trending preppy outfits to take your wardrobe to the next level. Stand out in a crowd of long coats by wearing our Austin Denim Jacket. Pop it over a polo t-shirt, accessorize it with your favorite headband and some quirky earrings, and you will be ready to hit the town!
White Button-Down Shirts or Tops
A crisp button-down shirt is undoubtedly the most underrated piece that you can have in your wardrobe. And don't even get us started with the oversized versions! With all of the preppy clothing options, a white top/shirt is a staple that we all own. It goes with every aesthetic. Whether you pair it with your sweats for a more casual look or layer it with a blazer, it will make every one of your outfits look stunning. White shirts or tops are an unrivaled piece of versatility! Spruce up your simple button-down shirt with our Heidi Skinny Jeans, pair it with some stylish sunglasses and a bold purse for that pop of color and get that effortless preppy look.
Cozy Cardigans
There is no better representation of a preppy aesthetic than a cozy cardigan. It has always been a preppy girl staple, but it's time to work on new styling tips for them. When you shop for a cardigan this season, try to find different textures and colors to add something new and unique to your wardrobe. Adopt this style and keep it easy and comfy by pairing our loose-fit knit cardigan with the Krista booties and skinny jeans. If you are searching for fancy women's dresses online to wear with your cardigan, don't worry; Southern Honey has got you covered!
Classic Jewelry
Yes, your outfit is incomplete without cute accessories, and for the preppy aesthetic, it becomes even more important to wear them. It's time for you to stock up on simple yet elegant jewelry such as pearl strands, gold hoops, a diamond tennis bracelet, and some dainty rings. To up your outfit game, Southern Honey's must-have charm necklaces are just the thing you need! We love the subtle gold and silver colors that they come in, and these sophisticated, elegant necklaces will be a cherry on top of your preppy wardrobe.
Key Takeaways
Keep in mind that dressing up preppy is not as tricky and complicated as it sounds. Start transforming your wardrobe with basic items first, some you might already have with you. Opt for neutrals, black, white, & blue shades. Choose the classic prints to break the monotonous solids. Some of the most popular choices are polka dot & plaid.
So if you are looking to upgrade your wardrobe to preppy style, head to our Stephenville Boutiques, Southern Honey. Shop all the latest preppy key pieces from us today and be the best-dressed one among your friends, family, and colleagues.