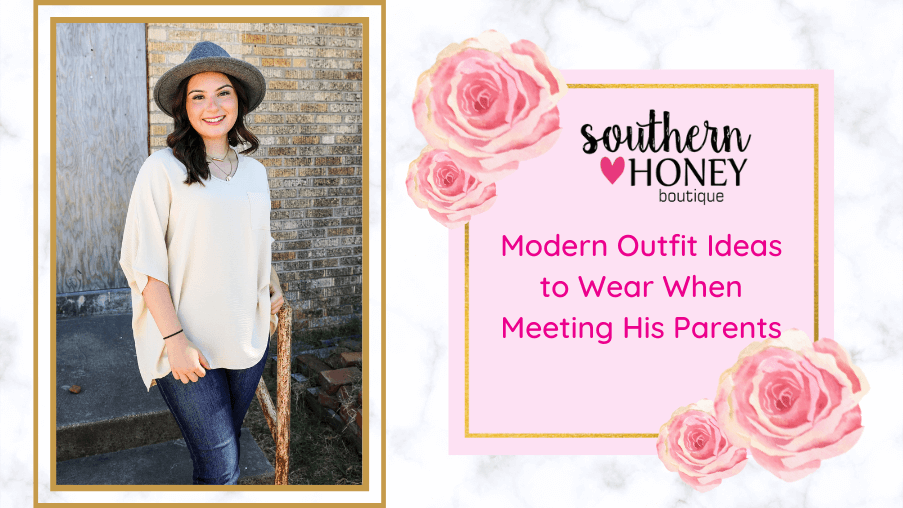 Modern Outfit Ideas to Wear When Meeting His Parents
Meeting your boyfriend's parents for the first time can be a daunting experience. You want to make a good impression but do not want to overdo it. Achieve a balance by choosing something that fits the occasion yet still feels like you. With Southern Honey, you can feel confident and prepared for this important event in your relationship. We have mentioned the ten outfit ideas from our boutiques in Hobbs, NM, to help you look your best for this special moment.
10 Outfits to Step Up Your Style Game for an Unforgettable Meeting with His Parents
Do you need something unique for that special meet-and-greet that will leave your bae's parents awe-struck? Say goodbye to your closet chaos with the following ten outfit combinations from our clothing stores in Hobbs, NM. After all, the right outfits make everything a breeze!
1. An Understated Elegance: Black Naomi Top, Mica Jeans, Brooklyn Booties, and Alexis Axis Fringe Wristlet
Looking for an effortless yet eye-catching outfit that creates a positive and lasting impression? The one-shoulder Black Naomi Top paired with Mica Jeans from our online clothing boutiques is an unbeatable choice. This combo will make you look put-together and confident for those impromptu meet-ups. You can finish off the attire with ankle-length Brooklyn Booties. For a casual-chic vibe, carry the Alexis Axis Fringe Wristlet rather than oversized handbags to match the look.
2. Bewitching in Black: Darlie Dress, Remi Heels, and Must Have Charm Necklace
Step into this timeless black-colored Darlie Dress with a satiny texture and a radiant sheen. It is made for occasions when you need to look good and feel comfortable at the same time. You can complement it with the black Remi Heels or browse more from our women's designer shoes collection. Lastly, give a finishing touch to your attire with Must Have Charm Necklace. This luxe attire is an impeccable pick for sophisticated meetings or dinners with your bae's parents.
3. Comfort Over Anything: The Emma Top, High Rise Holly Flares Jeans, and Esmee Beige Booties
Do not let your comfort take a backseat while getting dolled up for the most significant moment of your life. You will be ready to take on any event with the Emma Top from our boutiques in Stephenville, TX. This shirt-style, collared top offers an easy-breezy and relaxed fitting. Throw on the High Rise Holly Flares Jeans and tuck one side of the shirt inside it. This look strikes the right balance between casual and formal without going overboard. Likewise, the Esmee Beige Booties would be a stunning addition to elevate your attire for a lasting impression on the beholder.
4. The Eternal Charm of Florals: The Square Neck Floral Dress, Regina Heels, and Blue Triangle Tassel Earrings
Hit the perfect stride between dressed-up and elegantly chic with the Square Neck Floral Dress from our fancy women's dresses online. The floral pattern adds a touch of femininity. At the same time, the square neckline gives it an exciting silhouette without being too revealing. You can put on the Regina Heels to gain a good stature as you walk. Since it is a floral-printed dress, keep the accessories on the lighter side with the Blue Triangle Tassel Earring, and you are all set to go!
5. A Dainty Fit for Your Bubbly Personality: Lilac Sweater Vest, Machina Flare Jeans, and Dawn Booties
The Lilac Sweater Vest is an ultra-feminine and playful piece that delivers fashion and function in one garment. It lets your personality shine while looking polished and sophisticated. The lilac color brings vibrancy to your appearance, which goes well for versatile settings. You can dress the vest up or down with the Machina Flare Jeans for whatever your style preference and comfort level. If you want to explore more bottom-wear options, cruise through our women's designer jeans range. For footwear, the Dawn Booties' color palette and structure would complement your attire.
6. Drenched in a Cozy Flair: The Layne Sweater, Sam Ultra High Rise Jean, and Victoria Booties
The lilac-colored Layne Sweater from our collection of fashionable sweaters for women is a staple piece for the fall-winter season. It is lightweight enough to deliver all-day comfort while keeping you shielded against the chilly weather. Besides, the intricate, rugged detailing exudes grace and minimalist style at its peak. You can wear it over the Sam Ultra High Rise Jean for a more defined appearance. Opt for the Victoria Booties in a matching color palette while glamming up for meaningful conversations with your partner and his family.
7. Let Your Dress Do the Talking: Scallop Dress, The Truly Wedge, and India Necklace Multiple Colors
Whether it is your first meeting or the tenth, making a lasting impression with this dreamy outfit says it all. The Scallop Dress is flirty and playful with a hint of class that speaks volumes about your closet choices. This classic piece is perfect for all occasions - from intimate family gatherings to memorable affairs. You will feel poised when you match this dress with the Truly Wedges. You can choose the multi-colored India Necklace to embellish your look without being too dressy.
8. Layering It Up with Some Glam: The Rosalie Coat, Jenny Top, Lydia Jeans, and Vegas Boot
The Rosalie Coat is a must-have element in your wardrobe for creating innumerable fall-inspired looks. When it is layered over the Jenny Top, it lets you achieve a sharp and classy appearance while meeting your beau's parents. You can top off the attire with Lydia Jeans and Vegas Boots to strike a balance between refined and subtle when you get ready for that particular event. You can also shop for more variety from our women's designer jeans to put your best foot forward.
9. Power Dressing with a Dash of Delicate Hues: The Jenny Blazer, Black Classic Fit top, 90s Vintage Loose Fit Jeans, and Kimye Heels
From the first impression to 'getting the seal of approval' - impress your partner's parents in style with the olive-colored Jenny Blazer. It represents a perfect blend of everlasting charm with modern sophistication. You can layer it with the Black Classic Fit Top or choose from our assortment of trendy women's tops. Tuck the top inside the 90s Vintage Loose Fit Jeans and slip into the Kimye Heels. It will make you look empowered and professional– just what you need when meeting your partner's parents for the first time. So go ahead and try this classic style–you will not regret it.
10. A Soft Yet Dramatic Appeal: The Paisley Top, Natural Candice Pants, and Chelsea Booties
Our Paisley Top tucked inside the Natural Candice Pants- winning duo for making an everlasting 'first impression.' This ultimate pairing looks flattering on varied silhouettes to let you ace the most cherishable meeting with your boyfriend's parents. The mish-mash of ornate prints and muted color palette brings an exciting accent to your outfit, getting you ready for the conversation. Besides, its comfortable fitting makes it ideal for long meetings and seamless day-to-night transitions. You can wear the Chelsea Booties to delight everyone with your every step.
Conclusion
The pressure is real when you are meeting your significant other's parents for the first time. It is a big step in the relationship; hence looking graceful and poised becomes necessary. Express yourself with thoughtful clothing choices from Southern Honey that ooze simplicity with charm. From modern silhouettes to timeless classics, our boutiques in Hobbs, NM, have them all.