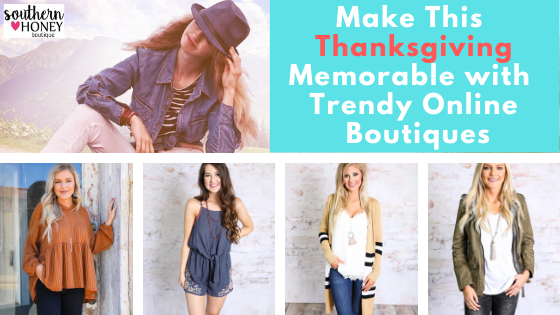 Make This Thanksgiving Memorable with Texas Online Boutiques
With the winter rounding the corner, it's time for Thanksgiving! Thanksgiving is all about connecting with friends and family and feeling grateful for all the good things that have happened over this year.
On this special occasion of Thanksgiving, you would want to look your best, don't you? For a lovely look during this time, we have compiled some interesting ideas on how to shop from the Texas Online Boutiques!
How to Choose the Best Outfit for Thanksgiving from Texas Online Boutiques
Thanksgiving falls during the time of winter, and it means layered clothing and outfits that can ward off the cold. However, layers don't mean you have to look like a potato! You can still look sexy and beautiful if you carefully pick out your outfits. Go for layered tops that have a thick lining. In Texas, we don't feel the entire brunt of the winter during Thanksgiving and therefore, you can go for knitted bodycon sweater dress or a leather pants that makes one look alluring.
Dress Up for the Audience
If you are having a quiet family time during Thanksgiving, then you may have to reconsider those quirky, rainbow pants or the top with navel cuts. Before you start shopping for the Thanksgiving costume, make sure to pick out an outfit that blends in well with the people around you. If you are unsure about the outfit or the people you are going to be with, then you can pick a neutral outfit like a white dress or a simple bodycon paired with some leggings.
As the time of Thanksgiving is always gloomy, a little pop of colour in your outfit can go a long way to cheer you up and everyone else around you. It can be as subtle as a simple, colourful scarf around your neck or a vibrant top paired with a monochrome bottom wear to keep it grounded.
Dress Up for the Location of Thanksgiving Dinner
If you are the one hosting the Thanksgiving dinner in your home, then your choices of outfits will be wider. You can cut down on a few layers and dress up according to the place.
If you are not the hostess, then it is best to be ready with some warm jackets and sweaters, especially when you need to travel for a while. When you shop at the boutiques, you can go for the dresses that match with the overcoats you already have and ensure that the outfit you wear is comfortable for the long travel ahead.
Thanksgiving Shopping Made Easy at Southern Honey Boutique!
You can wear a stunning outfit for the Thanksgiving dinner and pick a few more cool outfits to wear on this particular day from the Texas online boutiques. Southern Honey Boutique is one of the most popular and easy-to-shop Texas online boutiques that has selected women's wear for the time of Thanksgiving. You will have the luxury of picking out the dress in which you look absolutely gorgeous from our handpicked collections with staggering deals and get them delivered to your doorstep in just a few days!
So what are you waiting for? Browse through our latest collection of Thanksgiving outfits at Southern Honey and look jaw-droppingly attractive on Thanksgiving!