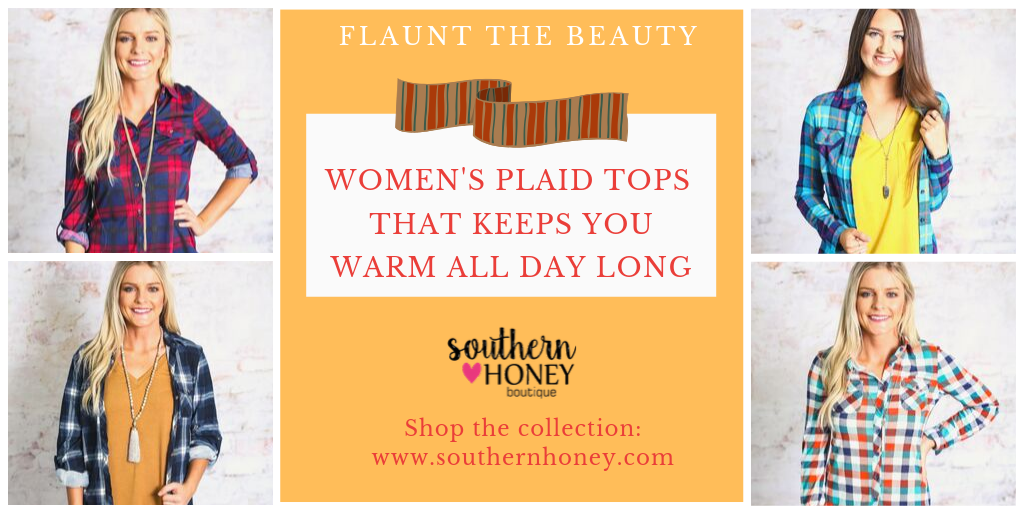 5 Women's Plaid Tops That Keeps You Warm All Day Long
Are you fond of that effortlessly stylish look that not only adds glam but also makes you feel comfortable?
If you are vigorously nodding your head 'yes', then the plaid tops are just what you need. The Women's Plaid Tops are so much popular because of the warm it provides and the varieties of options by which you can mix and match. These plaid shirts can be worn with t-shirts, crop tops, tunic tops, tanks, peplums and a lot more.
Let's have a look at some of the best women's plaid tops that will keep you warm and modern.
1. The Simple, Comfy, Girlish Plaid
When we say 'plaid', most think of it as an attire that gives a boyish look. But plaid tops are not only for those who go for the tom boy ensemble. With the pick of the right colors, the right tops to match and the coherent accessories, the plaid shirt can make one look pretty. 
Let's take the example of this All Girl Plaid top from Southern Honey's own closet. This pink and blue plaid top can be matched with light-colored tops and imparts the appearance of a casually cute outfit.
2. The War, Hooded Plaid
At times, you may not want to carry around your sweater, coat or jerkin to keep you warm or cover your carefully picked out ensemble with a normal sweater. With the hooded plaids, you do not need to compromise on style or have an additional piece of clothing to keep you warm. Just your outfit complete with the hooded plaid is all you need! 
If you are looking for a casual hooded plaid, go for the blue plaid shirt with an ash hoodie attached or the blackberry jam hooded flannel.
3. The Dapper Insulated Plaid
If you are choosing women's plaid tops specially to keep you warm, why don't you go a step ahead and invest in a good insulated plaid shirt? While most plaid shirts are made of cotton, the insulated plaid shirts have a layer of wool on the inside which will keep you warm all throughout the day.
Go for the bright red insulated plaid from Southern Honey's collection to pull off the snappy, chic look.
4. The Graceful Lacy Plaid
'Lacy' is not the first word that comes to our mind when we talk about the women's plaid tops. But that's what makes it even more special to be look unique among the common designs of the plaid shirts. Have a look at this beautiful white laced plaid shirt that is perfect to wear on those summer days when you need a bit of warmth but do not want to be seen pulling around a heavy coat when the sun is out. You can match it with distressed jeans or even jean shorts for a sexy look. 
5.The Contemporary Embroidered Plaid
Why not add a bit of femininity to the plaid shirt with a bit of embroidery? It can be on the sleeves, at the bottom of the shirt, near the shoulder patches or be at the center of the plaid shirt. 
Want to try out an embroidered plaid shirt? Well, pick out this pretty button down embroidered plaid shirt from Southern Honey's collection and match it with a pair of blue jeans.
Meanwhile don't forget to checkout the latest trends in designer jeans, shoes, outwears, tops, accessories, and more. Southern Honey is a leading trendy online boutiques rendering fashion clothes & accessories for the women in Stephenville & Hobbs. Fill up your closet with the affordable & quality fabric clothes now