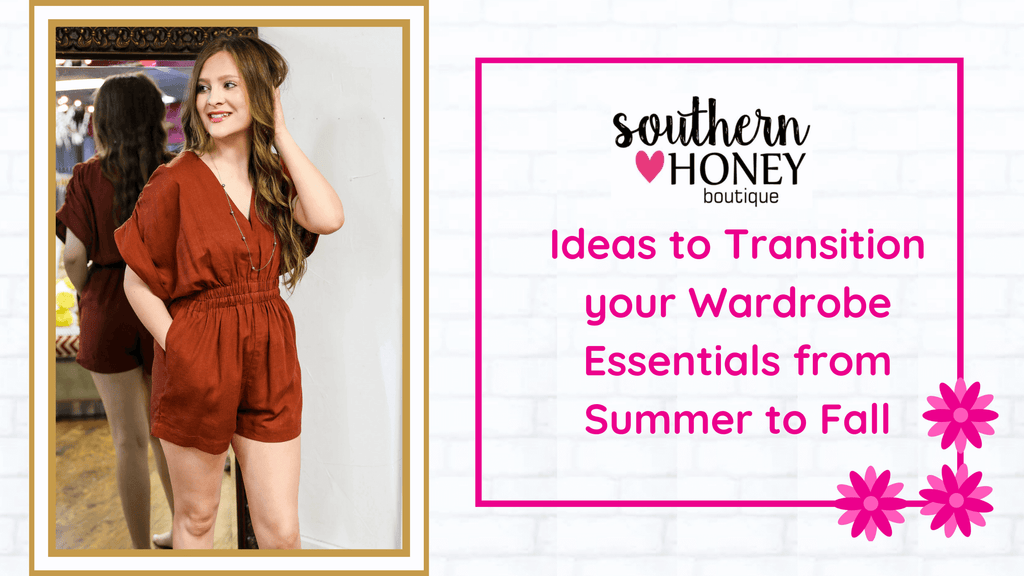 Ideas to Transition your Wardrobe Essentials from Summer to Fall
As soon as August comes to an end, we are all ready for the gorgeous fall season, aren't we? We all love fall fashion, and there are no exceptions for that matter. However, fall weather is unlikely to arrive in the southern regions of the United States until about October. But that doesn't stop us from being productive about transitioning our summer wardrobe to fall. Lots of stunning clothing options and a wide variety of shoes and accessories are available in online clothing boutiques. They will lure you into buying everything that catches your eye. So, without further ado, let us have a look at the most stylish ideas to transition your summer wardrobe to fall—clothing Ideas for your Fall Closet.
Whether you prefer a never-ending summer or long for the cooler months, one thing we can all agree on is that dressing in the fall and winter months is the greatest. We can't get enough of layering up and wearing warm knits and cardigans. When a season changes, though, it can feel as if you need to acquire a completely new outfit. But that's no longer the case; today's blog will teach you how to make your wardrobe transition from summer to fall season interesting. Shop amazing fall outfits at the trendy women's clothing boutiques and quench your shopping thirst.
1. Warmer Color Palette
Color is one way we like to include some fall-inspired elements into my outfit. Warmer tones, such as red, camel, black, dark green, and grey, can be used with lighter clothing pieces to help transition from summer to fall. If the weather allows, choose skirts, dresses, tees, or even lightweight sweaters. A Maroon dress or olive-green skirt is a terrific way to make your clothing feel like it belongs in the early fall weeks without being too thick and overpowering for the late summer season. Find a wide collection of fancy women's dresses online to fill your fall wardrobe with something exciting.
2. Pick Not-too-heavy Fall-specific Materials
Though this advice is similar to the previous, it focuses on materials and textiles appropriate for the fall season. Although a heavy sweater or scarf may still be too much for August or September, these materials can still be easily included. Wool and cashmere fabrics might be your favorites, but you won't be able to wear them before November or December. Lighter clothing items are useful in this situation. A short wool skirt paired with a lightweight top, for example, is a terrific way to add heavier, more appropriate items to your wardrobe without making it too heavy. A thin knit cardigan in a summery color coupled with white linen slacks is another nice option. Pick out trendy women's tops at the online clothing boutiques to unveil your southern charm.
3. Accessories – Silk Scarves, Handbags, Statement Jewelry
Because they don't add extra layers or warmth, accessories are a terrific way to incorporate fall design into your wardrobe. Headbands, silk scarves, and statement jewelry are some of my favorite accessories for the fall season. To instantly add a fall touch to any look, try wearing velvet or dark-colored headbands. Instead of tying a silk scarf around your hair or hand, wear it over your neck. Do you also have a handbag fetish? Shop amazing and trendy tan bags at the online boutiques to pair your trench coats this fall season.
4. Fall and Boots go hand in hand
Another fantastic option to add some fall elegance to your outfit is with shoes. Tall boots may still be excessively hefty, but that doesn't mean you can't incorporate them into your clothes in inventive ways. Low boots or booties worn with dresses or skirts are terrific to give a lighter garment a fall feel. Find a variety of women's branded shoes at the online boutique to feel the fall vibes.
5. Versatile Jumpsuit
Get dressed in a straight black jumpsuit. Because the color is so flexible, this jumpsuit may be worn in any season, but the longer length and thicker material are ideal for chilly weather. Pair this outfit with espadrille wedges, but flats would be a terrific way to make it more acceptable for cooler weather. Jumpsuits come in various shapes and styles, some have longer necklines, and some have wider bottoms. You must choose your clothes according to your body type and shape to feel comfortable in your skin. Get tips on how to dress according to your body type and shop for versatile clothing options from the online clothing boutiques.
Conclusion
We hope you enjoyed reading the five awesome ideas on how to transition your wardrobe essentials from summer to fall season. Rock every look by adding stunning clothing options available at the best online clothing boutique – Southern Honey! Hopefully, my four versatile outfit ideas inspired you to alter things you currently own for the next fall season.