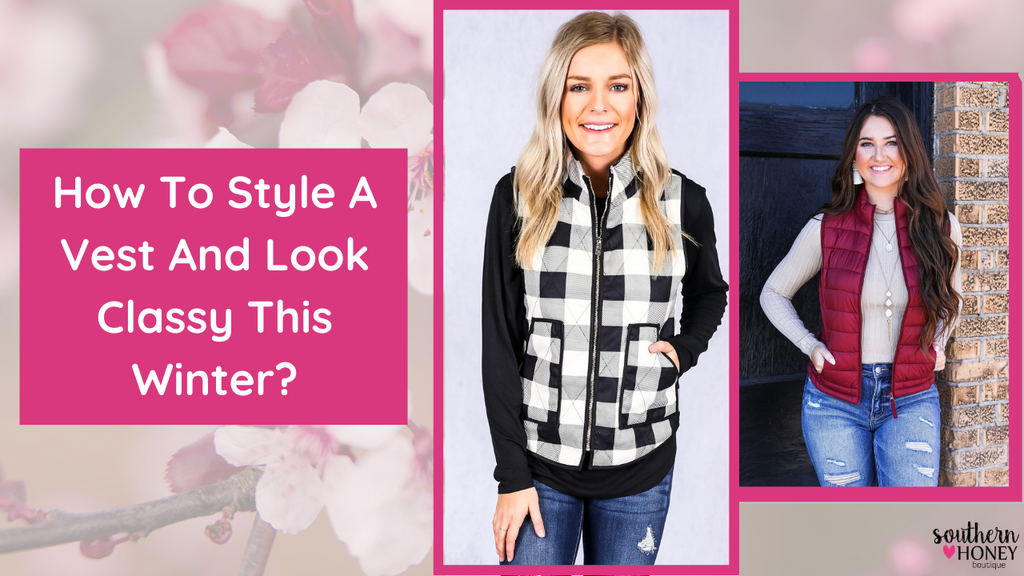 How To Style A Vest and Look Classy This Winter?
Introduction
Underrated, under-utilized, and under-appreciated! Those are the words we would use when it comes to women's vest. You might think that a vest could make your body look big or disproportionate. But the reality is quite different. 
If you follow the correct way to style your vests, you might actually find that a vest could be used in multiple creative ways. The trick is to align your body type with comfort. To give you an overview of the whole shebang, we have curated a guide about: How to style your vests in 2021, with a sneak peek from trendy online boutiques.
Know your body
If you are a skinny lass with less or no body fat, especially on the belly region, go for the puffer vests. These could help you get a fuller look. Also, since you have less body fat, it is important for you to keep your body warmer.  This way, you can maintain your posture instead of shivering your way through the winters. 
Puffy vests should mostly be paired up with skinny jeans or flared denim to highlight the thigh region and define your outfit. Keep your hair open and wear a scrunchie on your wrist. This will give you tomboy feels and a kickass look for both casual and semi-formal occasions. Modify the accessories according to the type of the occasion and you're going to.
Outerwear should be taken seriously
Jackets, vests, and hoodies are the most underrated outfits of all time. Believe us, one day, Bella Hadid will wear a hoodie to the Met Gala and then you'll realize the importance of women's outerwear.
We purchase these clothing items in a hurry and most probably based on the weather or comfort. But if you pay attention to the detail, you can actually create numerous outfits from your outerwear. A vest could easily outshine a glamourous cardigan if you wear it the right way. 
Look sophisticated with vests
Vests could be your way to look sophisticated and show off your toned body. Combine a dark-colored vest with a white or beige colored shirt and a similar pair of trousers. This is the best outfit idea for soft, polished, semi-formal office looks.
Combine a straight skirt with the same outfit instead of trousers and voila! You have another semi-formal look to opt for. Trust us, it is as simple as that. You could even go with a bit of a printed, catchy women's outerwear options and combine them with simple short dresses or midi dresses.
Take a solid black midi dress and pair it up with the outerwear of your choice. Make sure it is exactly contrasting to how your dress looks. Go for prints, plaid outerwear, puffer jackets or vests. Play with them and figure out what looks the best on you. 
Never be afraid of experimenting
Fashion only emerged from experimenting. If you stop taking small risks and keep imitating what online Pinterest models are doing, you will never have a style of your own. Experiment with each component of your outfit. Be it a top, skirt, pants, vest, or even a pair of shorts. There are always multiple ways to wear everything.
Try this red and black vest with a turtle neck black t-shirt and a pair of skinny jeans. This will not only highlight your curves but also give a contrasting glow to your skin. If you want to go for a more subtle look, try the black and white variation of the same vest and see how it goes easily with a t-shirt, short dress, or even a maxi-dress. Told you, there are no rules!
Who said vest can only be outerwear?
Yes, you heard that right. You can up your game with experimenting and wear a vest or any outerwear for that matter without anything inside it. There are multiple benefits of styling a vest this way. One, it can make you look slimmer than when you wear a vest as outerwear. Two, it can help you show off your toned arms and waist. Cool, isn't it?
You can pair it up with trousers. They could be contrasting or in the form of co-ords. Anything that works for you. Apart from that, you can also mix and match your vest with a pair of shorts of your choice. The sky is the limit when it comes to styling.
Outerwear on outerwear?
Wear a vest on a coat and bring some fashion statement vibes to your surroundings. This look is made out of totally unexpected yet basic wardrobe essentials from a women's boutique. However, use a vest that is one size bigger than your actual size when you are planning to wear it on any other outerwear. As winter is on the way you have to make your wardrobe ready for the winter, so choose outfits wisely.
Conclusion:
Unconventional trends are not a trademark of supermodels. You can create your own fashion looks by combining elements from your own capsule wardrobe. A vest is one such element that gives you so much versatility in just one clothing item. The trick is to utilize the item well and create as many outfits from it as possible.