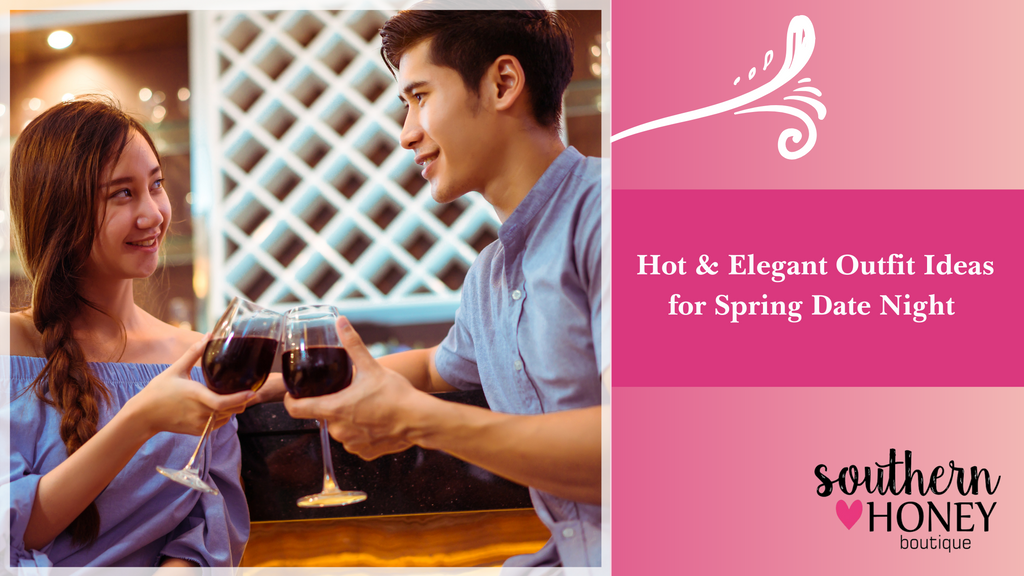 Hot & Elegant Outfit Ideas for Spring Date Night
What you wear defines your personality. Fashion is a statement that makes you appear special, attractive, and elegant. Choosing a trend that merges with the occasion is smart. Even more, carrying the trend with elegance is smarter.  
So Ladies Spring is finally here! Do you have a date tonight to come soon? Are you confused about what to wear and where to go to find the best apparel?
Let it be a candlelight dinner or a casual hang-out. You need a pretty outfit that can make every eye a mirror that holds your beauty.  
Classy Outfits for Spring Date Nights
There is no chillness in winter anymore. You can flaunt with a light dress like a dancing diva. This is the real-time to bring out that fad woman in you. Let's make yourself glow in the brighter sunlight. So, start browsing online boutiques for prepping your wardrobe with some kicky spring wear to make your coming date nights hot and warm.
Here are the top-hole spring date night outfit ideas that will make you look hot, classy, and stylish:
Try Some Trendy Dresses in Vogue:
A variety of options await you in tones of blue, red, polka dots, rustic brown, and floral prints. There are long and stylish maxi dresses, short taupe dresses, and flounce sleeve dresses to look cool and light. Also, there are hot and tailored midi dresses with sleeveless, strapless, and short sleeve designs.     
Camo printed Overalls and cute and dashing rompers are still in vogue. Create a bold and strong date night look with Camo Overalls and be a lady clad in confidence and elegance. Stripe Terry rompers & multi-color stripe rompers will spice up your beauty. Try it on your coming date night and see the magic.
Accessories too are important to season the dress you wear. Trendy bracelets, rings, and elegant footwear will complete your look, making you feel hot and luring. 
Pair Your Jeans and Bottoms with Kicky Tops:
Nothing can give you super cool comfort and elegance as jeans and tops do. Let it be a dine-out or hang-out, a cute top and elegant jeans will make you look fab.  From skinny jeans to flares, boot cuts, and boyfriend jeans, online boutiques in Texas now trend with all the new arrivals to clad you in grace. 
When it comes to tops and accessories, extensive collections are available to nourish your spring date. Heels, long sleeve tops, short sleeve tops, Lacy Tanks, plaid sleeves, puffy sleeves, off-shoulders, one side shoulder tops, and the Bell Sleeve Bodysuits blend perfectly with jeans.
Flaunt with Skirts  & Shorts:
Denim skirts and shorts are enticing bottoms for date nights. It gives you a bold, famine, hot and elegant look to make the special one fall for you. Sexy lacy tanks and off-shoulders go sexy with denim bottoms. Denim skirts and shorts are ideal for your spring date nights. Move around and shake your legs with confidence and enjoy the evening with elegance wrapped in Denim. 
Comfy Pants for Sexy Nights:
Wide leg pants with sexy bodysuits or crop tops are a style factor for women. If you are choosing wide pants for the date night, wear a sexy top with them. It will give you a new style different from the daily look by making you more hot and stunning. Wearing Knit Cardigans will also give you a dashing and daring look with comfy pants. 
Buy From Southern Honey Boutique to Horn the Beauty in You.
Conclusion:
Let it be date nights or casual events, Southern Honey Boutique, one of the reputed online clothing boutiques, offers extensive collections for women who have a passion for fashion. You can choose classy jewelry, footwear, and accessories that match your outfit. 
Wearing a good dress will make you feel comfortable and confident. You don't need to spend a large amount of your savings to buy the perfect clothes. Fashion is not always about money. It is all about how you spend money on the right platform to buy the best clothes that stick to your pocket.  
Come to Southern Honey Boutique and spend a little time filling your wardrobe with the best collections for all the special days of your life. Enjoy shopping with us.