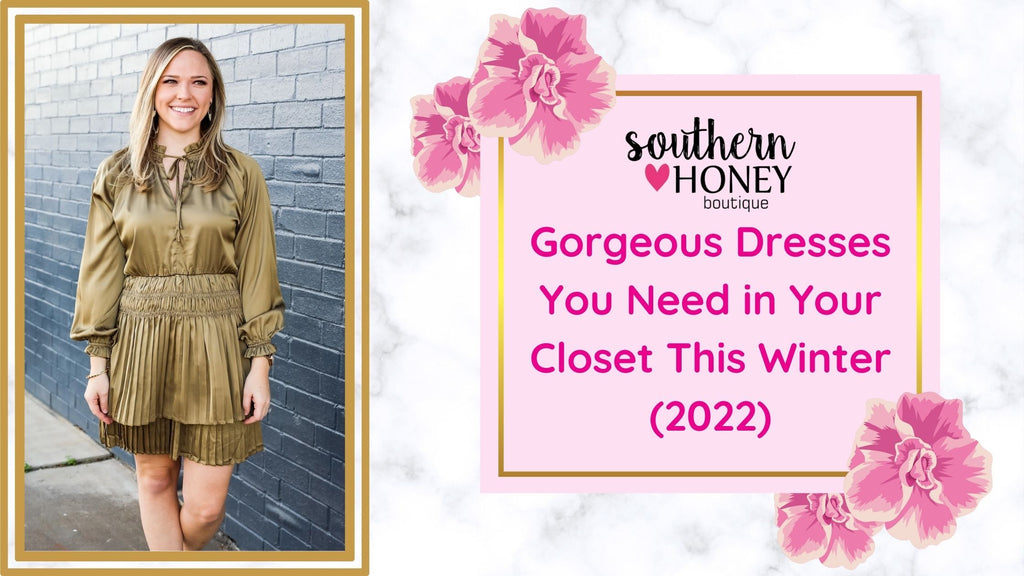 Gorgeous Dresses You Need in Your Closet This Winter (2022)
We are well into the winter season, and you may find yourself running out of trendy outfit ideas. This is because we often stray away from dresses during this time of year due to the chilly temperatures. Luckily, we're here to tell you that dresses can be worn year-round if you layer them correctly! You no longer have to wait until summertime to rock your favorite maxi and mini dress!
We have come up with some cute and cozy winter dress ideas that you can add to your wardrobe from our trendy boutique. We have plenty of tips and tricks to make your basic dresses look more stylish without breaking your bank. If you prefer to shop in stores, check out our boutiques in Hobbs, NM, and Stephenville, TX!
Four Dresses That You Need in Your Closet This Winter
If you're a huge fan of dresses but are under the impression that you can't wear dresses during the winter season, we have some good news for you! By properly layering your dress, you can create an adorable style that looks fabulous year-round! Here are some quick and budget-friendly ways to still rock your favorite dress year round without compromising warmth and comfort. You can shop for these dresses at one of our clothing boutiques near me!
1. The Sarah Dress
This dress comes in a gorgeous olive green and is excellent for laying. Pair this piece with your favorite pair of skinny jeans to create a chic look. You can layer it with a long cardigan, overcoat, and a trendy belt to define your waist. Complete the outfit with knee-high boots to keep your feet warm and cozy. This look is perfect for many daily tasks, including work, errands, or grabbing lunch with friends.
2. The Belted-Waist Knit Dress
Have an evening party you need to attend? Then, we have the perfect dress for you! Go bold and feel absolutely gorgeous in our belted-waist knit dress. It comes in a deep red color and has a flattering fit. You can pair this look with gold jewelry and golden pumps to put you right in a party mood. To complete the outfit, team it with skin-colored nylons to keep warm.
3. Striped Mini Dress
This striped mini dress has an evergreen pattern that never goes out of style! This dress pairs nicely with our Laurel Flared jeans. Throw in an oversized cropped black cardigan or a denim jacket for a cool, casual, and comfortable look. Our women's designer jeans are durable, long-lasting, and of premium quality. Try on a pair for yourself next time you are by our clothing stores in Hobbs, NM!
4. Samantha Midi Dress
This dress is as versatile and essential as they come. You can style it up or down for a casual evening out or an elegant soiree. Our Samantha Midi Dress is perfect for any occasion. Opt for Selia booties for a classic look, or if you want to add pizazz, go for Naomi Snake Booties. Layer it with a denim jacket, plaid jacket, or a high-neck sweater. You can even add a belt if you want to add structure to your look. Don't forget to throw on your favorite hat to complete the look!
Browse our chic online boutique to shop for trendy women's tops, outerwear, jeans, jewelry, and so much more. We have styles and sizes that work fabulously for everyone!
How to Style Your Dresses This Winter
When you have exhausted all of your styling ideas, it's time to shake things up. The beauty of dresses is that you can give them a fresh look by styling them in various ways. Need some inspiration? Our style experts from Southern Honey Women's boutique have some chic styling ideas for you!
1. Don't Forget to Layer
Do you want to wear your favorite summer dress, but it's cold outside? Great news! Winter is all about layering- a perfect solution that will allow you to wear anything in your wardrobe during every season.
Stock up with sweaters, cardigans, and turtlenecks in neutral colors. They're much easier to mix and match with different dresses. If you are layering underneath your dress, keep in mind to avoid chunky winter wear, but if you're layering above, opt for oversized pieces. Shop fashionable sweaters for women with a touch of Southern style from our trendy online boutique.
2. Accessorize Like You Mean It
Jewelry, belts, shoes, and other accessories are just what you need to take your outfit to the next level. If you're a big fan of western-styled accessories, we have you covered! Our trendy western-styled online boutique, Southern Honey, has it all! Visit our website today to find a wide variety of adorable accessories that are perfect for you.
3. Mix And Match
Play around with patterns, colors combinations, and styles to keep your wardrobe looking trendy. Try new styles you never tried before, or layer or style them with adorable accessories or outerwear for endless combinations. Don't be afraid to add a splash of color to your look every once in a while!
4. Care For Your Knitwear
Following instructions and maintaining regular upkeep of your winter wear is a must. It helps your clothing last longer, look better, and feel good. For example, regularly removing lint and fuzz building up on your sweaters and dresses can help to keep them tidy and last longer. While washing your knitwear, don't forget to use fabric softener or conditioner to ensure your clothing lasts as long as possible.
Our Conclusion
Dresses are both comfortable and stylish, but often people avoid wearing them when the weather cools down. But just because winter is here doesn't mean you still can't rock your favorite dress! Layering is key to ensuring you stay warm and look chic during the frigid winter months. Look for beautiful, stunning, and stylish wardrobe essentials at our trendy women's clothing store, Southern Honey. If you prefer to shop in stores, visit one of our boutiques in Hobbs, NM, or Stephenville boutiques, TX! We are sure to have clothing that fits your style and budget.