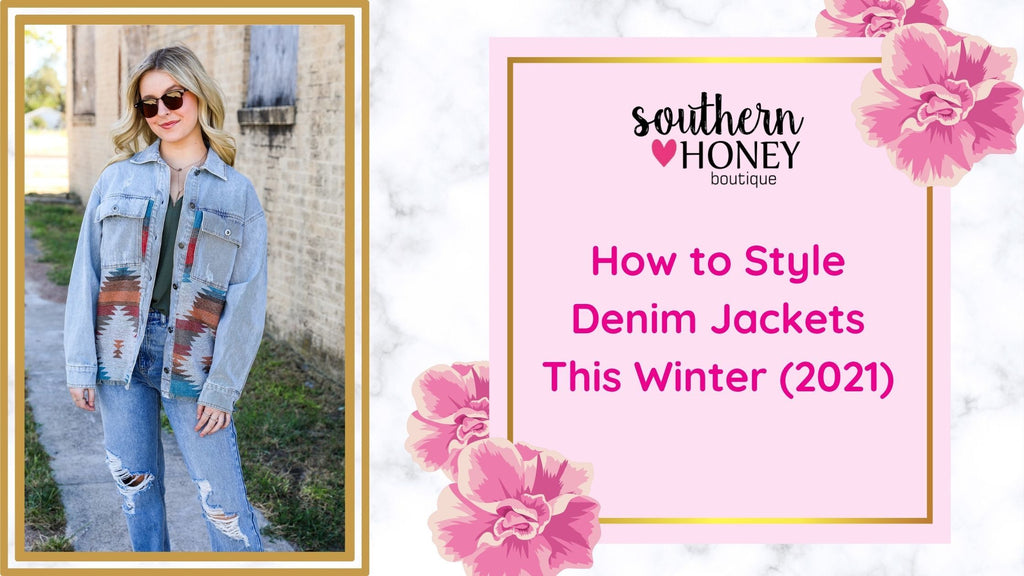 How to Style Denim Jackets This Winter (2021)
When it comes to your wardrobe, nothing essential like denim. It's a classic, versatile and comfortable fabric! And, while a well-fitting pair of jeans tops the list of favorite denim, jackets are a close second. You can buy them off the rack from any online clothing boutique across the internet all year round as they never go out style!
Denim jackets are so versatile, trendy, and comfortable that you just can't go wrong with them. Whether you are running to the grocery store or heading out for a date in a chic dress, denim can be the perfect addition to any outfit!
Denim jackets are a must-have for women's outerwear - no matter your style! Check out the latest denim trends at your favorite women's boutique - Southern Honey Boutique. 
If you are buying a denim jacket from an online clothing boutique, here are a few tips to follow that'll guarantee a good fit:
Sleeve Length: It should end at the wrist bone and thumb joint.
Jacket Length:

Depending on the desired fit, you can opt for either cropped, oversized or classic fit. The classic fit is our go-to!

Fabric: A good quality, thick denim jacket can last you multiple seasons
Details:

Pockets! All denim jackets typically have them (maybe that's why we're obsessed with them). But, for maximum comfort, go for one with pockets towards the front of the material rather than on the side or back.
Browse through our western boutiques online to find a jacket that fits your style.
Are you still hesitant about purchasing denim? Then let us show how truly versatile this jacket can be!
How to Style Denim Jackets
Denim jackets are so versatile, comfortable, and cute! There are so many ways to incorporate these jackets into your everyday look. From a night out on the town to a casual grocery store run, denim jackets can be worn on any occasion. Continue reading to learn some tips on how to style these jackets!
1. Denim on Denim
Casual - This iconic look goes back to Britney Spears' 2000s golden era. Recreate this ensemble in 2021 style wearing well-fitting jeans or bottoms paired with a matching jacket. This creates a monochrome look. Go for a bright-colored top, oversized graphic tee, or crisp fitted white tee to elevate this look. Tucking your top in halfway can add a little extra flair.
Semi-Formal - If you want a more formal look, pair your denim jacket with a white oxford shirt neatly tucked in with some gold jewelry to complete the outfit. You can find excellent options for daily wear denim jackets and matching jeans at our online clothing boutique.
Style Tip - With any type of fabric, remember to keep measurements and proportions in mind. For example, with a cropped jacket, wear high-rise jeans and an oversized or longer-length jacket, wear mid-waist jeans to create an even look.
2.  Black Dresses
Special Occasions - A midi-black trendy dress is sleek, fitting, and lovely. It pairs exceptionally well with blue denim. So when you're headed for a night out with your girlfriends or on a date, pair a black dress with a blue denim jacket and black boots.
Casual -  Swap the boots out for a trendy pair of sneakers. Keep the accessories light and gold - a pair of earrings or a simple pendant will bring the look together. This outfit is great for Fall!
Style Tip - If the weather is warm and you won't need a jacket, tie it around your waist to create a trendy look. If it gets chilly as the day progresses, you'll have the option to put your jacket back on quickly.
3. Layers
Layering your outfit can make for a unique look. If you live somewhere where the weather can be unpredictable, denim jackets are a great option. You may want to start looking for an oversized fit with layering because layers can bulk up, and your regular-size denim may not look flattering. In addition, layering up will allow you to include more trendy women's tops in your winter look.
Winter: Pair your denim jacket with a long sleeve turtleneck. For dresses, gear up with stockings or socks. Opt for jeans and tuck the top inside for the top. Use a trendy belt to cinch the waist. Wear an oversized denim jacket and black combat boots to finish the look.
4. Don't Be Basic
Don't be basic! If you have had enough plain denim jackets, swap them out for a  printed or colored jacket!
Chic & Casual - This smile patch jacket at our boutiques in Hobbs, NM is a fan favorite. Not only is it comfortable, but it's also unique and sure to stand out in the crowd! Go for a complete oversized look by pairing this jacket with flared or casual denim jeans.
Conclusion
Denim jackets are a fan favorite! Not only are they adorable, but they are also an everlasting wardrobe staple. Trust us when we say this jacket is a total game-changer! Head to our online women's boutique and check out the wide variety of denim jackets in our latest collection. Find trendy women's clothing that fits your style and budget today!