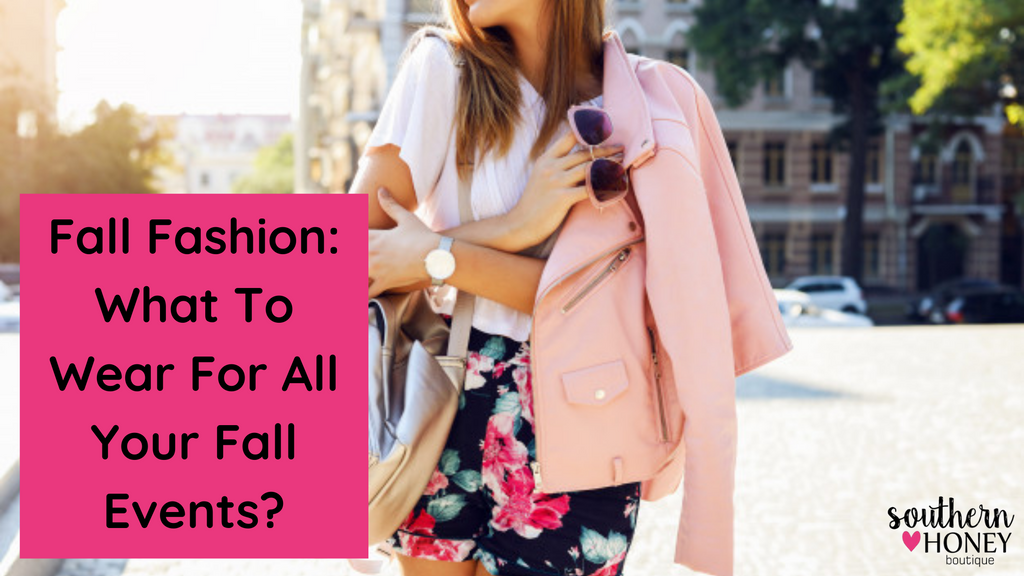 Fall Fashion: What To Wear For All Your Fall Events?
Fall is a season with a lot of events and festivals. The initial days of fall are here, and the fashion industry is embracing the season with a mix of new trends. Pumpkin patch, hay rides, corn maze and lots of food are the best part of fall, and your fall fashion can make you stand out among everyone if you've planned your wardrobe in advance. We have planned a small guide to fall fashion for events and festivals, and we are happy to share it with you!
The layered look when tailgating:
Fall is also a Football season and layers are your best friend when jumping up and down to cheer your favourite team. So put on your favourite jersey under a cute hoodie or a comfy long sleeve sweatshirt with a pair of jeans, add a scarf and a pair of whole boots and you are good to go. If you are choosing to wear a jacket, add another layer inside your jersey. It will not only make you feel warm, but also gives you the freedom to remove a layer anytime. 
Movie night with friends:
The best thing about fall is that despite the temperature, you can still; get away with baring as little skin. When you are dressing up for a friend's movie date, put on some thigh-high knit socks and combine a solid cardigan with a contrasting or matching long top of your choice, add a pair of whole boots and a cute tote bag before leaving. You can experiment with accessories to make your outfit more interesting.
Ladies' day out:
Daytime temperature is anyway less than the night and if you live in a region where the temperature is not so high during fall, this outfit is the one for you. For a ladies' day out, put together a pair of denim shorts with a shirt of your choice, add a cute beanie for enhancing the look. Plaid shirts look good and season-appropriate, and adding warm comfy boots will make the outfit scream "FALL!" Long dresses would also make a perfect fit for a ladies' day out. Add a tinge of makeup to suit your look to the festival and that's about it!
Dinner date in fall:
A killer blazer from trendy online boutiques is a perfect layer for a fall date. It looks subtle and goes well with everything from jeans to tops. Add a pair of gorgeous heels or pumps and adorn yourself with jewelry to suit your look. You can even replace the top with a short dress. If you are going out on a relatively warmer day, choose to wear a lightweight jacket or a vest instead of the blazer. Hand yourself a classy handbag and step out to be the show stopper of the day.
Fall party outfit:
Between weekend games and Halloween, fall parties are very obvious. It might be a little stressful to choose the dresses every other weekend but here's how to make it easier. Pull out one of your favourite sweaters, add a pair of your favourite nice pants. This is the go-to look for every fall gathering ever. If you are attending a dinner party, you can get a sweater dress from trendy online boutiques, a tall pair of boots with your favourite tights.
The Nature hike look:
The breath-taking scenery of Mother Nature is beautiful enough to make us take a stroll through the woods, every once in a while. With the right attire, you'll be able to enjoy the most and that too, with all the comfort that you need. Layering will work the best here. Begin from adding a camisole or a spaghetti top at first, add another t-shirt or top on it with a pair of solid denims. Cover it with your favourite jacket and a scarf if you like. Do not forget to add hiking boots to protect yourself from the cold, the bugs and the sun.
Grape stomping outfits:
Grape stomping is a fun activity and the outfits you require for this activity should be super comfortable and as light as possible. You need to wear something short, could be a short dress or denim shorts. Choose footwear that is easily removable. Slip-on shoes would be the best way to go. Keep a jacket handy just in case your feel go cold, and voila! Your grape stomping outfit is ready.
Conclusion:
Fall is a season of celebration. Lots of events, get-togethers, family dinners, night outs and parties ! Planning outfits for each of these events become difficult if we are not prepared enough. On the other hand, pre-planning your wardrobe and styling outfits prior to these events will make your job 100 times easier and you'll be able to enjoy the season.
We hope that these dressing tips and ideas will help you create a killer fall wardrobe. So what are you waiting for start your fall shopping spree with Southern Honey Fall collection.