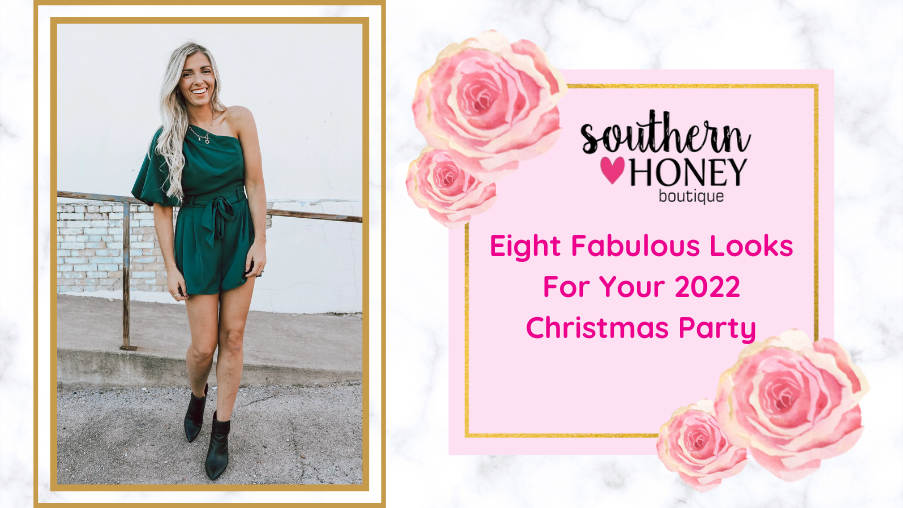 Eight Fabulous Looks For Your 2022 Christmas Party
There is nothing more magical than being surrounded by family and friends, celebrating the most wonderful time of the year. With that being said, it is also the best time for get-togethers, family dinners, and Christmas parties, making it necessary for you to ace your fashion game. In order for you to show off your glam side this Christmas, our style experts at  Southern Honey, a boutique in Hobbs, NM, have put together a variety of outfit ideas to get you inspired. 
Eight Outfits to Get You in the Christmas Spirit
Show off your inner fashionista with eight fabulous looks put together by our style experts at Southern Honey Boutique! We're sure that these outfits will have you looking and feeling your best this holiday season.
1. Embracing the Sequined Charm: Shali Sequin Top, Cropped Layered Jacket, Kancan Presley Jeans, and Lacey Boots
The charm of sequins is unmatched and irresistible, which makes them an evergreen party staple. Likewise, the Shali Sequin Top is an excellent pick for adding exciting accents to your outfit. Its aesthetics will add a pop of glamor to your persona. Team up the top with the subtle Cropped Layered Jacket to keep your style well-balanced. This versatile jacket will also go well with a variety of our fancy tank tops for women. The top can be dressed up or down with the Kancan Presley Jeans and Lacey Boots for a winter-appropriate party look. You can also explore our range of women's designer jeans to mix and match styles.
2. Slip into a Fabulous Skirt: Vivian Skirt, Black Tex Pullover, and Slay Booties

Nothing says festive like the Vivian Skirt from our boutique in Stephenville, TX. Its sequined finish with neatly-trimmed fringes at the hemline is fabulous. Since the skirt features an elaborative design, we recommend pairing it with a more simplistic option, such as the Black Tex Pullover. It has an off-shoulder design which adds a wow factor to your look, whereas the black color gives an appealing contrast effect to the attire. Tuck the pullover into the skirt for a feminine look and provide a finishing touch with the delicate pattern of Slay Booties.
3. Perfect Blend of Chicness and Warmth: Loose Fit Sweater Dress, Vegas Boot, and Woodstock Crossbody Bag
If you prefer to keep your style low-key yet impactful, you can never go wrong with Loose Fit Sweater Dress in rich beige color. So cozy, comfortable, yet stylish at the same time, this dress is an absolute must for holiday parties. As this outfit flaunts a shorter silhouette, go for a long pair of boots such as Vegas Boots in an attractive cream color with an ornate texture. You can also explore our women's designer shoe collection for more options. If you want to accessorize your look in a minimalistic way, look no further than the tan-colored Woodstock Crossbody Bag.
4. Basking in Satiny Luster: Black Satin Lined Cami, Jenny Blazer, Monni Wide Flares, Must Have Charm Necklace, and Brooklyn Booties

Satin is one of the most eye-pleasing and luxurious fabrics that remain in trend throughout the season. Likewise, the Black Satin Lined Cami exudes a lustrous surface with a glossy feel, which makes it a viable choice for special occasions. You can layer it with Jenny Blazer and put on some bling with Must Have Charm Necklace or any favorite statement piece from women's fashion jewelry. Finish off your attire with Monni Wide Flare Jeans for a comfortable silhouette and Brooklyn Booties for ease of movement.
5. Sheer Elegance: Front Tie Satin Dress, Initial Studs, and Victoria Booties
Figure-skimming satin dresses have made a significant comeback into trendy wardrobes. The Front Tie Satin Dress from our variety of fancy women's dresses online radiates an unmissable sheen in tan-brown and dark beige hues. It's slinky yet easy-going fitting is bliss for the wearer. If this ensemble counts under your list of festive staples, check out our floral maxi dress boutique to deck up your special occasion wardrobe. Complement your look with ornate Initial Studs and sophisticated Victoria Booties.
6. It's All About the Prints: Best Leopard Hoodie, Machina Flare Jeans, and Esmee Beige Booties
If you have a thing for fashionable hoodies for women, you should stock up your winter closet with the Best Leopard Hoodie. It comprises enticing leopard print which is eye-catching and trendy. Depending on your preferred style, you can dress it up or down with the Machina Flare Jeans. These jeans will fit like a breeze, making your figure look well-defined. Top off your ensemble with ever-so-graceful Esmee Beige Booties to dance all night in comfort.
7. Cozy in Casuals: Jackson Shacket, Little Plum Tank, 90s Vintage Loose Fit Jeans, and Anastasia Beige Boots
The Little Plum Tank from our Stephenville boutiques is a wardrobe essential for the millennial flair. It can be styled in multiple ways to create distinct holiday looks. Likewise, you can throw on the Jackson Shacket for the cool girl aesthetic or put on a classy blazer for a formal-chic look. Complete the outfit with 90s Vintage Loose Fit Jeans and Anastasia Beige Boots. This combination would be an apt choice for casual get-togethers and BBQ jamming sessions with friends and family.
8. Exuding an Ultra-Feminine Appeal: Olive Rosalie Coat, Beige Solid Satin Top, Love Straight Leg Jeans, and Nude Valentina Booties

While heading out for a Christmas celebration or gathering, the Olive Rosalie Coat will be your ultimate companion. It channels delicate, feminine vibes to elevate your style. Wear the Beige Sold Satin Top underneath the coat to make a statement wherever you go. You can tuck the shirt-style satiny top inside the Love Straight Leg Jeans for a put-together look. Add some daintiness to your appearance with the nude-shaded Valentina Booties.
Conclusion
The Christmas season is all about getting festive. Whether you are hosting Christmas dinner at your home, attending a party, or just looking for fresh holiday outfits, Southern Honey has got something for everyone. From fluffy sweaters to shimmering sparkle dresses, the eight looks mentioned above from our boutique in Hobbs, NM will have you looking and feeling your best this season.