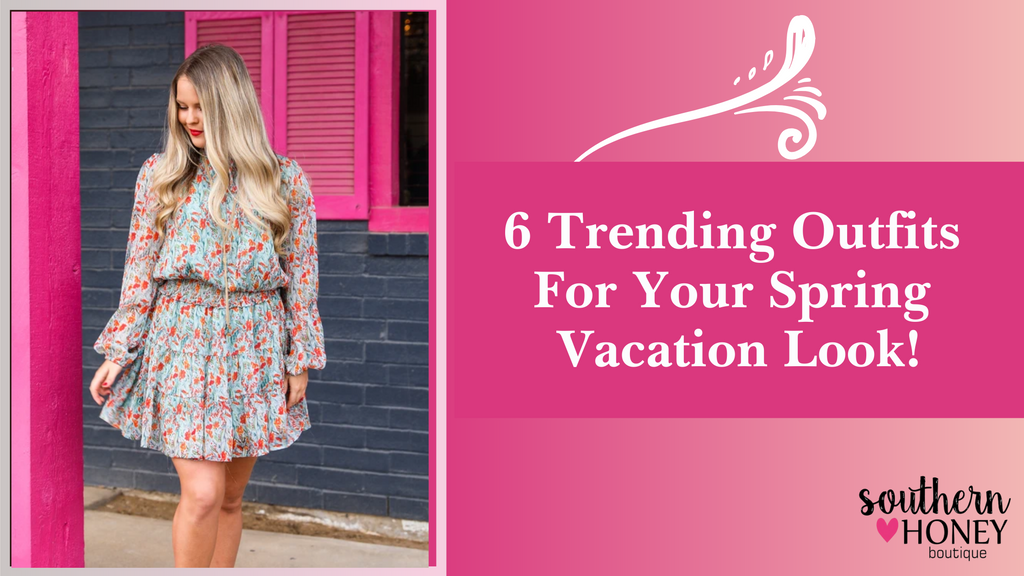 6 Trending Outfits For Your Spring Vacation Look!
While it has been a rather quiet year, the fashion world has unleashed some seriously appealing looks for you gorgeous ladies. Beat the scorching heat by pairing up some soft and flowy outfits to add that much-needed charm for this spring season. Well, this spring season, we have an extra accessory added to our outfits, Face Masks! When it comes to protecting yourself, why not do it fashionably. We know you ladies love to be fashion-forward, so we suggest you pack some new outfits from the trendy online boutiques to enjoy a carefree spring vacation. 
Are you ready to throw together the best spring vacation packing list?
Keep scrolling to see:
6 trending outfits that carry some Southern Flair for your spring vacation:
Sorbet Pastel Tones:
Pastel shades are another style that has continued to be common this year and are in demand in most of the trendy online boutiques. These sorbet-inspired shades are ideal for summer and look great on a wide range of skin tones. Tops and bottoms in light and buttery hues will enhance the overall aesthetic and will continue to be one of the most fashionable looks for seasons to come. Find out some amazing colours that you can add to your wardrobe this spring season!
Camisoles and Tanks:
A series of tank tops and camisoles paired with tie-dyed denim will make an interesting choice for a spring vacation outfit. Pair it up with a hat and boots to enhance that southern drawl! Shop the look from Southern boutiques and get yourself some effortless tanks and camisoles to cope with the heat. This outfit reminds us of the beach scenes that almost every late-'90s/early-'00s boy band had in their music videos. And it's just what we are looking for in terms of style. Just a lead heartthrob to croon over is missing.
Happy Spring Dresses:
Swirling and happy-go-lucky dresses with floral or solid prints will make you all vibrant and happy. Well, who doesn't need a little levity right now? Get light dresses from online boutiques in Texas to fill your luggage with some textured, plain, and boho-style dresses to flaunt that golden tanned skin throughout your spring vacation. Choose dark hues like brown or black for a timeless look, but if you want to stand out from the crowd, go for flashy colours like olive or navy blue. This is the piece to use if you want to change up your everyday look!
Shorts & Skirts:
We all agree that long legs are the silhouette of the season, so it's only fair to flaunt those killer legs while vacationing this spring season. The Texas boutiques have come up with some easy print skirts and cut-off jean shorts with as much verve as the pretty ladies that are dying to go for a dip in the ocean. Whether you are going to stroll in the streets or have planned a beach date, shorts and skirts paired with a light tee can never go wrong! It is a "must-pack" item if you are vacationing at a humid or sunny place.
Lacey Cardigans:
A warm-weather escape is on the horizon, and we suggest you go with a lacey cardigan with some cute pants and slip to enjoy the best of the spring season. Pair it with a bucket hat or even some chic accessories to complete the whole look. A spring vacation calls for some flip slops and cardigan to stroll the markets! Pick out the best cardigans, shoes, jewelry, and much more at the online clothing boutiques. Beads necklaces, bracelets, cuffs, etc., will go perfectly with the cardigan and give a whole bohemian look to your outfit. Wearing knit cardigans with some classy accessories such as a leopard print tote bag will also help you make a statement among your girl gang while vacationing.  
Rompers and Jumpsuits:
Ditch jeans and sweats and make room for some statement-making rompers this spring season. Jumpsuits and rompers made of thin fabric work best for beating the heat and humidity in the spring season. The best among them is wide-leg, roomy rompers that come in handy under the affordable online boutiques' range! Shop from trendy online boutiques and get groom your inner southern chic for the best spring vacation ever! 
 Conclusion:
If you are a fan of light and breezy clothing, then you have landed on the best and trendiest online boutique in Texas! Get crafty this spring season and pair up your outfits by shopping from the Southern Honey Boutique. Feel confident in your own skin by buying what suits you the best. Also, don't forget to make room in your luggage for the amazing outfits mentioned above to compliment your overall look for a much-needed spring vacation! Choose from myriads of clothing options from the best online store.