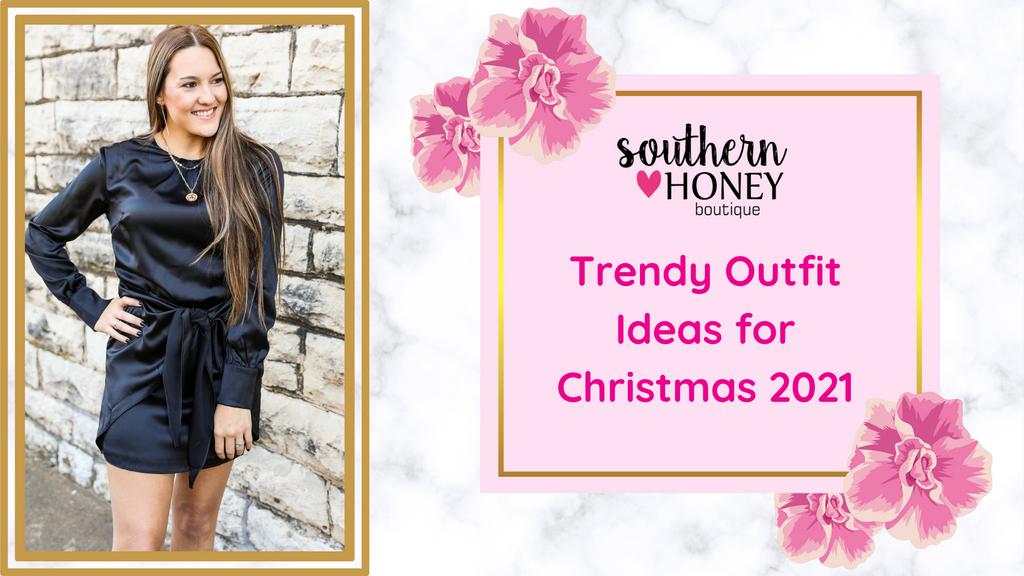 Trendy Outfit Ideas for Christmas 2021
It's the most wonderful time of the year! The streets are decorated with Christmas lights, houses filled with the smell of fresh baked goods, stores are filled with shoppers, and everyone is full of holiday cheer! It's such an exciting time of year.
Your schedule is more than likely full of family dinners, office parties, soirees, holiday movie nights, and so much more. With so much going on, you may not even have time to come up with festive outfit ideas! So, if you need a little inspiration to look your best this holiday season, our experts at Stephenville boutiques have compiled a list of trendy holiday looks!
Outfit Ideas for Christmas 2021
Whether you are looking for inspiration, tips, or just want to up your style game, you've come to the right place! When shopping at boutiques in Hobbs, NM, keep an eye out for items that are easy to style, versatile, and don't break the bank.
Our Top Picks This Holiday Season-
Sequins: Mix and match with solid colors or go all out on your entire outfit. Sequins are perfect for festive holiday parties!
Satin: This material gives off a classy and elegant vibe. It transforms basic clothing into something exciting and beautiful.
Bold Colors: Skip the basic white, black, and beige for bold, eye-catching colors to stand out from the crowd.
Staying Warm: Looking chic is a priority. But that doesn't mean that you have to trade warmth for style! Knowing how to layer is key. Pair a satin dress with a jacket and knee-high boots to create a flawless look!
Not only will these outfit ideas make you look absolutely fabulous this holiday season, but they can also be mixed and matched with items you already have in your closet!
Holiday Party Outfit Ideas
Set the tone for your workplace Christmas party or community event with satin and sequin attire. The Vivian Sequin Skirt from our trendy boutique is perfect for parties and a great addition to your closet. Satin blouses and dresses look effortlessly chic and are perfect for social gatherings and formal get-togethers. Complete the look with an adorable pair of boots, and you are ready for a great night out! Shop the entire look at our boutiques in Stephenville. 
Look Picture Perfect For Holiday Cards
If you have an annual family photo tradition in your home, you know how difficult it can be to coordinate outfits for the entire family. It's always best to keep things simple so that everyone can dress accordingly. We recommend a classic red and white color scheme to embrace the holiday season. Red trendy women's tops are classy when matched with white high-waisted pants. Nude heels, gold hoops, and a matching cardigan will tie the entire look together and look fabulous in family photos!
Look Effortlessly Fabulous
Are you struggling to find something to wear for an annual Christmas party? Try the red tiered dress from our trendy boutique. The color is a must-have this holiday season. It's festive, bright, and striking. Pair this dress with minimal gold jewelry, black stockings, and Kimye black heels for a classic and elegant look. Check out our latest collection of women's shoes to find the perfect pair of heels to go with your outfit!
Christmas Eve Attire
Whether you're headed to a family dinner or Christmas Eve mass, we recommend going for a classy look. Our 'Samantha Midi Dress' is perfect for any formal event. You can pair it with an adorable pair of boots, a cardigan, and gold jewelry to take your look to the next level.
If your Christmas Eve plans consist of staying in and hanging out with your family, you'll need something cozy and casual. Pajamas and our favorite Christmas sweater are an excellent option for a relaxing night in. They embrace the holiday season and look great on everyone!
Winter Outfit Ideas
Flannel shirts are perfect for the holiday season. Take your favorite oversized flannel and team it with a pair of our women's designer jeans for a comfy and chic look. Whether you have errands to run or are decorating your home for Christmas, this look is ideal for winter. To take this look to the next level, add a cute pair of boots and a graphic tee!
Our Conclusion
The holiday season is a great excuse to shop and upgrade your wardrobe! Whether you want to embrace the holiday season or step outside of the box, we have your holiday look covered!
Browse our online boutique to find classy and elegant fits that are sure to make a statement this holiday season. Find the best trendy women's clothing at Southern Honey Boutique. Our clothing is high-quality and is sure to last for years to come. We hope you have a fabulous holiday!