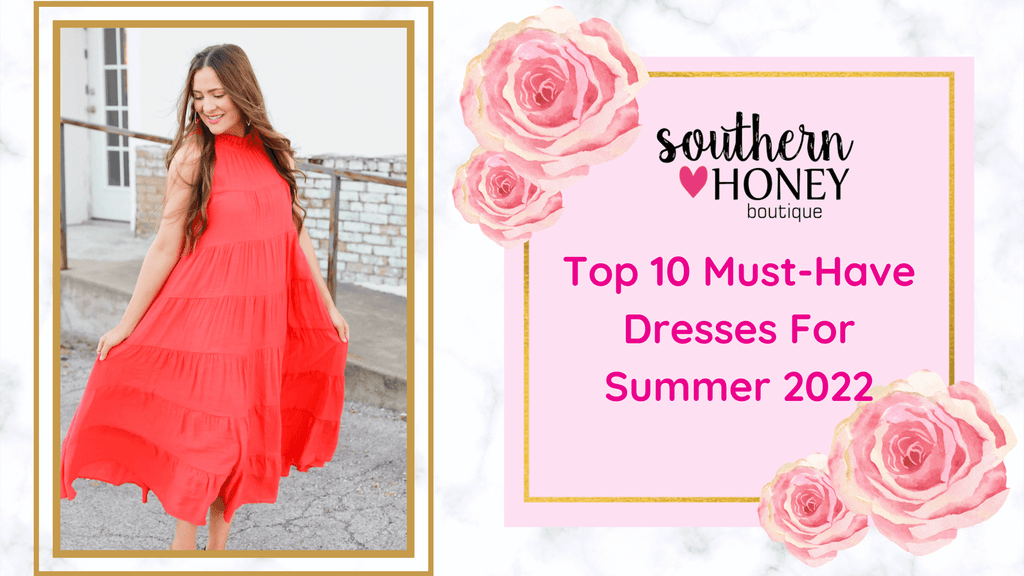 Top 10 Must-Have Dresses For Summer 2022
Summer is one of the best seasons of the year, especially when it comes to fashion. From flower-patterned maxis to strappy midis, the options for the perfect summer dress are endless. The best thing to do this season is to revamp your closet with chic and comfy outfits that are perfect for warmer weather. Our boutique, Southern Honey, is amongst the top-notch boutiques in Stephenville, stocking up on the best evergreen dresses with light fabric and a flowy silhouette. 
As we head into the warmer months, you have to make sure your closet is ready to accommodate the season. This summer, don't let the heat get you down! Instead, show off your fashion sense in the best way possible by checking out these ten top dress ideas curated by our style experts at Southern Honey! 
10 Must-Have Dresses This Season 
1. An Easy-Breezy Flair: The Tiered Tie Strap Dress, Must-Have Charm Necklace, and Natania Heels
The Tiered Tie Strap Dress is a summer staple as it is airy-light and comfortable to wear all day long. Top it off with the Must Have Charm Necklace to accentuate your neckline. The Natania Heels would be a perfect accompaniment to this gorgeous dress. Hop on our website today to purchase the entire look and rock the summer in style!
2. The Free Bird Look: The Maxi Days Dress, Ballroom Invite Earrings, and Blair Heels
Summers and maxi dresses are unarguably made for each other. Our Maxi Dress in coral color is a treat for the eyes and your enthusiastic personality. It has a free-flow design to keep you fashionable yet relaxed. From outings to brunches, you can stay looking your best for any event. We suggest that you add our Ballroom Invite Earrings and Blair Heels to take your look to the next level.
3. The Colorful Rustic Allure: The Dorothy Dress, Circles Must Have Charm Necklace and Valentina Booties
The Dorothy Dress embodies rustic flair intertwined with the colorful delight of miniature florals. If you love floral designs, explore more from our collection of women's dresses online. We encourage you to try the Circles Must Have Charm Necklace which will perfectly complement the look. The Valentina Boots will help you move around with poise, whether you're going on a date or special occasion. This outfit is perfect for bringing your chic cowgirl side out and about for the season. 
4. A Casual Look: The Frayed Denim Dress, Quincy Sneakers, and Tribal Tote Bag
The Frayed Denim Dress exemplifies casual aesthetics that are perfect for shopping, lunches, movies, and hanging out with friends. Instill a sporty vibe into your outfit with the Quincy Sneakers, which give off a lustrous charm. Complete the look with our Tribal Tote Bag so you can easily carry your essentials. If you want to add a minimalist necklace to your outfit, shop from our jewelry collection online!
5. The Effortlessly Trendy Look: Savanna Ruffle Dress, India Multi-Color Necklace, and Dawn Booties
Summertime and ruffles are the perfect companions for millennial fashion. The Savanna Ruffle Dress in light blue color is perfused with elegance and an easy-going design for a slaying day-to-night look. You can wear it to occasions demanding casual attire. To accessorize the outfit, look no further than India Multi-Color Necklace and Dawn Booties for a dainty appearance.
6. A Vibrant and Stylish Look: The Taryn Dress, Truly Wedges, and Blue Triangle Tassel Earrings
The Taryn Dress will steal your heart at one glance if you are a fan of edgy and artistic designs. It is ideal for summer getaways and daytime merriments for making a noticeable presence. If you want to take this outfit up a notch, we suggest adding a pair of Triangle Tassel Earrings and Truly Wedges. You can also browse through the wide variety of women's designer shoes from our online boutique.
7. Floral and Fabulous: The Hanna Embroidered Dress, Flower Studs, and Retain Sneakers
The exquisiteness of Hanna's Embroidered dress is a good choice for a frat party, a girl's night out, or a great time by the pool. It fully grasps the vibe of summer through its floral pattern. To complete this look, opt for Flower Studs and Retain Sneakers! For more shoe and accessory options, head to our website and browse our latest collection.
8. Sheer Elegance and Comfort: The Cotton Mini Dress, Khloe Heels, and Ivory Turquoise Slab Stone Necklace
The Cotton Mini Dress from our boutiques in Stephenville, TX, is the perfect option if you want to look fabulous and still feel comfortable. It's perfect for a day out at the beach or running errands in style. To conceal the look in an evoking sophistication, wear the Khloe Heels. For the accessories, keep it simple yet regal with the Ivory Turquoise Slab Stone necklace.
9. Stylish and Chic: The Sunset Floral Cami Midi Dress, Initial Studs, and Jolie Natural Wedges
The Cami Midi Dress is a fabulous dress that allows you to look your best all day but still stays cool and comfortable. It is ideal for having a gala time with friends or family, barbeque dinners, and outdoor events. We suggest you pair the look with our embellished Initial Studs and Jolie Natural Wedges to take the whole outfit to the next level.
10. The Ever-So-Classy Aesthetics: The Blush Layered Dress, Butterfly Earrings, Bubble Initial Necklace, and Blaze Sandals
The Blush Layered Dress lends itself to perfection, echoing an irresistible aura for your look. It is all that you need to imitate the shades of summer at fun events, dinners, outdoor activities, and relaxing vacays. The Butterfly Earrings paired with Bubble Initial Necklace will ensure that all of the spotlights are on you. Add a fabulous accent to the overall look with help from our Blaze Sandals.
Conclusion
As the weather warms up and the days get longer, you have to make sure that your closet is stocked and ready with great dresses that compliment your style. From classy layered dresses to sassy mini dresses, we have it all at Southern Honey Boutique. Head to our website today to browse through our latest collection of summer fashion!