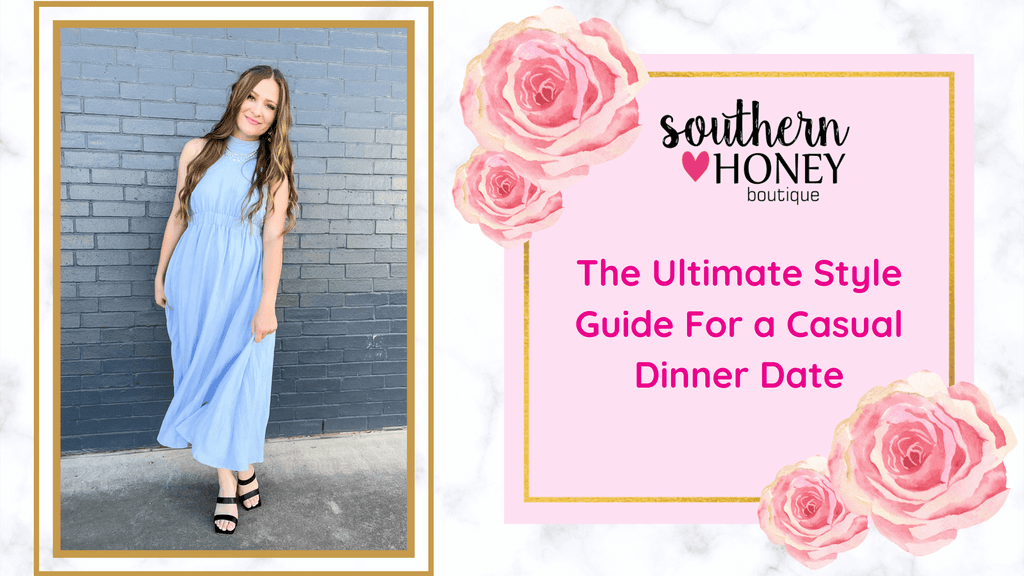 The Ultimate Style Guide For a Casual Dinner Date
The key to dressing casual is to not overdo it; stay confident in your skin and pick the outfits that define your personality and style! It's always best to find the right balance between dressing up your outfit and remaining casual while still looking your absolute best on your date. 
To help you prepare for your casual date, our style experts have come up with nine fabulous outfit ideas! The best part? When you shop with Southern Honey, looking great doesn't have to come with a hefty price! Our boutiques in Stephenville, TX craft chic outfits with an affordable price tag. Put your best foot forward by flaunting outfits that epitomize your everyday style!
9 Ways to Dress Up Casual for Your Dinner Date
It can be challenging to find the perfect casual outfit without sacrificing style or breaking the bank. An essential aspect you need to consider while choosing your look is where you are going and the overall ambiance of the location. Here are seven outfits inspired by our Stephenville boutiques that you flaunt for your dinner date and have a great time with your significant other!
#1. Smart Casual Look
If the restaurant you're going to is upscale, we suggest you go for a more sophisticated look. The Rose Top in the color pink will add an elevated vibe to your look while our Cropped Skinny Jeans will help you stay casual. Complement your outfit with Bliss Wedges for refined aesthetics. If you'd like, you can replace the wedges with heeled sneakers to pull off the casual looks with ease. 
#2. A Romantic Dinner Look 
If the set-up for the date is based on a romantic theme, choosing a dress would be an ideal option. The Rosie Dress has a colorful palette with a dreamy floral pattern. For accessorizing the look, the Must Have Charm Necklace would be an excellent addition. To complete the causal look, wear our fabulous Black Found Heels!
#3. The Gretta Top, High Rise Holly Flares Jeans, and Natania Heels
Got an impromptu dinner invite from your date? Remember not to overdo your outfit; keep it classy and be yourself! The Gretta Top has a flattering design decked with sleeveless allure. You can pair it with High Rise Holly Flares Jeans for a more laidback look. Do not forget to wear Natania Heels to instill delicateness into your look.
#4. The Glitzy but Elegant Look
While on your date, showing off your glam side is crucial without being too flashy or too conservative. Our Casual Days Top in the evergreen black color is ultra-versatile and a go-to staple for outings. If you want something more vibrant, go through our assortment of trendy women's tops for striking recommendations. Look no beyond shimmery Vivian Skirt to infuse an oomph factor into your style. Put on sassy embellishments like India Multicolor Necklace and give a finishing touch to your appearance with Kimye Heels.
#5. Beauty in Red 
Red is bold, beautiful, and charismatic; indeed, a perfect color to ace your date night look. You will fall in love with our Red Dianne Dress as it amalgamates casualness with a hint of indulgent flair. You can also explore more from our collection of fancy women's dresses online. To accentuate your neck, the Must Have Charm Necklace with delicate circles would work well. To keep the look more informal, consider Valentina Booties as your perfect footwear companion.
#6. Grace with Subtlety
Who says that casual outfits cannot be elegant? The Tie Front Tank top's fabulous knot-style design would get you a ton of compliments from your partner~! You can style this fabulous top with Happi Flare Jean for a relaxed look. Add some swankiness to your outfit with ever-so-classy Retain Sneakers.
#7. The Minimalistic Look
Want to keep your outfit simple yet impressive? The Savana Ruffle Dress in the soft blue color is an ideal choice for women preferring ultra-chic and casual dressing. You can opt for a high-slit dress for summertime and embellish it with a cinch-waist belt. Put on some bling with Quincy Sneakers as they embody upmarket aesthetics. You can make your look stand out with Lucy Crossbody Bags' stylish attributes!
#8. A Cute Dolled-Up Look
Do you need a super-adorable look to grab the attention of your significant other? The Oatmeal Jacket is an absolute blend of warmth and flair. You can pair it over the Haley Basic Top is exotic pale rose color. Tuck it inside the evergreen Lydia Jeans for a more sculpting look and complete your outfit with the urbanity of Dawn Booties.
#9. The Modish Fashionista 
If you want to play safely on your casual date night, wear the shirt-style Poppy Top, half side tucked inside the Monni Wide Flares. Top off the look with Blair Heels for classic refinement. This outfit combination can be perfect for your dinner dates, irrespective of the place and ambiance. However, you can accessorize the look with statement neckpieces and ornate studs. 
Conclusion
Whether you're planning for your next dinner, a night out, or hitting the town for an evening of flirting, slip into some of our comfy-chic outfits! There is nothing sassier than a woman who knows how to pull off a casual outfit, revealing her trendy side. Our boutique in Stephenville, TX, Southern Honey, is a one-stop destination for all of your fashion needs! So what are you waiting for? Head into our store or shop online to get great deals today!