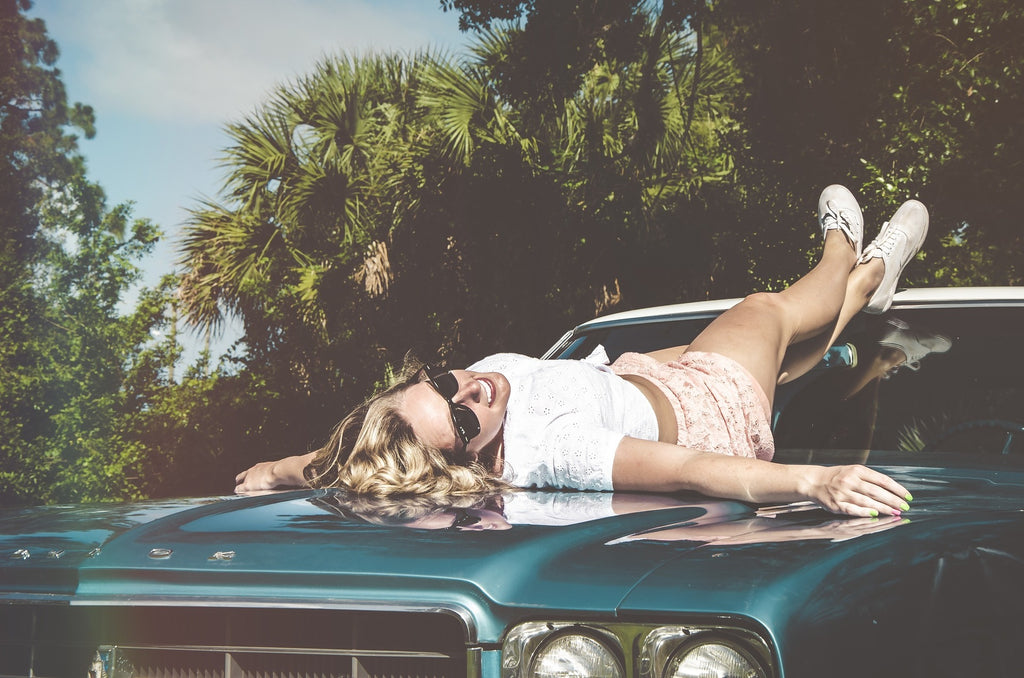 Summer Style Tips to pair perfect shoes with your cute Rompers and Jumpsuit!
Rompers and jumpsuits are the most versatile trendy outfits and wearable fashion staple in ladies' wardrobe, when styled well, it gives you a playful yet elegant look.
So it may seem like a big challenge to figure out what shoes will suit the best with your cute rompers and jumpsuit.
Trust us!
When we say it's no rocket science and it takes only a bit of creativity and styling to get you out of the door in something eye-catching.
Here are some basic tips you can follow to pair the designer shoes for women with summer jumpsuits or rompers:
TIP #1
Strappy heels with flared rompers is the best combination ever.
Flared short rompers give you a bubbly teenager look and adding a pair of strappy heels and hoop earrings to the outfit is only going to make you look even cuter. Nude lipstick and wavy hairstyle will add to it and create the best look for you on a summer day.
TIP #2
Wedges and striped jumpsuits will make you look taller.
Heels and stripes are the best combination for people with short height. So, if you're planning to go on a beach party or a brunch date, better choose wedges, leave your hair open, put on some light make up and voila! You're ready to go!
TIP #3
Black and gold is the perfect combo.
Many people choose to wear full black jumpsuits and rompers and that does look classy. And if you're one of them, you definitely want to make your look even classier, isn't it?
For that, add a pair of rose gold sandals to your collection and pair them up with your solid black jumpsuits and rompers.
Boom! 
This is going to be the best duo ever!
TIP #4
 For a sporty look, choose sneakers and denim jumpsuits.
Denim jumpsuits go so well with sneakers, you're never going to regret putting on that duo. For a denim jumpsuit, crisp, white sneakers are the single best option to wear with.
TIP #5
A lace top jumpsuit and formal heels? Hell yeah!
Lace top jumpsuits are so sexy and classy at the same time. You can wear them with a blazer as an office outfit; you can wear it on an evening date or even a casual party! They are a perfect fit for many occasions and they don't need much styling.
TIP #6
Nail your outfit by pairing your striped rompers with a pair of buckle sandals.
Buckle sandals are versatile in nature and can be paired up with pretty much everything ranging from short dresses to jumpsuits. If you have a striped romper that you're planning to wear to college or school, consider wearing buckle sandals with it. Put up your hair in a little ponytail and rock the school girl look.
TIP #7
How can we forget wide leg jumpsuits.
Wide leg jumpsuits look very graceful and should be worn with delicate foot wear. Some have also tried to pair wide leg jumpsuits with white sneakers and that looks good too.
However, depending upon the type of occasion you wear that jumpsuit on, the footwear can vary. For example, a pair of ruffled flat sandals will look good with a light pink jumpsuit.
Wrapping it up:
Now that you've read the tips on styling your jumpsuits and rompers with appropriate shoes, you should know that it's not just about pairing any trendy dresses with designer shoes. One should consider colour combinations, occasions, your body composition and a lot many things that matter when it comes to deciding an outfit.
Hence, there are some more small tips we would like to give you here:
Keep things simple. Do not pair loud shoes with a funky romper or jumpsuits. That will look tacky.

Keep the season in mind. Solids are good for winters; floral are good for summers.

Pay attention to what looks good on your skin tone.

Add appropriate accessories to your outfit.

Casual jumpsuits can be glammed up just by adding stylish shoes to them and vice versa.

No matter where you're wearing your rompers or jumpsuit, always take comfort into consideration and choose shoes that you will feel confident and comfortable wearing all day.
Cute rompers and jumpsuits are the perfect style staples for effortless summer styling. So do not wait any longer, get your wardrobe loaded with Southern Honey Boutique's wide collection of rompers and jumpsuit and pair them up with some funky foot wear to make your own style statement. Order your combo from Texas online boutiques today!