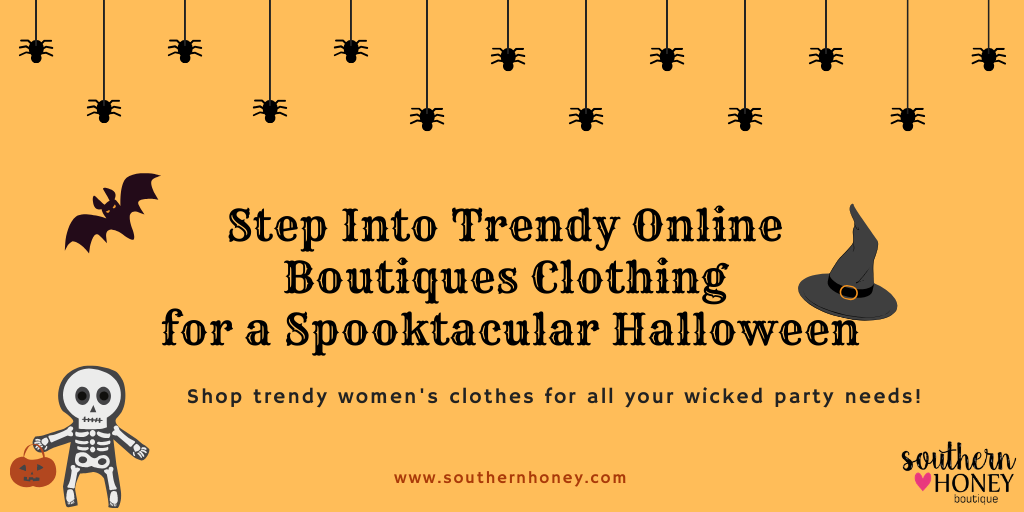 Step Into Trendy Online Boutiques Clothing for a Spooktacular Halloween
When the cute guy finally asked you out: "Hey, wanna have a Boorito with the Green Poop?" Did you just slap him? Oh no! Get out of your pumpkin and be the eeriest witch round the corner. This Halloween, you've got the power to cast a spell on all those Jack-o'-lanterns. Got nothing to wear? Don't just clump around in that Error 404 tee. The Southern Boutiques are here to horrify you!
Ever wondered what is the way to a woman's heart? Nothing else but shopping. With a great range of Halloween clothing collection at your disposal, you won't be able to resist the temptation of enjoying shopping with your loved ones. What makes our Trendy Online Boutiques stand out in the crowd is our versatility of products at affordable prices. Enjoy your share of delicacies with matching accessories. 
Throw a spooktacular bash and enjoy with your loved ones this festive season. Treat yourself with spectacular clothing collection and accessories at our trendy online boutiques. Not just that, with a multitude of options, you won't have to wander to find something that suits your style. So, what are you waiting for? You are just a click away from choosing something according to your preferences.
Looking horrifying hot on the fright night is what everyone yearns for. Our great selection of Halloween dresses, skeleton leggings, Gothic jewels, velvet dresses, beastly boots, and faux dresses can scare the shit out of your kith and kin. All you need to do is choose the best dress that compliments your personality.
Find your iconic outfit to match scary and sexy vibes this Halloween 2019. Set your goals this splendid season with skeleton, ghost and witch costumes and look unique. Spread the dark magic around as you groove to set the stage on fire. Guess, what is the best part? With an exquisite collection of clothes being served to you on a platter, you can choose the best costume for yourself without breaking your bank.
Add a tinge of scariness with our skull clothes and décor to frighten your friends and family in the night time. Let the shades of black and white fill the colors of joy and happiness in your life this Spooktacular Halloween. Looking horrifying hot on the fright night is super easy with Southern Clothing Boutique. Try trendy women's clothes with kohl and dark black lip shade to style yourself as a monstrous figure. You can also stock yourself with vampire accessories to make the most out of your ghostly look.
We have everything you might be looking for. From spooky handbags to Halloween belts to sexy devil stilettos, we can make you go crazy with our classic selection. Wear a goofy costume to look flirtatious as well as frightening at the same time. Experience your dark side by wearing the shades of black which perfectly complements your dress. Not just that, spooky eye makeup, glow-in-the-dark paint, and red lipstick will mix with your magical aura.
If you are still in two minds regarding shopping for Halloween Eve, then you simply need to browse through our eye-catching collection. We bet, you won't regret investing your precious time. Our curated and hand-picked designs stand class apart from dull and monotonous styles you might have seen thousands of times. Not just that, you can use a different type of filters according to your price range, color, style, and size to make the right choice for yourself.